Canadians love our podcasts. According to eMarketer, 37% of Canadian adults listened to podcasts in 2020. And while most of them listened via YouTube, there are many other sources.
We recently covered how to start a podcast for those interested in dabbling on the creation side of the business, either for fun or business (or both!) But what about just listening to them? Whether you're looking to get some inspiration for your own podcast, wondering where's the best place to find good ones, or just trying to add a few podcasts to your "must listen" list, we have you covered.
With many of the sources noted below, you can download podcast episodes to listen offline, access them for free (in some cases, you may have to at least sign up with an e-mail address and password, even for the free tier service), and listen on a multitude of devices, including Android and iOS smartphones and tablets, computers, and more.
Where Can You Find The Best Podcasts?
Before you can listen to podcasts, you need to figure out where and how. While podcasts are available all over the web (a quick Google search will yield pages and pages of results), there are a few top spots to find them.
Apple Podcasts: Choose from more than a million shows with over 30 million episodes to date. Topics range from politics to true crime, entertainment, finance, and humour. You can subscribe to shows so you receive a notification whenever a new episode has been posted. Not sure what you want to watch? Browse categories, editor's picks, or see what's most popular. According to eMarketer, Apple Podcasts was the second-most-popular platform used to listen to podcasts in Canada, behind YouTube.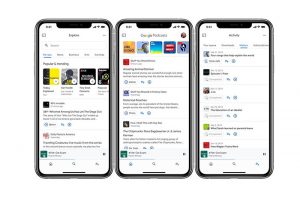 Google Podcasts: With tons of podcasts across different categories, from news to comedy, sports, and more, there's something for everyone. You can listen at faster playback speeds if you only have a half hour for lunch but the podcast is 45 minutes and you want to get all the way through, and skip over periods of silence to further fit the podcast into your busy schedule. Search for podcasts by name or genre using Google Search and Google Assistant.
Spotify: While Spotify is known mostly for its streaming music, the service does also have podcasts across a variety of topics, from well-known celebrities to not-so-known personalities. Recently, Spotify released a new home screen that allows you to quickly resume a podcast you had previously been listening to. A new history buttons also displays up to three months of listening history, so if you know you listened to a true crime podcast last month you loved but can't remember the title, you can easily find it. For those with a Spotify Premium subscription, you will also receive recommendation cards based on the music artists you follow.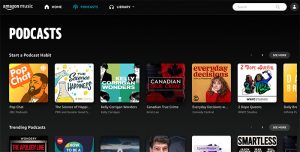 Amazon Podcasts: Earlier this year, Amazon announced the addition of podcasts to its line-up in Canada through Amazon Music. You would need to be an Amazon Prime or Amazon Music subscriber to access them, but they are part of the free Amazon Music tier. Podcasts include a series of original shows you can't get anywhere else, including ones hosted by music artists like DJ Khaled and actors like Will Smith. The most notable exclusive podcasts Disgraceland, which explores famous musicians in a unique way, looking specifically at their many criminal antics. There have been seven seasons of the podcast to date, which has featured some of the most iconic bands and musical artists, like Oasis, The Beatles, and Lil Wayne. Amazon Music also offers popular podcasts that are available elsewhere as well, providing curated recommendations, charts, and access to trailers so you can get a taste before delving right in.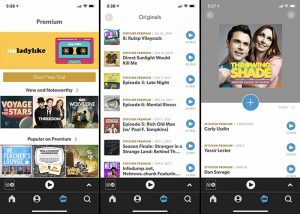 Stitcher: This service is dedicated solely to podcasts of all kinds, and can be accessed on a computer, iOS, or Android device. Get exclusive access to archived and bonus episodes of podcasts for $4.99/mo. or $34.99/yr., with topics ranging from true crime to science, movie reviews, and more. But even with just the free version, you can access more than 60,000 podcasts without ads.
TuneIn: Most people know TuneIn as a great source for accessing Internet radio channels of all kinds from around the world, including both music stations and talk radio. But did you know it also offers a section for podcasts? You can listen to ones like The Daily, This American Life, and Hidden Brain. Like Stitcher, there's both a free and premium tier. All you need is the free tier to access commercial-free podcasts, but you can sign up for Premium for $9.99/mo. ($99.99/yr.) to get additional radio content, music, and fewer ads.
Pocket Casts: This free podcast player, available for both Android and iOS, lets you create custom filters to find the content that will most interest you, along with the ability to build a playlist queue with the Up Next feature syncing across all devices. It even works with Sonos and Alexa so you can play the podcast through your smart speaker at home to listen while you do chores or just sit back and relax; and with Android Auto and CarPlay for listening seamlessly on the road. You can also cast them to your speaker using Airplay and Chromecast, and even control playback from an Apple Watch. The Plus tier includes access to additional features and more customization for $0.99/mo. or $9.99/yr.
MixCloud: Along with DJ mixes and radio stations from around the world, MixCloud also includes access to tons of podcasts. Available for all mobile devices, including Android and iOS, you can subscribe to channels you love and offer direct monetary support to creators if you so desire.
Some of the Top Podcasts
It would be a massive undertaking to list the top podcasts across every genre. There are millions of podcasts on every subject imaginable and created by everyone from massive media organizations to individual personalities in entertainment, local podcasters, and even that guy in his basement with a computer and microphone. But here are highlights of some of the ones that most frequently appear on "best podcasts" lists.
The Daily: Created by The New York Times, this podcast is hosted by Michael Barbsaro and is released five days a week. Each episode is just 20 minutes long and covers timely topics making news headlines that day. From discussions on minimum wage in the U.S. to scientists re-thinking evolution, there's something new every day.
The Joe Rogan Experience: Available as a Spotify exclusive, the comedian and TV host has managed to garner a legion of followers with his podcast, which has been going strong now for 11 years. Widely considered to be one of the most popular podcasts in the world with millions of listeners each episode, he interviews everyone from actors to athletes, authors, journalists, and political figures as they discuss a wide range of topics.
NPR Planet Money: NPR has many podcasts, but this one is quite popular, discussing a variety of financially related topics, from robocalls to global poverty, music royalties, and the economy following the pandemic.
WTF with Marc Maron: This weekly podcast show launched in 2009 after Maron's terrestrial radio program was cancelled. As he travels to perform stand-up, the comedian will record podcasts with his guests from virtually anywhere – even his hotel rooms. Often topping lists of the best comedy podcasts, it remains popular to this day with millions of downloads.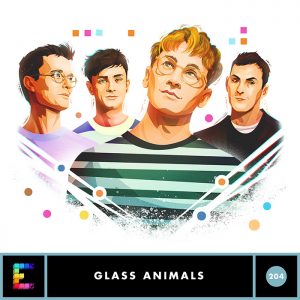 Song Exploder: One of the newest entries on this list, this podcast, well, exploded in popularity thanks to its unique focus: music artists discuss the inner details of their songs and music and their creative process. They get down to the nitty gritty, deconstructing every nuance of a tune to explain how it all came together. The podcast also has a companion TV series, which streams on Netflix.
Armchair Expert: Available on Apple Podcasts and Spotify, actor, director, and writer Dax Shepard discusses a variety of hot topics, interviews celebrity guests, journalists, and academics, and discusses their careers, rises to fame, and personal lives. His charismatic personality, natural conversational manner, and engaging discussions has made this podcast, which premiered in 2018, one of the most popular in the comedy genre.
How I Built This: Another NPR entry, this one is hosted by Guy Raz, who talks with businesspeople, entrepreneurs, and visionaries about how they built their companies or movements, often hearing stories that were never publicly discussed before. From Jimmy Walers of Wikipedia to Ben Cohen and Jerry Greenfield of Ben & Jerry's (a must-listen episode!), learn the secret stories behind some of the biggest brand names, influential businesspersons, and world changemakers.
More on Podcasts