With countless ways to leverage technology in property management services, the development of 'proptech', or property technology companies, is on the rise in Canada, especially as property stakeholders have leaned into virtual and online platforms throughout the pandemic.
Tribe Chief Executive Officer, Joseph Nakhla explained, " Historically, the focus of proptech has been on real estate transactions such as buying and selling homes –  the way people transact on a property – how to list a home for rent and attract tenants, or how to facilitate payment between the parties." "Property management," added Nakhla, "remained a traditional, paper-based industry and has been slow to adopt new technologies around the way the home or the building is managed.
"As service property management has evolved from bricks and mortar to managing communities, property management is no longer just about collecting money, paying bills and maintaining a building – it is about connections and lifestyle," remarked Nakhla.
Tribe, a growing proptech company that recently began to trade on the TSX Venture Exchange, aims to disrupt the largely paper-based property management model as well as capture a greater share of the property management sector through the delivery of tech-enabled community products and services.
"There is an incredible opportunity to leverage technology to provide access and bring simplicity to the day-to-day operations of both new construction and existing communities through improved services, streamlined processes and digital communication, to connect all the pieces of residential community living, leverage group-buying power and provide value to communities," shared Nakhla.
Nakhla further described big data possibilities by stating, "There are millions of pieces of data and workflows for how these buildings are managed and should be managed. Data related to how a condo corporation navigates through bylaws, polling, voting and proxies – yet it is all being done by paper."
Connections Enabled by Technology
"By using technology there is an incredible opportunity to not only bring simplicity to the complexity of the building, but also connect these neighbours and bring vibrancy into the community.
"As an industry, we want to move away the perception that property management teams fail to meet resident expectations or burnout their teams trying to deliver services," explained Nakhla. "We want to see technology support some of the heavy lifting and free up property managers to deliver higher service levels and have more balance in their world."
"For rental management specifically, technology allows for digital tenant applications, virtual walk-throughs, credit and social checks, leasing contracts and the ability to acquire condo insurance and book an elevator for move in and outs."
"Tribe is all about addressing the pain points for developers, owners, residents and managers of condominiums and residential communities, from maintenance and payments to shared services. "Our platform, said Nakhla, "offers a one-stop-shop that provides a seamless and efficient way for residential communities to operate and connect."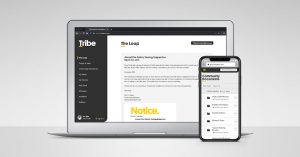 Digitized Property Management
I asked Nakhla to elaborate on how Tribe uses AI and digitization in its services.
"Tribe uses technology to digitize all spaces, assets, workflows, amenities, historical documentation and events and makes it available to developers, condo owners and councils/boards with the goal of simplifying community operations," replied Nakhla.
"Through a smartphone, Tribe enables users to:
access bylaw information easily
connect with expert managers
read homeowner manuals, accessible 24/7
quickly check what's under warranty in a new unit
pay management fees and levies
look up historical building data
"By using technology to simply the complicated stuff – the intersection of management and ownership requirements, bylaws and regulations – we're enhancing the way people experience their communities." Stated Nakhla, "We're changing the way people and companies approach property management through connection, information, education and the protection of your home as an asset."
And, during a pandemic," added Nakhla, "using technology to adhere to social distancing guidelines becomes essential. Information about building rules, city bylaws, available amenities should all be readily available and easily understood."
What's Next? Home technologies that 'talk to each other'
"Owners and councils are interested in smart technology that really affects the operational efficiency and sustainability of how the building is operating," said Nakhla. "These technologies are coming, but they are in bits and pieces in the market. What we think we will be seeing soon is an aggregator to allow these technologies to speak to each other and support the decision makers."
Nakhla compared his company's vision with smart solutions already adopted by consumers in other areas.
Said Nakhla, "With a click of a button you can get a car, home appliances or food easily delivered to you – but what about insurance options, extended warranties, a tried-and-true trade service provider, sub-metering, water detection? With a service aggregator, not only will you get more access to these services and have them more readily available to purchase as needed, but they will also be able to talk to each other and provide value to you as a homeowner."
"There is great technology being built every day that can make an operational impact on homes, but these technologies are fragmented and do not talk to each other," shared Nakhla. "What we need is a central place where technologies that support residential community living can talk be aggregated and curated. And that is something we are looking at."