As with every year, Apple's Worldwide Developer's Conference (WWDC) served as the launch pad for a number of software innovations from the company. At the annual event, Apple announces new software, capabilities, operating system, and app updates that allow software and app developers to build new features and functions that customers can use on Apple devices.
What was announced at WWDC21 event in early June? Here are the highlights.
macOS Monterey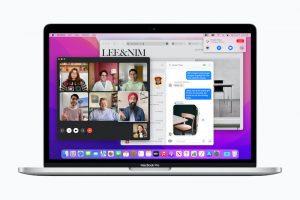 The latest version of Apple's macOS, called Monterey, includes new features like SharePlay with FaceTime for sharing experiences like music or movies in real-time and Shared with You for easily finding shared content through Messages in Photos, Safari, Apple Podcasts, Apple News, and the Apple TV app. Safari will get a major update that includes a streamlined tab bar, better tab organization, including across iPhone and iPad as well, shortcuts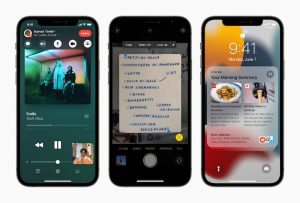 integrated throughout, including the menu bar, Finder, Spotlight, and Siri, and Focus to help reduce distractions by filtering out notifications that aren't related to their current task. Universal Control and AirPlay to Mac also make it easy for Apple device owners to work seamlessly across multiple Apple devices thanks to the new Continuity feature. The new OS will support the latest iMac, MacBook Air, 13-inch MacBook Pro, and Mac mini as well as Apple's Intel-based Macs.
Apple watchOS 8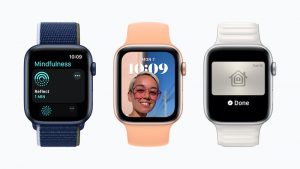 The latest version of the OS for Apple Watch, watchOS 8, includes updates to the Wallet and Home as well as a new Breathe app, now the Mindfulness app, along with new workout types: Tai Chi and Pilates. There's also a new Portraits watch face and enhancements to the Messages and Photos apps. Ultra-Wideband support is now available for digital car keys on Apple Watch Series 6, allowing wearers with participating vehicles to, starting later this year, securely unlock their cars and even start it from the driver's seat. Coming in the fall, house, office, and even hotel keys can be added to the Wallet as well, for unlocking from the Watch. In participating states in the U.S., later this year, Apple Watch owners will be able to add their driver's license or state IDs to Wallet and can use them at places like select TSA checkpoints.
WatchOS 8 offers new features with the Photos face, which Apple says is its most popular Apple Watch face. The new Portraits watch face, for example, offers immersive, multilayered effects that can intelligently recognize faces in photos and crop them to highlight the subject. Memories and Featured Photos now sync to Apple Watch, and photos can be shared through Messages and Mail with the new Share Sheet.
When replying to Messages from an Apple Watch, users can combine Scribble, dictation, and emoji. Enter a word or phrase and select from hundreds of trending GIFs to use as well. Focus is also available from the Apple Watch.
New Health and Wellness Insights
A new tool makes it easy for Apple device owners to share pertinent health data with loved ones or a care network as well as view their trends and measure their walking steadiness. As part of iOS 15, Apple device owners can choose to securely send their health stats to someone, whether it's a family member or physician using the new Sharing tab. The new Trend feature includes analysis of 20 types of data, from resting heart rate to sleep and cardio fitness. And Walking Steadiness captures data as you walk, measuring fall risks as OK, Low, or Very Low based on custom algorithms and built-in motion sensors that assess balance, stability, and coordination. All data is encrypted, and Apple says it does not have access to the information a user chooses to share.
More Privacy Control
Apple is offering more privacy protections across all devices, from Mac computers to Apple Watch, allowing users to better manage access to their data. Mail Privacy Protection, for example, stops senders from being able to use invisible pixels to collect information about the user, while Intelligent Tracking Prevention in Safari now hides the user's IP address from trackers. Device owners can also use App Privacy Report to see how often an app uses the permissions that have been granted to them, like access to your location, photos, cameras, microphone, and contacts, over the last seven days. If they don't like what they see, they can go to the app in Settings. Other privacy-related innovations include iCloud+ with Private Relay, Hide My E-mail, and expanded HomeKit Secure Video support.
iPadOS 15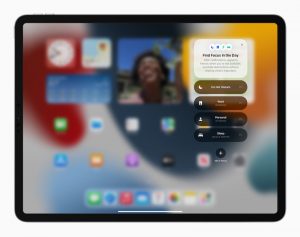 iPad owners with compatible models will be able to upgrade to the newest iPadOS 15, which includes new features relating to multitasking, collaboration, and organization. There are new widget layouts for the Home Screen and App Library, Translate has new features for translating text and conversations, and View and Slide Over are now easier to discover and use. iPad owners can now also organize their apps by category in the App Library. Users can also bring up Quick Notes to jot down a note virtually anywhere across the system, then tag the note into a category where it can be found easily with the new Tag Browser and tag-based Smart Folders.
Apple iOS 15 Update for iPhones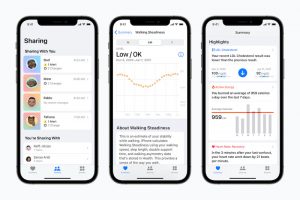 iPhone owners with compatible devices can upgrade to the new iOS 15, which Apple calls a "major update" offering enhancements to everything from FaceTime with SharePlay to the addition of the aforementioned Focus feature. There are also updates to Apple Maps and a redesigned Weather app, new Wallet support as noted above, and simpler browsing with Safari. A neat new feature will organize notifications by priority to help minimize distractions.
App Store Updates
The App Store has been revised to include In-App Events and Custom Product Pages to help developers promote their apps. With Custom Product Pages, developers can show different features of their apps to different users, and can test different screenshots, preview videos, and app icons using Product Page Optimization.
To protect the integrity of the store, there's also a new developer code of conduct that includes updated guidelines on developer identity requirements, ratings and review manipulation, and excessive customer complaints. There are also new ways for developers to appeal an app rejection on concerns of bias, and an option for them to report an app if they believe that it presents a trust or safety concern or is in violation of the App Store Review Guidelines.
Augmented Reality
There are also new augmented reality (AR) technologies to help developers build more immersive apps. RealityKit 2 introduces the Object Capture API on macOS Monterey that enables developers to create high-quality, photo-realistic 3D models of real-world objects simply by snapping a photo from their compatible iOS device or DSLR. This can be useful for websites like Wayfair and Etsy.
Xcode Cloud for Developers
When it comes to third-party developers making apps that can work on Apple platforms, like iOS, Apple is hoping to make things easier with the new Xcode Cloud, which brings together the tasks and tools required for building, testing, and delivering apps. Developers can test on simulated versions of every current Apple device, deploy an app for internal testing, and deliver a beta version through TestFlight to a team of testers.
Swift Adds Concurrency Report
Those who build code will appreciate that Apple's programming language Swift now features built-in concurrency support. This, Apple explains, means that developers can "more easily write code that does work in parallel, which is key to building apps that are responsive to user input, while doing more work in the background. With concurrency in Swift," Apple explains, "developers can write fast, modern, safe code with fewer mistakes, and take full advantage of the powerful multicore silicon across Apple's devices." Those who wish to learn to code, by the way, can access Swift Playgrounds on a Mac or iPad. The fourth version, coming later this year, will allow users to create the visual design of their own app using SwiftUI.
More articles on Apple