The pandemic has certainly increased the amount of time we spend in our homes as all of us try to limit the transmission of the Covid-19 virus. With this new reality, a greater focus has arisen on ways to improve air quality within our homes, particularly those living in condominiums and apartments. In fact, poor air quality in residential and industrial buildings is now referred to as Sick Building Syndrome (SBS).
Toronto-headquartered Clear Inc., is on a mission to improve public health and safety by leveraging smart technologies in the delivery of its air and water purification solutions to condominiums and hoteliers.
I asked Clear CEO and founder Gil Blutrich to define Sick Building Syndrome and possible health consequences Canadians may face due to long-term exposure to indoor air and water contaminants.
"Sick Building Syndrome (SBS) is typical in buildings with poor filtration systems, and it manifests in respiratory problems for occupants," replied Blutrich. "A building is considered 'sick' when more than 20 percent of a building's occupants complain about persistent symptoms of illness, mostly due to poor indoor air quality."
Added Blutrich, "I believe that SBS is one of the greatest challenges our society is facing in the 21st century and, unfortunately, it remains poorly understood and most often unrecognized. According to the US Environmental Protection Agency, SBS and Building Related Illness (BRI) costs the US economy over $78.5 billion every year through illness, which can lead to decreased productivity and related absenteeism."
Blutrich further added, "Knowing that indoor air can be up to five times more polluted than the air outside, this implies increased exposure to harmful viruses, pathogens, and bacteria, and the potential development of serious, long-term health conditions among Canadians."
Health impacts
"Long-term exposure to indoor air and water contaminants can lead to a range of health consequences if left unaddressed," stated Blutrch. "From a broader perspective, poor indoor air and water quality can have real impacts on Canadians' physical and mental health, which can lead to outcomes like decreased productivity and increased absenteeism from the workplace."
"When you consider that indoor air can be up to five times more polluted than the air outside, and that we take about 17,000 to 23,000 breaths each day," explained Blutrich, "it helps paint a picture of the volume of pathogens that can end up in our lungs and bloodstream, just through inhaling."
"Building Related Illness (BRI) is a consequence of exposure to poor indoor air," elaborated Blutrich, "which includes conditions like asthma, hypersensitivity pneumonitis, inhalation fever, rhinosinusitis, infection, among other things."
"There is a big opportunity to drastically improve public health and safety by ensuring Canadians have access to clean indoor air and water. Amidst COVID-19 and other airborne variants, this is a concern that's been, rightfully so, bumped closer to the top of the priority list."
Looking back, Blutrich had this to add. "Going back a few decades, priorities were mainly focused on building design and resident or guest experience, with occupant health and wellbeing left on the side-lines. But in more recent years, even slightly ahead of the pandemic, condominium boards, property managers, developers, and hoteliers in Canada were already beginning to rethink the way their buildings were not only constructed, but equipped to support public health and safety."
Explained Blutrich, "From recent conversations I've had with people in the industry, many of these stakeholders are now looking to proven technologies, like Clear's, as an effective way to prevent Canadians from getting sick, and to ensure they're able to live healthy and fulfilled lives."
Blutrich also shared, "Access to real-time data is proving to be a real value add for these stakeholders as well, as it allows them to monitor indoor air and water quality levels around the clock, and proactively act on building issues as they arise."
So, how does Clear's air and water firewall technologies work?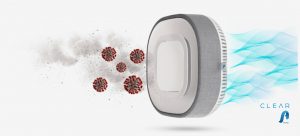 "Clean Air is our air purification technology, which combines a patented and EPA-approved Sterionizer and Ray Filter with bipolar ionization and UV light to purify, cleanse, and disinfect indoor air, while vigilantly monitoring its quality in real-time," explained Blutrich.
"Our Hydro-Optic system is a centralized solution that leverages advanced UV light technologies to offer 99.99% microbiologically-pure, pharmaceutical-grade water through every tap in the building, without the use or addition or chemicals."
Blutrich also shared that Clear's solutions are manufactured in Israel and that its technologies, "have been used by pharmaceutical companies and hospitals in 62 countries around the globe, enabling condominiums, developers, and hoteliers to equip residential and commercial buildings to fight harmful airborne and waterborne viruses, pathogens, and bacteria."
Clear offers its building services via subscription, and explained how they "also include installing a TV in the building lobby that [displays] real-time air and water quality information, 24/7, [and is] also available to residents through the Clear app."
Clear's recent launch in the Canadian marketplace coincides with its partnership with Toronto-based Lifetime Developments, who has pledged to integrate Clear systems into all future projects – the first being Oscar Residences in the Annex neighbourhood.
Said Blutrich, "With Canadians spending more time indoors due to the global pandemic, the need for purified indoor air and microbiologically-pure water is greater than ever, setting a new, future standard that's gaining attention within the hospitality and real estate industries."
Related:
Technology Disrupting Property Management