The James Dyson Award invites entrants to design something that solves a problem. Its goal is to celebrate, encourage and inspire the next generation of design engineers.
Undergraduate engineering students or students taking design-related courses or apprenticeships from 28 countries first compete with their innovations in national competitions, and then move on to compete internationally for the top annual award.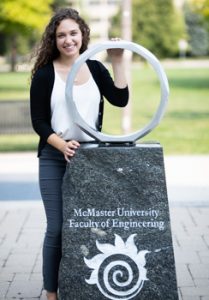 McMaster University biomedical and mechanical engineering student Lianna Genovese has been named as the 2021 National James Dyson Award in Canada  for her invention Guided Hands™, a mechanical assistive device that enables individuals living with limited hand mobility to write, paint, draw and use a touch-screen device.
Inspired by the mechanics of a 3D printer and following consultations with over 150 clinicians and people living with limited hand mobility, Guided Hands™ uses a sliding system composed of linear shafts and ball bearings to promote controlled hand movement.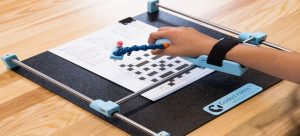 "My innovation journey began in 2018 when I met Elissa, a talented painter living with Cerebral Palsy," shared Genovese. "As her condition progressed, she experienced uncontrollable curling of her fingers making holding and using a paintbrush impossible. Elissa had lost her confidence, passion and creativity. She told her story to my engineering design class where I was instantly inspired to create the first prototype of Guided Hands™ to help Elissa paint again!"
Explained Genovese, "Elissa is amongst millions of people with a medical condition/injury experiencing limited hand mobility. I knew I had to seize the opportunity to innovate towards making an impact in the lives of others."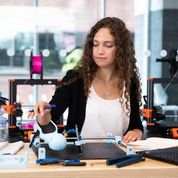 Today, at 21 years old, Genovese is the CEO & Founder of her own company called ImaginAble Solutions and has launched healthcare pilots for Guided Hands™ across North America to further test with patients and health professionals. Her company will be launching Guided Hands into the market at the end of August 2021 making the device available to people across Canada and the USA.
As the National James Dyson Award winner for Canada, she has received $3,500 to go towards her innovation and will progress to the international stage of the James Dyson Award. The global winner will be announced on November 17, 2021.
In addition, two Canadian student teams have received the runners-up title for their innovations Zerosion and ALGOBIO, and will also progress to international competition.
University of Toronto students James Zavaros-Bairos and Samir Khaki created Zerosion, a comprehensive system for identifying and preventing soil degradation in agriculture, using AI technology to analyze images and auto-detect erosion.
University of Waterloo students, Anneke van Heuven and Elias Trouyet designed ALGOBIO, a non-toxic bio-based flame retardant that keeps people safe from the fast spread of fire without causing any long-term health impacts.
The James Dyson Foundation works internationally to inspire young people about engineering: from primary school children up to university students and graduates. At school level the James Dyson Foundation supports design and technology education through free resources and workshops for schools. The James Dyson Award is the James Dyson Foundation's international design competition.