Toronto-based BPTN (Black Professionals In Tech Network) will host its third annual Black Tech Summit BFUTR (Be Future) 2021, the world's largest virtual tech summit for Black professionals and allies on October 28th-29th.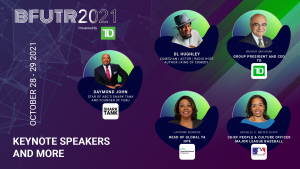 This year's Summit features over 60+ Black professionals and allies participating in keynote addresses, workshops, and panel discussions. Innovators and tech professionals from across North America will participate, including D.L. Hughley, actor, broadcaster, comedian, Michelle C. Meyer-Shipp, Chief People & Culture Officer, Major League Baseball, and Janeen Uzzell; CEO, National Society of Black Engineers, as well as Canadians Lola Oyelayo-Pearson, Director of UX, Shopify, and Gladstone Grant, National Director of Solution Sales, Microsoft.
"The 2021 BFUTR Global Tech Summit is all about 'Levelling Up' your knowledge, your connections, your career," explains Lekan Olawoye, BPTN's Founder and CEO.
"At BPTN we're unapologetically Black, and the BFUTR Summit perfectly exemplifies this," added Olawoye. "We've worked tirelessly to bring Black professionals and allies two days of non-stop learning and networking, stacking our panels with amazing speakers from major corporations across North America, including LinkedIn, Asana, AWS, RBC and our title sponsor TD."
"And we're proud to say that this year we've really #levelledup the Black Excellence we're bringing to the table with special guest D.L. Hughley and star of ABC's Shark Tank, and Founder and CEO of iconic Black brand FUBU, Daymond John."
"BFUTR is by the culture, for the culture and we can't wait to show up and show off this year!"
Attendees will get exclusive access to its job fair and an impressive list of local and international speakers who are shaping the future of technology and leading the way in diversity and inclusive leadership.
BFUTR Global Tech Summit 2021 tickets are FREE ADMISSION for all Black self-identified professionals, while allies and supporters can purchase General Admission passes at BPTN.