Rakuten Kobo has shared its 2021 Kobo Book Report, and it is not surprising to learn that Canadians have read to escape as well as to reflect and educate themselves during the pandemic. In this time of great societal change, romance, inspiring biographies and soulful stories about the human condition have captured the minds of Canadian readers.
As determined in this report, the top bestselling books of 2021 in Canada are:
Still, there are the books that get read from cover to cover, as well as those that just get started. The Kobo Book Report also revealed the books Canadians actually finished, which are:
New Reading Formats
More Canadians explored new reading formats, too.
According to a BookNet Canada study, approximately 1 in 10 people read every single day with an almost equal likelihood of reading print books (12%), eBooks (11%) or audiobooks (9%). The gap between these formats has progressively closed over the past few years as more and more Canadians are adopting digital reading habits.
In terms of audiobooks, these audiobooks consistently ranked in the top 5 sold across Canada in 2021:
Audiobooks are widely considered one of the fastest growing segments of the publishing industry.
In fact, over 50% of audiobook listeners sampled in the 2021 Rakuten Kobo CSAT Audiobook study reported to listening to more audiobooks over the past year, namely due to COVID and discovery of the convenience of the audiobook format. That same study found that booklovers most often listen to audiobooks when completing household chores (54%), driving (44%), or going for walks or runs outside (41%).
2021-A-Glance: Canadians Are Active Readers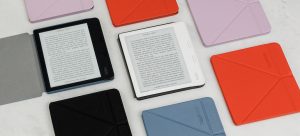 Finally, reading time has risen in Canada this year. The 2021 Kobo Book Report found:
Canadian average Kobo reading time increased by 33.7 percent since 2019
Canadians spent on average 21 per cent more time reading in 2021 versus the global average – the equivalent of more than 3,300 years reading!
Summer months (July & August) continue to be primetime for reading, with Canadians spending over 1.8 billion minutes reading in the peak of summer.
The report also discovered that one in every five eBooks sold in Canada were written by an independent author and published through Kobo Writing Life (KWL), Rakuten Kobo's independent publishing platform, effectively making KWL one of the largest publishers in the world.
Keep writing and keep reading, Canadians!