A Canadian tech company is challenging the way Canadians can approach chronic pain recovery.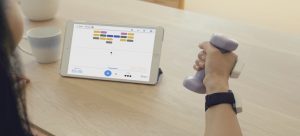 An estimated 7.63 million, or one in four Canadians aged 15+ is living with chronic pain, reports the Canadian Pain Task Force which was established in March 2019 to help the Government of Canada to better understand and address the needs of Canadians living with chronic pain.
Physical therapy is a valuable solution for chronic pain, and much of the rehabilitation process requires a patient to do exercises away from a clinic and without monitoring by a physical therapist.
Tenzr Health is a first-of-its-kind service powered by wearable technology that enables patients to complete hand and wrist physical therapy using a wrist/forearm tracking bracelet and a software-enabled tablet. Together they run assessments and exercise games that engage, motivate and provide visual feedback for effective motor learning and retraining movement patterns.
Tech Disrupts Physical Therapy
I asked Lukas-Karim Merhi, Co-Founder and CEO of Tenzr Health, to elaborate on the impacts of tech-enable therapies.
Merhi, replied, "The first major wave of technology-driven innovation in Physical Therapy (PT) came in the form of video-based exercise programs. These systems helped address a significant gap that exists in the clinical workflow."
"Due to a variety of demographic and resource constraints, patients get access to a limited number of PT sessions that are typically spaced several days, weeks or even months apart. It's critical for patients to complete their exercises in between these sessions, however patients often fail to complete their exercises because they don't always remember how to do them and don't know if they are doing them correctly," said Merhi. "This leads to many patients dropping out of the treatment process altogether."
"This first wave of video-based exercise programs provided PTs with a comprehensive database of video exercises that could be sent home with patients," explained Merhi. "From the patient's perspective, the videos showed them what exercises they needed to do and also allowed them to communicate with their PTs about any trouble and/or pain they experienced with the exercises. These programs added significant value by helping PTs provide some guidance outside the clinic, thereby improving patient compliance and outcomes, which explains their prolific adoption."
"The second wave, which is currently unfolding, involves the use of sensors to more completely solve this fundamental "out-of-clinic" problem," shared Merhi. "The video-based platforms are able to help patients understand what exercises they need to do, but are unable to tell if they are doing the exercises correctly – which makes it challenging for a patient to properly accomplish their exercises."
"For instance, with the use of our sensing technology at Tenzr Health, we can not only engage the patient in the type of exercises the PT has prescribed; but also provide instantaneous feedback on if the exercises are being done correctly and with the right movements, speed and intensity."
Merhi added, "… as part of this second wave, companies are delivering innovative solutions to improve patient engagement in the therapy process. For instance, at Tenzr Health, we believe the use of gamification, in which the sensors are used to convert the rehab exercises into a series of games that require the patient to move precisely as the PT prescribed in order to complete the game play, is crucial to foster patient engagement."
Can PT help to prevent injury?
"A large component of physical therapy is the science of movement analysis," 'responded Merhi. "Most importantly, physiotherapists assess movement impairments, and then teach and retrain healthy movement patterns in their client."
"Post-recovery, to prevent re-injuries or new injuries from occurring, physical therapists develop stretching and strengthening programs to enhance and improve movement performance for their clients. By learning how to move properly, clients can avoid performing movement patterns that can retrigger or trigger an injury."
"For example, for lower back pain, squatting and engaging your core when lifting heavy/bulky objects vs. bending down from the hips. Another example is learning to grip a tennis racket with a neutral wrist position and avoiding bending or straightening your arm all the way while playing to avoid Tennis Elbow."
Insurance Cover
I also asked Merhi if wearable technology 'fits in' with Canadian physician-led care and typical healthcare insurance plans.
"Traditional braces and splints, which are used in PT, are often covered by third party insurance providers," commented Merhi. "The landscape for insurance support for wearable technologies in PT is nascent, but the trends suggest that this technology will be eventually covered because of its potential to improve patient outcomes and efficiency."
Merhi added, "Several other markets, including the US, have conceived of reimbursement pathways for this class of device and we anticipate we'll soon see the same in Canada."
Data Management
The investment of time and effort in pain recovery is not insignificant, and so I wondered if therapy data is saved for a long time as well as if data could be shared with multiple therapists, if needed.
"Through Tenzr, patients have complete ownership over their data," explained Merhi. "Patients are able to download a copy of their data to take wherever they want at any period of time."
Added Merhi, "We continue to develop our data management and trending/insight infrastructure. In short, our belief and policy are that the patient owns their data and can choose to extract, retrieve or share it as they see fit."
What's next in wearable tech support from Tenzr?
"… At the moment we are focused on critical joint injuries (hand, wrist, elbow, shoulder, ankle), which is a huge problem and one that we are uniquely equipped to solve," replied Merhi. "I can't comment on specifics in our roadmap other than to say we have exciting plans that we believe will make a significant impact."
-30
Related:  Health Tech