It comes as no surprise that the idea of the hybrid work environment, and working from home, was a big theme at CES 2022, which wrapped up in early January both in Las Vegas as well as virtually online. As more and more people are either switching to working from home, taking WFH gigs, or starting up their own home-based businesses, not to mention kids are looking for dedicated spaces for virtual schooling or homework, the need for technology to set up the perfect home office is essential.
You might already have a desk, ergonomic chair, laptop or computer, and maybe even a nice lamp, filing cabinet, and smart speaker for background tunes. But, as someone who has been working exclusively from home for the last seven years, I can confidently say that you'll find the need for more items as your business grows.
Here are some compelling tech items that were announced at CES 2022, many of which are coming later this year. They would all make perfect additions to the home office, for both WFH individuals and students, alike.
HP Elite Dragonfly Chromebook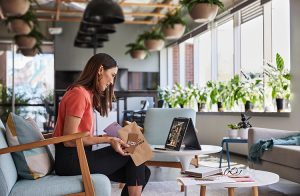 Among the many innovations HP revealed at CES 2022 is the Elite Dragonfly Chromebook, an enterprise-grade Chromebook that can both meet the needs of business users while also functioning as a solid computer for students. It comes loaded with Intel's 12th gen mobile processor, a sleek glass haptic trackpad, and the option for up to 32GB memory and 512GB SSD. With a 13.5-inch 1,920 x 1,280 screen, it comes with all the ports you could possibly need to allow for remote work, including two Thunderbolt 4 Type-C, one USB Type-A, one HDMI 2.0, a Nano SIM slot, and a headphone jack. And as a convertible, you can flip it over and use it tented or as a tablet as well. Set for availability in April 2022, it's a powerful Chromebook that would nicely bridge the gap for those working both at home and in the office or school.
Kensington Designed for Surface (DFS) Accessories
Kensington is known for its line of reliable computing accessories, and the latest is created specifically for Microsoft Surface computers. Dubbed the Designed for Surface (DFS) line and developed in collaboration with Microsoft, there are products for protection, securing data, and enhancing functionality, all critical when you're working in multiple spaces, sometimes public spots like a local café or coffee shop. If you're going to be bringing the computer back and forth from the office or school campus to home and vice versa, the BlackBelt Rugged Case for the Surface Pro 8 is a good option. Finished in black, it meets MIL-STD-810H drop testing and MIL-STD-810H Method 504.3 Contamination by Fluids standards to provide military-grade drop and wipe-down protection for the device. The self-adjusting hand strap allows the computer to lie flat or use the two-point shoulder strap to carry it hands-free. There's also a kickstand option for tenting it when viewing videos, reviewing documents, or having a video call. There's also an integrated holder for the Surface Pen, keyboard holder, and TypeCover strap.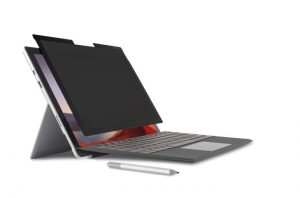 Particularly for those working in public environments, such as a local café, you want to keep your confidential work safe from prying eyes. This is where a device like the Kensington MagPro Elite Magnetic Privacy Screen can come in handy. Also designed for the Surface Pro 8, it attaches to the magnetic frame of the computer so there's no damage from adhesives and narrows the field of vision to +/-30° to reduce the chance of someone being able to read what's on the screen. Plus, it has the added benefit of filtering up to 22% of harmful blue light rays. (Kensington, it should be noted, also makes the MagPro Elite Privacy Screens for the MacBook Pro, including both the 14-inch and 16-inch 2021 models.)
Kensington StudioCaddy with Qi Wireless Charging for Apple Devices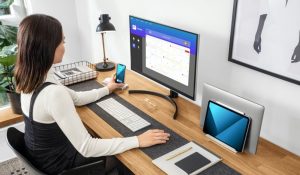 What we love about the Kensington StudioCaddy for Apple Devices is that it's designed not just to hold and wirelessly recharge an iPhone, iPad, and Apple AirPods, it can also hold a MacBook computer. Put all your Apple devices neatly in place on your desk and recharge so they're all ready to go when you are. The Caddy has a dual Qi charger and multiple USB ports to charge other devices as well.
LG StanbyME
It's not uncommon for workers to have second screens, whether it's for multitasking or to use a larger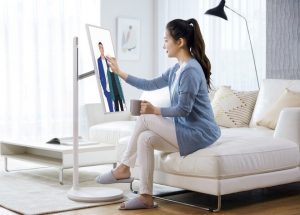 screen for some jobs and the smaller laptop screen for others, for example. The new LG StanbyME is a clever option that can come in handy both for a home office as well as other uses around the house. It's a 27-inch LCD touchscreen smart TV on a movable stand with wheels that can connect to a source device via wireless streaming, streaming stick plugged in via HDMI, or USB-connected device. Use it for a more engaging experience during video calls, or when you want to get some work done while relaxing on the couch. It can also provide background entertainment as you play the news, for example, while you work, or keep on top of the stock market. When the workday is over, move it to the kitchen to follow recipe videos while cooking dinner, for example, or to the kids' room so they can play video games or watch TV.
Satechi Pro USB-4 Multiport Adapter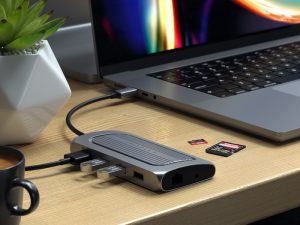 You'll probably need to plug numerous devices into your computer, which will require an adapter. The Satechi Pro USB-4 Multiport Adapter can be used to connect HDMI devices with its 8K-compatible ports, Gigabit Ethernet, USB-C PD, USB-A, and microSD cards. It's ruggedly designed such that it will prevent devices from overheating and offers quick transfer rates of up to 40Gbps, along with backwards compatibility with USB 3.2, Thunderbolt 3, and others.
Austere V Series Power Surge Protector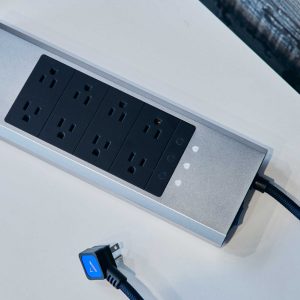 Speaking of keeping devices powered up, you'll need to plug in your laptop, speakers, lamp, radio, monitor, phone charger, and multiple other devices in the home office. Chances are that a single two-outlet plug nearby won't do. You'll need to get a surge protector, and the Austere V Series Power is not only functional but elegant in design as well so it doesn't take away from the sleek décor of the room. Plug it into the wall then keep it below the desk or even on top. It has two USB-A and three USB-C ports each delivering up to 2.4 Amps of charging power, along with eight AC ports that are nicely spaced from one another so you can easily plug in devices with large adapters. Power is regulated to ensure there are no burnouts and OverCurrent Protection ensures the circuits won't exceed 15 amps, causing short circuiting or dangerously high temperatures levels. You get not only the ability to plug in everything you need, but security knowing the devices will run safely and efficiently, too.
Targus UV-C LED Disinfection Light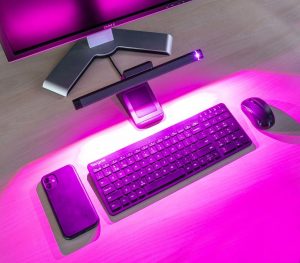 The last thing you want to do is bring your gear home from the office with germs and bacteria, thus transmitting it to your home workspace. Or, if you use gear at the office that is from shared workspaces, you'll want to keep the germs and viruses at bay. The Targus UV-C Disinfection Light remains on your desk at all times. Turn it on and run it for five minutes every hour, or when you're heading out for lunch or at the end of the day, and it will break down microorganisms and work to eliminate up to 99% of pathogens on device surfaces beneath it. The light, which achieved UL 962 certification for safe household and commercial use, will be available in February 2022.
Noveto N1 Smart Audio Device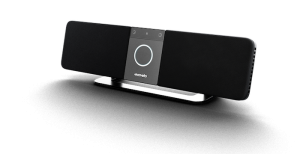 When there are multiple people working from home, whether it's a parent working and a child doing virtual schooling, two adults, or even more than two people, things can get confusing and distractions can arise. Instead of wearing headphones all day to stay focused, the innovative Noveto N1 smart speaker is designed to provide binaural sound without you having to place anything over your ears. The sound is transmitted silently, converging into audible pockets outside just the listeners' ears, says the company. It is even Alexa-enabled and will recognize the owner as soon as you walk in front of it and give it a command, even reading your e-mails aloud to you without others in the room being able to hear. It's a perfect way to listen to a podcast, seminar, or background music while you work without someone else in the home telling you to turn it down. The Noveto N1 will start shipping in the first quarter of 2022.
Related:
5 Cool Under-the-Radar Products Being Shown at CES 2022