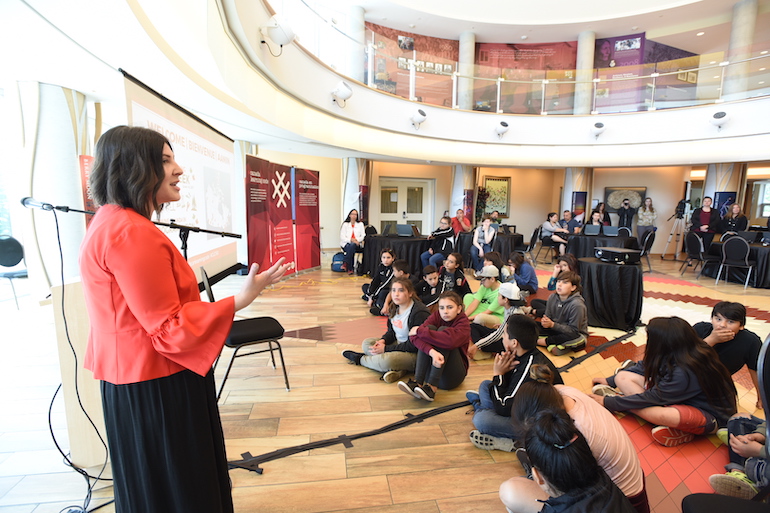 Photo Credit Cynthia MunsterDigital skills have become a fundamental requirement for Canadian students, today.
Canada Learning Code (CLC) brings accessible computer science to communities across Canada by offering various resources, such as workshops and conferences that provide educators with training and lesson plans to teach computer science to their students.
The organisation also has a vibrant virtual community for volunteers, sponsors, and advocates, and offers blogs, news subscription as well as many ways for Canadians to get involved with its organization and mission to leverage technology.
Five years ago, Canada Learning Code (CLC) started CLC Week, where thousands of classrooms participate by utilizing a CLC lesson plan and teaching tech in a fun and interactive way.
2021 CLC Week, which took place in early December, focused on arming educators with new lesson plans that target students' creativity, encouraging them to break away from being passive users of computers. Educators used the free CLC Learning Tool to access lesson plans for every grade level, plus a community of like-minded teachers.
Recently, I spoke with Melissa Sariffodeen, Co-Founder & CEO of Canada Learning Code, about this annual initiative, the rapidly changing computer science education landscape, and how CLC is improving equity and accessibility to educators and students across Canada.
Canada Learning Code (CLC)
"Canada Learning Code (CLC) is Canada's leading national charity championing computer science education and commitment to bringing accessible computer science to communities across Canada," explained Sariffodeen. "We do this through partnering with educators, designing resources, and delivering learning experiences."
"Our vision is to help create a prosperous Canada in which all people have the skills and confidence to harness the power of technology. Therefore, we work to design all of our content and experiences to be accessible and inclusive."
"For educators specifically, we offer a variety of workshops and conferences that provide them with the training and lesson plans to introduce computer science to their students," said Sariffodeen. "We know that teachers are the catalyst to opening the minds of students to computer science so we aim to provide easy-to-follow and understand resources for teachers without any need for previous coding or computer science experience.
"For example, we recently held our annual CLC Week, in which thousands of classrooms participated by utilizing a CLC lesson plan and teaching tech in a fun and interactive way."
CLC Week Reaches 15,000+ Students
"The theme for CLC Week 2021 was Power On, with the intent for teachers to power on their students' imaginations. We've been living through unprecedented times, and students have come to view technology as something that they sit in front of, rather than something that they engage with. CLC Week was the opportunity for teachers to hand technological control back to their students," said Sariffodeen.
"During the week of December 6th – 10th hundreds of teachers across Canada taught our free lesson plans to their students. Some of them then shared their accomplishments with the hashtags #PowerOnChallenge and #clcWeek," added Sariffodeen.
Sariffodeen explained that free workshops also ran the week ahead of CLC Week to all teachers to, "learn, build confidence and ask questions in order to better understand and help their students when they taught our lesson plans."
"After CLC Week teachers were asked and encouraged to let us know how many students they taught our lesson plans to. Some teachers taught up to 350 students during the week!"
"It's wonderful to be able to help teachers and students in this way. Within 48 hours of our CLC Week survey going out, teachers have reported teaching almost 15,000 students! More data is still coming in, and we expect our overall reach to be far greater!!
Changing Canadian Landscape in Computer Science Education
I asked Sariffodeen to comment on computer science education in Canada.
"It has never been more important that we equip students in Canada with the resources they need to build essential digital skills through computer science education," replied Sariffodeen. "It's vital to so many different careers and opportunities in our current work landscape."
"In Canada, we currently lack consistent and comprehensive computer science education across all provinces and territories, which leads to inaccessibility and inequality across communities. Computer science education is essential to ensure students in Canada have access to the knowledge they need to prosper and become thriving citizens in our digital world," remarked Sariffodeen.
CLC Partnerships
It's an ambitious and impressive vision. I asked Sariffodeen about government and corporate support for Canada Learning Code.
Replied Sariffodeen, "Yes, we work with ministries and school boards across the country. In fact, in 2020 we launched the K-12 Computer Science Education Framework, a document that provides comprehensive and consistent recommendations for computer science curriculum across multiple subjects. Recognizing how important it was to align with current curriculums, we developed this document based on extensive consultation with experts and key stakeholders including educators and policymakers."
"In terms of other strategic partners, we work with a variety of corporate partners across our programs who are committed to computer science education in Canada. Our most recent event, CLC Week, was made possible thanks to our industry partners including, Amazon Future Engineer, General Motors Canada, Shaw and TikTok."
Long-Term Rewards
"By implementing computer science now, we are preparing students in Canada for the rapidly changing digital work landscape," emphasized Sariffodeen. "In the same way that we teach fundamental science skills to all youth – so they better understand how the world works – the same goes for computer science and coding. Coding has become a basic literacy skill in today's digital age and will only become more pervasive in the future."
Explained Sariffodeen, "This is something we're incredibly passionate about as an organization and believe that by implementing the K-12 Computer Science Education Framework now, the graduating classes in 2040 and beyond will be fully integrated in computer science."
Related   STEM