New features in popular wireless earbuds allow you to control playback and sound using built-in push buttons or a new smartphone app that enables hands-free voice control over your music, your buds, even some smartphone features.
In the market now and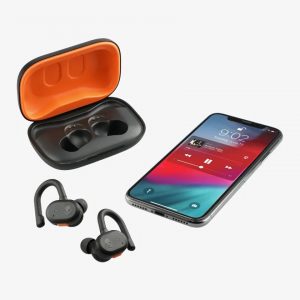 very reasonably priced at less than $100, the Skullcandy Push Active True Wireless Earbuds and downloadable Skullcandy SkulliQ app not only give you hands-free control over your media player, but also access to your Spotify streaming media account, accept and reject capabilities for incoming calls to your smartphone, and more. (A button on the back of either earbud also gives device and media control.) With the app open in the background, it's possible to put the smartphone away and still have device control using just your voice.
Of course, the earbuds themselves must be comfortable and convenient to wear to truly take advantage of all their new features.
So the Skullcandy Sport Earbuds are designed to be just that – convenient to use and comfortable to wear. The secure over-the-ear fit of these buds means they can be worn during biking, hiking and exercise-like activities. The buds come with three different size silicone tips for a good in-canal fit; medium is the default. Once you slide the appropriately tipped bud into your ear, twist it backwards slightly and gently so the flexible hook wraps comfortably around your ear.  Designed to fit without falling out, the only drawback with over-the-earbuds is if you wear glasses or sunglasses – there may not be enough room for the competing earhooks.
While 'getting fitted', it was apparent that hearing the best sound quality is dependant on getting the best fit, naturally. The Skullcandy's full bass response, for example, is lost if the in-canal earbud is not fully in the canal.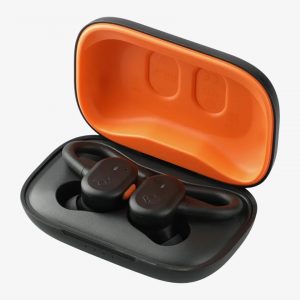 That being said, these wireless earbuds have terrific sound right out of the box (and that is not just considering the low cost), coming from 6mm drivers with a frequency range of 20Hz to 20kHz.
There are three EQ presets built-in to control audio quality and fidelity: Music mode is the default with its wide response for deep bass and crisp high notes. A Podcast mode removes some of the deep bass, while the Movie mode makes the best of dialog and special sound effects.
More individually customizable EQ adjustments are available through the downloadable app for the best possible music quality and listening experience.
(For me, that starts with The Beatles: Revolver is a great sound system check disc because it will force your system to resolve McCartney's deep yet melodic bass lines, Starr's crisp snack-like snare drumming, Lennon's growly voice and Harrison's sitar-like guitar sounds. Then there are orchestral strings and horn arrangements to clarify. Backwards tape loops, multilayered vocal harmonies, tambourines in one stereo channel and hand claps in the other. If Tomorrow Never Knows, Lennon's high-flyin' masterpiece from Revolver, sounds good in all its multi-track glory on a pair of earbuds, well, they are doing their job.)
Other classical, jazz and rock albums all sound good, even without fine-tuning and tweaking using the app. Vocals stand out without added sibilance. Highs are bright and clear; middle tones never muddled, and that deep bass thump will get your hips shakin' – if you are not already jogging!
Dancing or jogging, know that the True Active earbuds are IP55-rated for sweat- and water resistance; both the buds and the protective charging case are made of ABS plastic. On the earbuds and the case are LED status lights, indicating battery levels, pairing and sharing status. Pairing the earbuds to a smartphone the first time is incredibly easy; pairing second devices or re-syncing after disconnect may require a few extra steps. Sharing media and music with a friend's Skull iQ-enabled device can be set-up with a few buttons pushes.
If there's any top-of-line shortfall to be identified, it is the Push Active's microphone quality. It will handle a single spoken voice well enough, but seemingly any other background sounds or ambient noise will muddy the audio and make the voice murky. Skullcandy in fact says that, when using the voice controls, you'll get best results in a quiet space.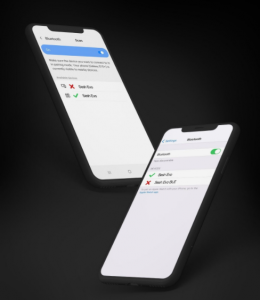 But when you do (using the Skullcandy app and Skull-iQ hands-free voice controls), you just say the trigger words "Hey Skullcandy" and you can control music playback or answer phone calls. You can also use the Skullcandy voice assistant to connect to other voice-activated devices, like Apple Siri or Google's Assistant, to send a text, make a call, set a timer, take a photo.
Battery notifications (10 hours or so expectancy in the earbuds; another thirty or more in the charged carrying case) also come though the app (audio as well). The app also opens the door to firmware updates, and the company says it has more customization features coming.
Even with the app and Skullcandy's voice-activated command features, there is one button on each of the Skullcandy earbuds for direct manual control of features and functions, including of course play and volume, but also answer and end call.
Playing good music is one thing; good earbuds nowadays must offer more. That's why Skullcandy's Push Active Wireless Earbuds are worth a listen.
# # #
Win Voice Control, Adventure Ready Skullcandy Push Active Wireless Sports Earbuds
-30-