With COVID-19 mandates slowly lifting, many of us have one thing on the brain: vacation. Whether it's a quick trip to another Canadian province to explore our great home and native land or to visit family and friends, or a flight to an exotic destination for some R&R and margaritas on the beach, air travel is poised to see a jump as restrictions ease. That includes business travel as well.
As at March 2022, the ArriveCAN app is a new requirement for air travel in order to be permitted re-entry into Canada. Rules are often changing so check the Government of Canada website or Border Services Agency notifications or contact your airline for the most up-to-date requirements once you're ready to depart. But for now, it's essential.
We cover everything you need to know about the app, how to use it, and why; plus look at some great tech worth bringing along to make your next air travel experience a great one.
ArriveCAN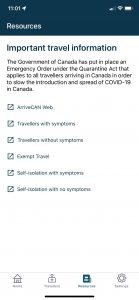 Currently, Canadians traveling abroad need to download and use the ArriveCAN app to re-enter the country. Available in English, French, and Spanish and for iOS and Android as well as via the web, it's a good idea to download the app to your phone and set up an account before departure so you're ready to use it when the time comes. That said, the website version can be used as a back-up should you not be able to use the app.
The purpose of the app is to provide contact information for all the parties in your household who are traveling (you can download the app to just one device and enter everyone's information there), purpose of your travel, date and time of arrival and the destination you're arriving from, fight number, airport and airline, proof of COVID-19 vaccination, information about your pre-entry COVID-19 test results (currently, a rapid antigen test taken up to 72 hours before departure is required but these rules may change), and quarantine plan details in the event that it is required.
There's an optional "saved traveller" section where you can scan and upload your travel documents, including your passport, and proof of vaccination details for easily re-using on subsequent trips. Travellers can be added and removed at any time.
Consider the app a kind of digital passport through these trying times. But keep in mind you still need your physical passport as well.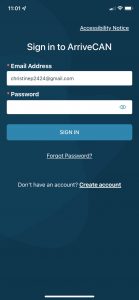 I downloaded ArriveCAN to set up details for an upcoming trip to Mexico. My experience was simple. Log in within 72 hours before heading back to Canada and tap "Get started on your ArriveCAN form." Here, you'll answer the series of questions to confirm your return to Canada. It's important to fill these details out or you could be denied entry into the country.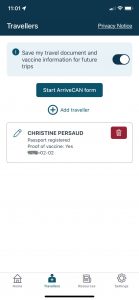 I opted to save my traveller information in the app, which was simple to do as well. Scan your passport and the details will automatically be picked up and loaded into the app. Then, upload proof of COVID-19 vaccination in the form of an uploaded photocopy of the confirmation receipt and/or QR code. It's advised to still bring the paper copies with you as a back-up.
The Government of Canada advises residents to be aware of fraudulent, third-party webpages and apps posing as ArriveCAN. The app is free so if you come across a link advising you to pay, this is not the real app. See the links above that will direct you to the legitimate apps.
What Other Tech Should You Bring for Air Travel?
Once you're all set with the ArriveCAN app to ensure you'll get back home without a hitch, it's time to consider the items to pack in your suitcase and carry-on luggage for the trip; most notably, for the airplane ride. These items will come in handy whether you're traveling for pleasure or business.
Noise-cancelling headphones: I never travel by air without mine. They not only block out distracting noise by other passengers, but also the constant hum of the airplane engine. With a good pair, you'd be surprised how significant the difference is with ANC on and off.
Downloaded video content: One of the tasks we always do the night before heading away on vacation is download content from a favourite streaming app. All the top apps, including Netflix, Amazon Prime Video, and Crave, allow you to download shows and movies to watch without an Internet connection. Note that in some cases, titles will expire after a set period, so you're best to do this only a few days before departure. Don't wait until you get to the airport as Wi-Fi might not be reliable nor fast enough to download an entire movie or season of a show before you are ready to board. Make sure to also download the content to the respective device that each person will be using, so cartoons for your kids onto their tablets, your gripping drama to your phone, and so on.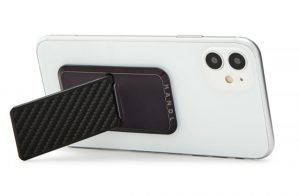 Phone or tablet kickstand case: If you plan to watch a movie or TV show downloaded to your mobile device, having a kickstand case on your phone or tablet is essential. This makes it easy to prop the device up on the airplane tray and watch hands-free. I use a Handl case on my phone that has a built-in elastic kickstand that pushes flush into the case when not in use and also doubles as a phone grip. Spigen also makes wonderfully simply kickstand cases for all the most popular phones with a tiny piece that juts out from the side when you need to prop it up on an angle.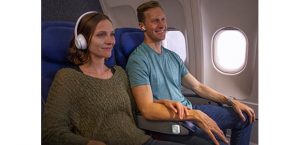 Headphone splitter: Whether it's for two kids or you and a spouse, business partner, or friend, a headphone splitter is a great way to share one source device, like a laptop or tablet, and watch something together. It might be a presentation that can come in handy for a business meeting you're about to attend or a movie you downloaded to your personal device. A simple solution to accomplish this with two pairs of wireless headphones is the Scosche FlyTunes, which I used with a friend on a flight before. While pairing both at the same time can sometimes be a bit confusing (don't lose the little card that explains the sequence of button presses to do so!) once set it, it worked flawlessly.
Portable phone charger: A portable phone charger is not only useful in the event that there isn't an outlet by your seats (trust me, it's happened to me!) or the outlet isn't working, it will also come in handy should your flight get delayed. More than once I have sat on a plane for hours on the tarmac, unable to leave but not yet ready to take-off. With nothing to do but use your mobile device to check e-mails, play games, or watch movies, your phone's battery can easily deplete quickly. A portable battery pack provides peace-of-mind that you always have an extra boost if needed. I would advise investing a bit more in one that has built-in cables that work with your mobile device, like Lightning and/or USB-C, as well as built-in AC prongs so you can plug in virtually anywhere without needing a separate adapter or cord.
-30-
Related:
Fraudsters are Shifting to Travel and Leisure Industries