Twitter was once just a cluttered place to post your random thoughts in 140 characters or less. But over the years, Twitter has expanded, offering new capabilities, features, and options. From shortened URLs for linking to news stories to the ability to post photos with Tweets, schedule them, and create threads, Twitter can be a place for full-blown conversations, no character limits needed.
Over and above usability improvements, Twitter has been adding premium services over the last year that add value for both everyday users and additional options for those willing to pay for access to a bumped-up tier. Here's a rundown of some of the most exciting new features you can use on Twitter.
Twitter Blue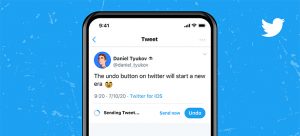 First launched in Canada and Australia in the summer of 2021, Twitter Blue is the company's first subscription offering. With the subscription, which runs $3.49/mo. in Canada, you get a slew of exclusive features. Bookmarks Folders make it easier to organize saved content so you can find older Tweets in a flash when you need them. Arguably the most useful feature that makes Blue worth the price of entry for avid users is the Undo Tweet option so you can set a customizable time up to 30 seconds to undo a Tweet, reply, or thread. It's great if you were about to send something you regret (or that could get you in trouble) or simply to fix an embarrassing typo before it's too late. Another feature in Twitter Blue is Reader Mode which helps eliminate unnecessary noise, turning long threads into easy-to-read text. Additional perks are included like customizable app icons, fun colour themes for the app, and dedicated customer support.
Super Follows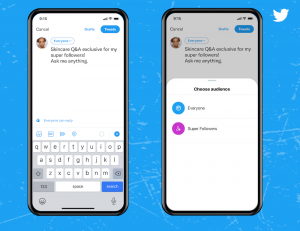 Introduced in September 2021, Super Follows allows "influencers" and businesses to earn money through Twitter by offering subscriber-only content to their most loyal and passionate followers. This might include bonus Tweets, authentic interaction, and exclusive commentary. Super Follow content can come from activists, journalists, musicians, content curators, writers, gamers, astrology enthusiasts, skincare and beauty experts, comedians, fantasy sports experts – you name it. Monthly subscription rates can be set at $2.99, $4.99, or $9.99 per month for this "behind-the-scenes" content that is only accessible to your most adoring fans or engaged listeners. Creators are tagged with a Super Followers badge, highlighted under the Super Followers name when they reply to a Tweet. To subscribe to a Super Follower, just tap the button on their account profile to see a description of their paid offerings and pricing. You can even pay directly in the app.
To be eligible to use the service, you must have at least 10,000 followers, be at least 18 years of age, have Tweeted 25+ times within the last 30 days, and follow the policy. The service is only open right now to those in the U.S., but chances are that it will find its way to Canada soon. Canadians can, however, subscribe to U.S.-based members who offer Super Follower content.
Safety Mode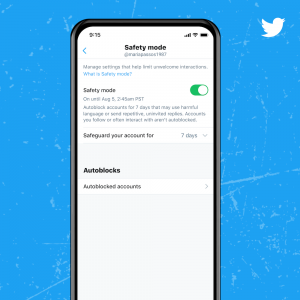 Safety Mode is another feature that rolled out on Twitter in Canada in September 2021. The focus is on helping users eliminate unwelcome interactions, temporarily blocking accounts for seven days if they use potentially harmful language, like insults or hateful remarks, or if they send repetitive or uninvited replies or mentions. Turn the feature on and the system will assess the likelihood of negative engagement by examining the content of the Tweet as well as the relationship between the author and the person replying. If you follow the account or frequently interact with it, it will not be blocked. Once blocked, the person will not be able to follow you, view your Tweets, or send you Direct Messages (DMs). Before a block is removed, you will receive a summary and recap of the information. If an account is blocked that you don't want to be blocked, you can undo the action at any time in Settings. In September 2021, Safety Mode was tested with a small number of accounts but was recently expanded to include half of all accounts in Canada.
Tips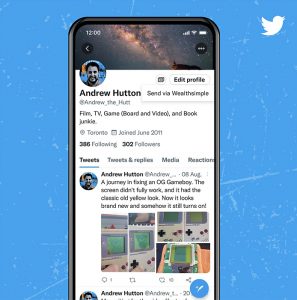 Announced in September 2021 and updated in February 2022, Tips provides a variety of payment options for Twitter users. You can add a payment profile to your bios and Tweets, choosing from options like Cash app, Patreon, Venmo, GoFundMe, and, most recently, Wealthsimple Cash in Canada. You can also tip Twitter content creators you want to help out with Bitcoin using Strike (U.S. and El Salvador only). Tip a favorite aspiring comedian for their witty Tweets, for example, help a small business owner struggling through the pandemic, or even support an important cause. Look for the cash icon next to the Follow button on the Twitter user's profile page. Tap it, look through the list of payment options, select your preferred one, and send the desired amount.
NFTS
NFTs are all the rage nowadays, and Twitter is jumping aboard the trend full speed through special NFT profiles. If you notice a profile that is a "soft hexagon," that indicates NFT involvement. Available as part of the Twitter Blue subscription and available to those with an iOS device, the option was announced on Twitter in January 2022. To show an NFT as your profile photo, simply connect Twitter to your crypto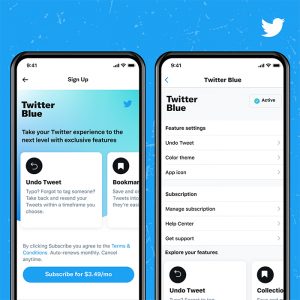 wallet, choose the desired NFT, upload, and you're off to the races. Supported crypto wallets at launch included Argent, Coinbase Wallet, Ledger Live, MetaMask, Rainbow, and Trust Wallet.