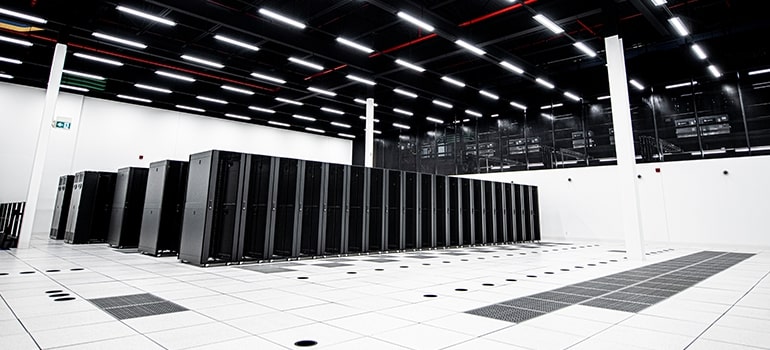 Managing data center operations is no small feat. Technical acumen, strategic thinking, thought leadership, as well as the ability to operationalize process and human behaviour are just a few of the core attributes needed to do the job.
With more than 15 years data center experience in a variety of dynamic organizations – Amazon Web Services, IBM Canada and Bell Canada – and a passion to be at the heart of data services, Maria Bolovis, SVP Infrastructure Operations &Technology at eStruxture Data Centers, fits the bill.
In October 2021 Bolovis joined eStruxture, the largest Canadian-owned network and cloud-neutral data center provider, and oversees its multiple data centers in Montreal, Vancouver, Toronto, and Calgary, which will open its second data center later this year.
As part of our International Women's Day Women and #BreakTheBias editorial series, I asked Bolovis about her interest in STEM, her impressive mentorship commitment, and ways that she encourages greater diversity and inclusion as a woman in tech.
A STEM foundation begins early
"My interest in STEM started at a very young age at home," shared Bolovis. "My parents were immigrants from Greece, who came to Canada in the early sixties with three daughters. We were taught early in life the importance of working hard and following your dreams. My parents put no limits on us in terms of what we could do and always encouraged us to shoot for the stars."
"I also attended schools that promoted math and sciences and luckily had the opportunity to participate in numerous science fairs and clubs that helped cultivate my interest in science and math," said Bolovis.
"That's why I'm so passionate about encouraging young girls to explore STEM and mentoring the next generation of women in tech."
"In fact, just recently we held an event at eStruxture where we offered up a data center tour for people at the company and their children. The purpose of the tour was to inspire young women to pursue a career in technology by showing them what a company that has diversity and inclusion at its core looks like. The girls got to do the data center tour along with their mothers/fathers."
Commitment to Increase Diversity
"When it comes to encouraging greater diversity in my profession," began Bolovis, "I keep in mind three key objectives: How do we attract diversity and more women to the industry? How do we retain diverse talent once we successfully recruit? And lastly, how do we make sure we are helping our talent grow and develop in their roles?"
"I lead all components of operations for the company, including infrastructure operations, customer support, provisioning, and customer experience," remarked Bolovis. "I am currently overseeing the development of a new data center in Calgary (CAL-2) that will open later this year."
Said Bolovis, "An important part of inclusive recruiting in infrastructure operations is drafting job descriptions that appeal to underrepresented candidates to break barriers for diverse employees. However, once we successfully attract those employees, we also need to make an ongoing effort to eliminate unconscious biases and offer the right opportunities so that those individuals are set up for success and have a voice."
#BreakTheBias in Tech with Confidence
I asked Bolovis about her professional journey as an engineer and tech professional, and what gender bias she has faced in her career.
"For me, things definitely improved with time, and we've come a long way as a community in terms of supporting women in the industry," began Bolovis.
"I, myself, have developed a lot over the years. I've built strong self-esteem, and I found the courage to share my opinion openly. I also stopped being afraid to speak up when I saw something that wasn't right," added Bolovis.
"Of course, there are still unconscious biases that exist with regard to age, physical appearance, pregnancy, etc."
Shared Bolovis, "The difference now is that I have the confidence to navigate that, to confront people about those biases and challenge them to think differently."
"I've also been lucky enough to have strong women mentors throughout my life and career as well as important male colleagues who were big advocates for gender equality and diversity and inclusion."
Tech Women Helping Tech Women to Succeed
"My advice for women seeking senior STEM positions is to not be afraid to voice your opinion, be strong and speak out on issues that you feel passionate about," stated Bolvis.
"Use your privilege as a senior woman in STEM to help others. For example, mentor and coach young women in the industry to help them build their confidence.
Added Bolovis, "Don't just sit around and wait for things to improve; be the change you want to see and become a voice for those who don't have one yet."
"I personally love to mentor young women in the industry: I currently have 7 mentees that I work with from my time at different companies. I've kept in touch with them over the years and I still invest my time to help them succeed."
"On the flip side," added Bolovis, "don't be afraid to ask for help and network with other women in the industry who can help you in your career. We can all learn from one another."
"For example, eStruxture has a program for women at the company, which offers both personal and professional support and career development resources. It's important to me that my company has similar values to me, and I'm very proud to work for a company that is paving the way for diversity and achieving gender parity in tech."
Bolovis shared, "Data centers are the heart of every company. Working in such mission critical sector is probably one of the most demanding but rewarding sectors to work in. I get tremendous sense of accomplishment and value from what I do."
"My interest in data centers came a bit later on in life; at 23, I was thrown into an operations engineering role at IBM Canada and haven't left the data center world since."

International Women's Day (IWD) is a global day held on March 8th each year celebrating the achievements of women and marks a call to action for accelerating women's equality. This month, it is our pleasure to shine an extra bright spotlight on several talented, inspirational women working in business and technology, and how they each represent this year's International Women's Day theme of #BreakTheBias. 
Visit Women & Tech throughout March to access new articles about amazing women in tech.