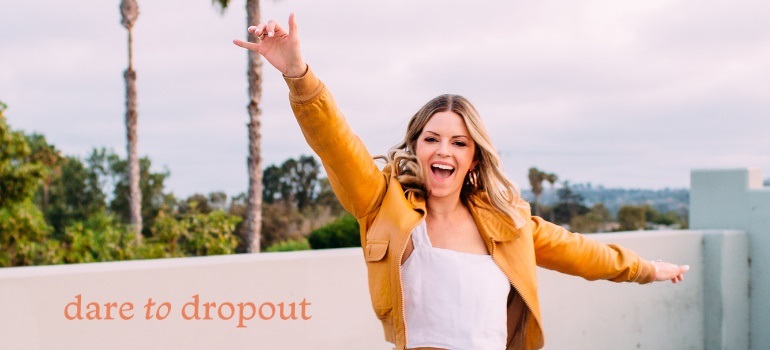 Alessia Citro is a self-claimed 'corporate dropout' from tech companies like Google, Salesforce, and Houzz. The isolation of working in sales from home during the pandemic while also raising a young family sparked a need to leave corporate tech behind in favour of a purposeful career that facilitates leadership, entrepreneurship, and mental well-being for businesswomen, including herself.
Citro is now a coach, author, and entrepreneur. She is Founder and CEO of Theia Collective, a learning community for budding entrepreneurs that launched March 2022, and host of The Corporate Dropout Podcast. Alessia's mission with both Theia Collective and The Corporate Dropout is to empower and equip aspiring entrepreneurs — both energetically and tactically — to leave the corporate grind and live the life they were created for.
As part of our International Women's Day and #BreakTheBias editorial series, Alessia's experience and purpose shines a spotlight on entrepreneurial women who have had dynamic tech careers but are now tapping into personal business-building aspirations instead.
I asked Citro about her newly founded company, her career in tech and the switch to entrepreneurship, bias she's faced head-on, and how she now supports women in business and, more generally, in society.
Theia Collective and Its Impetus
"The company I founded, Theia Collective, was born as a solution to a problem I faced, and still do, to an extent," began Citro. "I came to find out this issue was pervasive: that even women with business degrees, like myself, had no idea what they were doing when it came to starting, scaling, and running businesses. I am solving it through my superpowers of coaching, networking, and connecting."
Uncandidly, Citro shared her backstory.
"I thrived in the corporate world – until I didn't …," shared Citro. "I began my dream job at Google on March 2, 2020. One week later, I was remote until further notice. Daycare for my daughter, who was just over a year old at the time, also shut down. And after nine months of trying to make it work, I succumbed to a depressive break that required medication and three months of medical leave. I spent that time healing and re-evaluating my priorities, what I wanted out of my life. I realized that a high-pressure corporate job and the need to be "on" every Monday-Friday from 8-5 PM -or later- was not in harmony with my higher priorities of mental health and family."
Said Citro, "I knew I needed to find a different path and go out on my own. In doing so, I realized I was called to inspire and equip others to do the same."
"I did this, in part, by founding Theia Collective, named for the Greek goddess of light. Our mission is to light the path for female entrepreneurs," explained Citro.
"We do this in two ways: the first is through community, since business ownership can be very lonely; the second is through online learning. Our flagship Business Foundations Mastermind course will span 13 critical areas of business and will be taught by professionals across specialties – including tax, law, finance, marketing, and more."
Added Citro, "By teaching female entrepreneurs the basics they need to be the CEO of their business, we will enable them to make an impact, make more money, meet the right people, and create the fulfilling life they were made for."
The Switch from Tech to Entrepreneurship
"My tech career was wonderful overall, but things shifted for me once my daughter was born," remarked Citro. "I was a top sales performer throughout my career and my sense of purpose and worth were largely married with production, achievement, and topping the leaderboard. Giving birth to my daughter put things into perspective. The things that initially drew me to tech – happy hours with coworkers, team events, and the general grind — no longer appealed to me or fit into my lifestyle."
Added Citro, "I also felt a disconnect because as I climbed the ladder, I worked with larger companies. The larger the companies, the more removed I was from making a huge impact in the lives of the employees or business owners. It became more about shareholder value or C-Suite politics. The deal cycles became bureaucratic."
Facing Bias in Her Corporate Career
I asked Citro if she experienced bias in tech to which she responded, "I was fortunate to work at Salesforce and Google, world class companies which, in my experience, truly put a premium on creating equity among women and underrepresented groups."
"The largest biases I experienced were among customers, actually," revealed Citro.
"I was in sales and was the lead on my accounts. I can recall multiple occasions when the executive I was meeting with would address their questions to my male colleague who was there in support of the sale, rather than to me."
"While at Google, I became a facilitator for an initiative called #IamRemarkable, which helps women and underrepresented groups learn self-promotion skills that enable them to confidently speak to their accomplishments. This is a major factor in career advancement," stated Citro.
"Part of the literature we'd share in these workshops is from an internal study at Hewlett-Packard," said Citro. (Citro referenced, The Confidence Code: The Science and Art of Self-assurance–What Women Should Know.) "HP wanted to know why more women weren't seeking management positions and found that women will not seek promotion unless they meet 100% of the qualifications. Men will apply when they meet 60% of the requirements."
"Through personal and lived experience," stated Citro, "I came to the conclusion it's largely women holding ourselves back because we believe we need to be perfect in order to be worthy. This is why I'm so passionate about helping women step into their confidence, both personally and professionally."
Advocate for Women
Citro's career has a consistent and purposeful theme, which is supporting other women.
On Citro's website, her mission is clear, "My personal goal is to equip as many female business owners as possible to be wildly successful.'
In context to her new business, Citro shared, "Theia's giveback model is also very important to me. We just launched, so the details are still being ironed out. But, with every transaction, we will contribute to helping a domestic violence survivor gain the knowledge, mentorship, and connections she needs to start her own business."
Said Citro, "Many times, domestic violence survivors and their children end up homeless. By empowering these women economically, we can change their lives and help to break the cycle of abuse. This cause is one that is particularly important to me because I survived domestic, mental, and emotional abuse in a relationship during my 20s. I owe my escape to family, friends, and a dear business mentor."
Career Advice: Be Confident!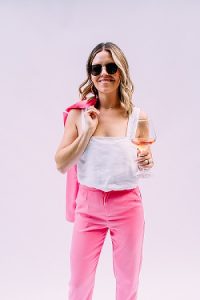 "Know your worth and what you bring to the table! Don't feel compelled to be "one of the guys" in certain office settings. Your lived experience and perspective as a woman is SO valuable to the company you're with. Never discount it or shrink yourself, even if that may feel easier."
Added Citro, "On the note of knowing your worth, something else I learned via #IamRemarkable is that men initiate salary negotiations 4x more often than women do. When women do negotiate, they ask for 30% less than men."
"And finally, the study, It Had to Be You (Not Me), found women may undervalue their contributions in collaboration, giving more credit to their male teammates and less credit for themselves."
"Ladies, we can do incredible things," cheered Citro. "It's time we claim it. Stop apologizing for it, take credit for our brilliant ideas. Let's get paid what we're worth."
Citro summed up, "While there are societal norms and pressures which play into the above statistics, it's important that we bring this conversation to the forefront. Sunlight is the best disinfectant."
To learn more about Citro, visit her website.
-30-

International Women's Day (IWD) is a global day held on March 8th each year celebrating the achievements of women and marks a call to action for accelerating women's equality. This month, it is our pleasure to shine an extra bright spotlight on several talented, inspirational women working in business and technology, and how they each represent this year's International Women's Day theme of #BreakTheBias. 
Visit Women & Tech throughout March to access new articles about amazing women in tech.