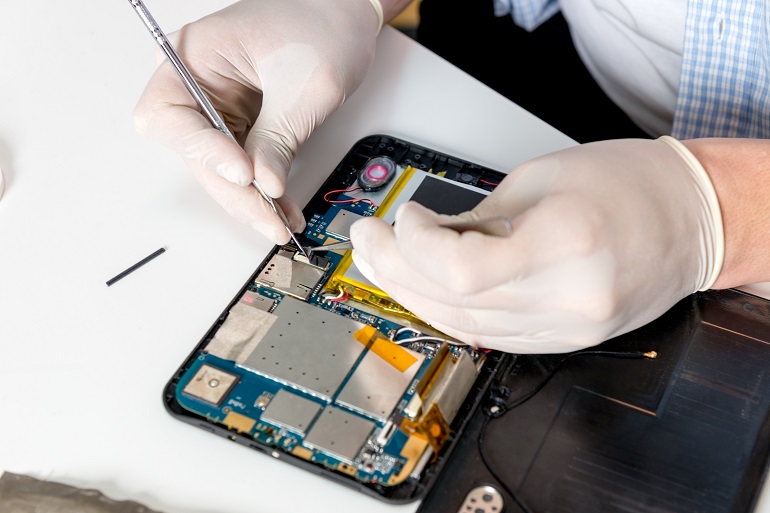 SOTI, global provider of mobile and IoT management solutions to 17,000 enterprise customers, announced today findings from its inaugural sustainability report, Reduce, Reuse, Rethink: From Discard Mentality to Tech Sustainability.
SOTI research found that enterprises across the world are disposing of electronic devices, including rugged devices such as handhelds, scanners, and barcode readers, prematurely despite placing a bigger emphasis on reaching sustainability goals.
Nearly 7 in 10 (67%) of IT leaders of Canadian corporations believe devices are being disposed of unnecessarily, with laptops and mobile phones being the most common prematurely disposed of electronics. This is despite 67% of Canadian IT leaders having clear targets for reducing e-waste, and 68% working towards corporate social responsibility (CSR) key performance indicators (KPIs) around sustainable device management.
Additionally, 62% have dedicated Enterprise Mobility Management (EMM) strategies to maximize their usage of devices but may not be reaping the full benefits of EMM solutions in extending their mobile device lifespans.
The report also highlights that more than half of IT leaders (55%) believe devices of all types are most commonly replaced unnecessarily because of their listed 'expected lifespan,' and almost the same number of IT leaders (49%) stated they replace devices whether they are still working or not.
Despite having sustainability targets in place, and 68% of Canadian IT leaders agreeing that device management is an important environmental issue, 71% believe that having the latest mobile technology hardware at their disposal makes their organization more attractive for workers.
This finding presents a challenge to businesses: how to balance offering of current, feature-rich products to keep and attract employees while also fulfilling device-related sustainability goals.
Device Replacement Happening Too Soon
Of the Canadian IT leaders surveyed, 37% agree they replace mobile phones, handhelds, and wearables when a newer model comes out, while 46% replace tablets and laptops for the same reason and 29% replace printers. And if requested to do so by users, 36% will replace mobile phones, handhelds, and wearables, 46% will replace tablets and laptops and 29% will replace printers too.
32% of IT leaders in Canada replace mobile phones, handhelds, and wearables when the warranty expires, 36% replace laptops and tablets and 29% dispose of printers for the same reason.
In addition, 31% of IT leaders say their organization replaces mobile phones whether they are working or not, while 34% do so with tablets and laptops and 26% also replace printers whether they are functional or otherwise, too.
The implication from premature device replacement hurts sustainability efforts, while it appears that financial resources could be better spent, too.
SOTI discerns that companies could devise better financial strategies to extend the lifespan of devices in so far as organizations commonly tend to relate the end of a battery's life to the life of the device itself, when in many cases with rugged devices such as handhelds, scanners and barcode readers, batteries are changeable, and the hardware can live on. Almost half (44%) of devices used by enterprises have replaceable batteries, yet only 32% of IT leaders' annual budget is earmarked for battery replacement.
"There are more cost-effective, sustainable ways to monitor and extend a device's lifespan, which is even more critical in an era of IoT, where organizations feel compelled to stay at the very forefront of new hardware launches or upgrades," said Shash Anand, VP of Product Strategy at SOTI.
"Canadian businesses should be researching methods to properly evaluate the viability of their organization's devices and investing in strategies to extend their lifespan."
SOTI offers a diagnosis and repair service to improve the efficiency and cost of device management.
SOTI's research was conducted online between February 17 and March 2, 2022, via interviews with 2,500 IT decision-makers (at specialist/professional level and above) who work for companies comprising of 50 or more employees. All respondents were aged 18 and over, and the research was spread across eight countries.
-30-