The impact companies make on our planet draws my attention to corporate sustainability efforts, particularly ongoing sustainability commitments in practice by tech leaders.
Ahead of Earth Day, I asked Mary Ann Yule, President, and CEO of HP Canada, to elaborate on how HP Canada plays its part in the circular economy and to share some information about its sustainability initiatives.
"Circular procurement is a big part of what will help Canada achieve our country's climate goals," began Yule. "Advancing a circular economy starts by changing how and what organizations buy. This includes shifting away from the linear take, make, dispose model to a system where we regenerate natural systems, keep products and materials in use, enhance repairability and design out waste."
Sustainability Commitment Leads to Growth & Recognition
"We recently supported a pilot project by Green Economy Canada that was inspired by the need to shift Canada's buying behaviour and encourage stakeholders to adopt sustainable IT procurement practices," shared Yule. "We found that with greater access to knowledge, tools and one-on-one support, there is an opportunity to drive meaningful action."
"For decades, HP has been leading the industry when it comes to climate action and sustainability," said Yule. "Our commitment to Sustainable Impact helped us win more than $3.5 billion in new sales in 2021 representing a greater than 3x annual increase."
Added Yule, "Our climate goals and sustainable impact commitments highlight the progress we are making to drive towards a net zero carbon, fully regenerative economy, reduce our overall environmental footprint, and strengthen our business for the long term to create the most sustainable portfolio of products, solutions, and fiber-based packaging in the industry."
I asked Yule to elaborate on its most impactful strategies and what they mean to her as HP's CEO.
"We are proud to be recognized as Canada's most sustainable technology company and included in Canada's Greenest Employers 2021 list for the 14th year in a row," remarked Yule.
"We've worked tirelessly to achieve these milestones and have no plans to slow down as we work towards becoming the world's most sustainable and just technology company by 2030."
"We put our energy into three areas where we can make the most impact including Carbon Emissions, Circularity and Forests. Through our commitments, we are transforming our business to achieve some of the most aggressive and comprehensive climate action goals in the industry. This includes leaning into services, switching to sustainable materials, decarbonizing our supply chain, making our products more energy efficient and investing in forests. It's not only the right thing to do, but also an increasingly important part of driving innovation and growth that will strengthen our business," said Yule.
Upon reflection Yule added, "To me, these past few months have highlighted the urgency of collective action to take on new challenges and build shared solutions. I'm proud of what we've been able to accomplish to date while acknowledging there is still so much more work to be done."
It is a Balancing Act 
I asked specifically how HP Canada balances sustainability with the vast amount of natural resources it takes to produce its products.
Yule responded, "How we do things is just as important as what we do, and this mindset has allowed us to grow into an industry leader when it comes to sustainability."
"Our ambitious goals reflect continued efforts to drive toward net zero carbon emissions – not just within our own operations, but across our entire value chain including our products, services, operations and supply chain," said Yule.
"Consumers are increasingly aware of the impact their purchasing decisions have on the environment," Yule further explained. "A recent Global Buying Green Report found that 67% of consumers say it's important that products they purchase be packaged in recyclable material.  At HP, we've spent decades using recycled content to make 100 per cent of Original HP toner cartridges and 85 per cent of Original HP ink cartridges. With HP Instant Ink, ink cartridges require less packaging and fewer shipments, reducing energy usage by 69 per cent and water usage by 70 per cent," said Yule.
Added Yule, "We also take pride in the fact that we are a company that understands the value of forests both to our business and in the fight against climate change. The best way to make an impact is through strengthening alliances. Last year, we announced an $80 million partnership expansion with World Wildlife Fund (WWF) to further our commitment to forest conservation as part of our sustainable impact strategy."
Said Yule, "We're in the business of raising the bar, which is why we were proud to become the first company to pilot science-based targets for forests with WWF. This first-of-its-kind partnership enables HP to stay on track towards our goal to counterbalance forest resources attributable to non-HP paper used in our products and print services by 2030."
Green Initiatives at HP
"Our partnership with Montreal-based Lavergne Group is just one example of an innovation that is not only good for business, but good for the environment," shared Yule.
"Today we make plastics circular by adding in used drinking water bottles at the rate of a million a day including more than 100 million ocean bound plastic bottles collected in Haiti," said Yule. "This collaboration has also enabled us to recycle old printers and build new ones and other electronics."
"We also recently acquired Choose Packaging, a start-up that has created the world's first commercially available zero-plastic paper bottle," remarked Yule. "This partnership advances our efforts to disrupt the $10 billion-dollar sustainable packaging industry and push boundaries in innovation. By building new alliances, we demonstrate the stake we all share in safeguarding our planet and making a positive impact on the communities we serve."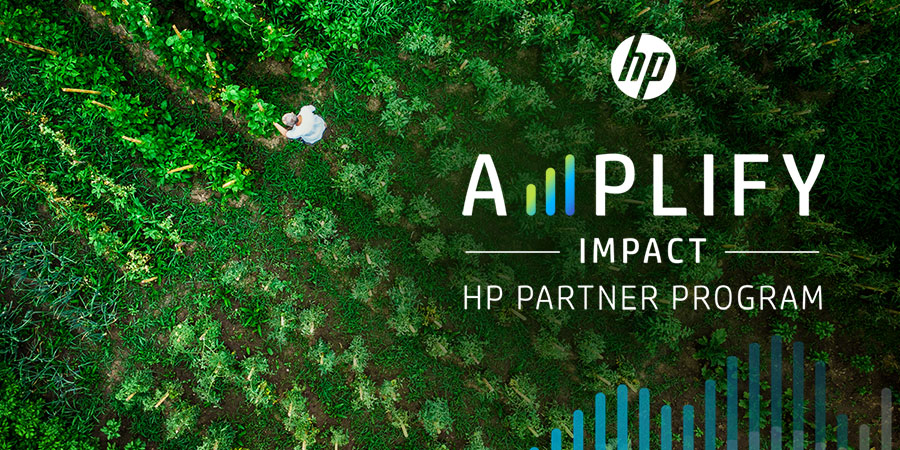 Its sustainability partner program is solidifying its vision and practice, too.
"Another example of our efforts is the HP Amplify Impact partner program that brings together our global partner ecosystem in forging a path towards a better future for all," said Yule. "This industry-first program provides HP's world-class sustainability resources, assessments and training to any partner who wants to opt into the program. After just one year, the program has trained, educated, and empowered more than 1,400 partners to drive change while maximizing opportunities with sustainability as a key competitive differentiator."
Yule explained, "These commitments are not afterthoughts or add-ons. They live at the core of our business and will increasingly inform how we innovate and evolve in the years to come."
"We need to ensure that as our economy moves forward on the road to recovery, our planet does not get left behind. Sustainability is a team sport, and we need an all-hands-in mentality from Canadian leaders and governments to create a better world for future generations."
-30-
More articles on sustainability