Customization and personalization are all the rage these days, so the idea of a computer keyboard that fits the person using it, instead of the user fitting to the keyboard, is most fitting.
Seating, desk height, keyboard and screen position, ambient lighting and more are all considerations to keep in mind to keep your body in shape. In any workspace, comfort and well-being are just as important to consider as efficiency and productivity.
Even if it's only 15 minutes a day, computer users could benefit from an ergonomic keyboard, one designed for both efficiency and comfort in the working environment.
Those factors were certainly in play as we tested out an ergonomic keyboard and mouse combo product from Kensington, a company long associated with laptop security locks, and now with a full portfolio of desktop productivity tools and workplace accessories. From eye lights for videoconferencing to footrests for workstation set-ups and more, the company offers an expanding range of products to reflect a changing workplace.
"The adoption of remote work, hybrid work, and work-from-home initiatives by companies and organizations of all sizes has fundamentally changed how and where people work," said Tim Hill, Global Product Manager at Kensington.
That's why many traditional tools are changing, too: that old rectangular keyboard is making way for the split keyboard: sometimes in two actual separate parts, the more common spilt keyboard for now separates the actual keys you tap on into two main groups, each one slightly tilted and twisted to match the shape and position of typing hands more naturally.
With its split and sloped keyboard, an adjustable reverse tilt and built-in padded wrist support, the Kensington Pro Fit Ergo Wireless Keyboard and Mouse (SKU: K75406US) does just that more comfortably: compare the position of your hands and arms hovering over a normal, non-split keyboard. Now, just shift your hands and arms to natural shoulder-width. Big difference. So, a split keyboard like Kensington's opens your shoulders and angles your arms more naturally.
The split means there is an empty, blank triangle in the middle of the keyboard! And there are two space bars. Certain keys near the split are wider than usual, wider than other keys, due to the angle at which your fingers will now strike them. Likewise, the bottom row of keys is full-sized, while the top row (including F-function and media controls) is half-size. This may take a little getting used to, and the occasional typo may result. The keys themselves are light to the touch, and fairly quiet when struck.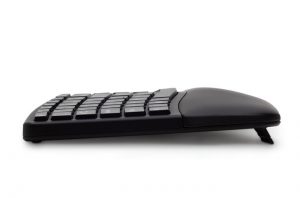 The Kensington keyboard also has three adjustable (two-position) flip-out feet or supports to adjust keyboard height, but tellingly, they are at the front of the keyboard, nearer the space bar than the F function key row. That's good, as they can help with wrist and forearm comfort by tilting the keyboard slightly away from you, helping position the arms and wrists more comfortably.
There's also a nice built-in cushioned wrist rest at the front of the keyboard, bringing extra support for the wrists to avoid the unnatural bending upwards that's an unfortunate by-product of non-ergonomic workstations, often resulting in a painful condition known as carpal tunnel syndrome.
Protecting your wrist from repetitive strain or discomfort is important in an ergonomic workstation. Again, padded wrist rests help, but so too the shape, size and feel of the mouse, and the position of your hand as you point and click away.
Rather than lying flat, ergonomic mice now rise up and curl a bit, putting the user's hand into a natural position as you grip the mouse, as if you were just about to shake somebody's hand.
The Kensington mouse (either a left- or right-handed model) adds comfort and functionality with five accessibly positioned buttons, including forward and back, that can enhance web navigation and overall productivity. Another button changes the sensitivity and precision of the mouse cursor for fine navigation and precise control.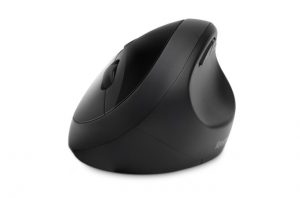 Both the keyboard and mouse are battery-powered; there is a power switch on both devices. Also present on both: a switch to choose wireless connectivity. The units work on either 2.4 GHz or Bluetooth 4.0 LE.
Pairing the units (in this case, using Bluetooth) was relatively easy and straightforward. The surprise here was from power down or sleep modes.
The Bluetooth connectivity does not automatically wake up with the computer. It takes a keystroke and a mouse click to reconnect; pairing lights confirm this right away, but it can throw you off when your password is rejected because the first keystroke was missed.
# # #