There are plenty of ways to save money on expensive tech. You can wait for popular sales periods like back-to-school, Boxing Week, Mother's Day, or the holiday season, or even special events like Amazon Prime Day. You can buy used or second-hand. But one other option worth considering is buying refurbished. While you might initially think buying refurbished is a recipe for disappointment, it can actually save you tons. You can get a higher-end product than you budget might otherwise allow, and it may very well be a new product, or at least function like new.
But there's a catch before hitting the "add to cart" button too quickly when you see a killer refurbished deal: you need to do your research first.
What Does Refurbished Mean?
Refurbished when it comes to tech means that the product is new, but it has been opened, likely used, and even returned by a previous customer. It may have cosmetic damage, like a dent or scratch, it could be missing an instruction booklet, or maybe the original packaging is damaged or missing entirely. In some cases, it could be a product a customer purchased, opened, used once or twice, no longer wanted, and returned. It could also be a product that wasn't working at some point but has been repaired, with parts replaced, tested, and confirmed to be working again like new.
The bottom line is that a refurbished product should function as a new one would right out of the box, but could potentially have minor imperfections to the cosmetic look, missing accessories, or other issues the manufacturer and/or seller is fully transparent about. If something isn't functioning with a refurbished product, this should be clearly stated in the listing.
In rare cases, you might be able to live with the limitations given the significant cost savings. But in most cases, a manufacturer will repair a product to its original state before reselling as a refurbished one anyway, in which case, the worst you'll deal with is varying degrees of cosmetic imperfections.
What Electronics Can You Buy Refurbished?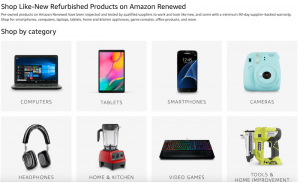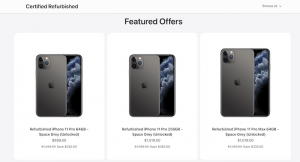 There are lots of electronics available for purchase in refurbished format, sold by retailers like Best Buy, Amazon, or even direct from manufacturers like Apple. These range from laptops to speakers, smartphones to tablets, digital cameras to TV, vacuums to refrigerators, and more.
Any reputable retailer or seller will provide details about the product to help you make an informed decision. Some assign a score to a refurbished product or use terms like "excellent" or "good" to describe the condition of the product along with a short description of what is wrong (e.g. "minor scuffs and scratches.") Some also assign a grade out of 10 to give you a better idea of how it compares to something brand new.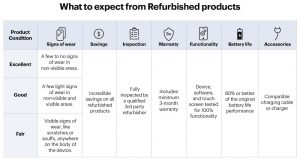 On its site, Best Buy provides a handy chart that outlines what each description means for its refurbished products so customers can make a decision accordingly. Under the Amazon Renewed program, meanwhile, Amazon confirms that its previously used products have been tested and inspected by qualified suppliers before being re-sold as refurbished.
What to Know About Buying Refurbished
Always buy from a reputable seller: While Best Buy and Amazon are reputable sellers, both work with third-party sellers as well. With Best Buy, you might want to stick with a refurbished product being sold by Best Buy direct versus one listed by a Marketplace Seller. If the product you want is from a Marketplace Seller, look into the company itself and read customer reviews and ratings before making a decision. In some cases, like on Best Buy's Refurbished Products page, you can narrow the search by seller and select only official outlets so you are getting the refurbished product right from the manufacturer source. With Amazon, while its sellers offer refurbished products, you might be better off going right to the Amazon Renewed section to ensure the proper testing protocols have been followed.
Read the fine print: Read the fine print details about the condition the product is in and things that could be wrong. If it seems too vague, steer clear. Focus mainly on items that are labeled as being in excellent condition or at least 8-10 out of 10. Keep in mind that while you might learn that the product has scratches, for example, you won't know where they are until you buy the product or inquire further (if purchasing in person). Since the savings can be deep, you might be willing to take the chance. But consider that a tiny scratch on the back of a premium phone you'll be keeping in a protective case 99% of the time anyway probably won't phase you. But a large dent on the bezel of a TV you are putting front and centre in the living room could be a deal breaker. A dent on the left side of the fridge that will be hidden against the wall is no biggie, but one right on the front door is an eyesore.
One piece of wording you'll want to look out for, especially with items like laptops and smartphones, is "certified refurbished." This confirms that the manufacturer itself has inspected and fixed the product versus a third-party shop.
Check warranties and returns: Make sure you are protected should a refurbished product arrive and not be in the condition as promised, or worse, it stops functioning altogether. To do this, find out what is covered. Many refurbished products sold through Best Buy and Amazon Renewed, for example, come with a 90-day warranty, while Apple offers a one-year warranty on products purchased through its Apple Certified Refurbished program. But you'll want to read further to see what that includes. Can you do a full return, for example, if the product arrives and doesn't work to your standards?
Be cognizant of battery issues: Keep in mind that the battery of any electronic product depletes over time. Thus, a refurbished product could be operating at less-than-optimal battery life if it was previously used by a customer for a significant period of time. So, expect battery performance could be at 80% or less than what's stated for the product as new.
Missing accessories: If the refurbished product is listed as missing some components, chances are they are ones that are easily replaceable, like a basic AC adapter or USB-C charging cable, or a manual you can access online in PDF form. But factor anything else you'll need to buy into the total cost to get an accurate picture of the savings.
Is Buying Refurbished Worth the Risk?
It's a scary thought to spend hundreds, even thousands of dollars on a piece of electronics equipment that someone else has used or that might not have been working at one point in time. It can be a roll of the dice. You might end up with a product a customer bought, opened, and never used, in which case, all that makes it "refurbished" is that it was previously opened. (Note that with retailers like Best Buy, these such products will likely be sold as "Open Box" and not refurbished. Thus, you can expect that any product being sold as refurbished through that retailer was used in some capacity.)
But you could end up with something a previous buyer used for a month or longer, scratched, then returned. Or it could be a used phone that was traded in for a new model and the manufacturer factory reset the device, tested it, fixed any issues, and got it ready for resale.
In most cases, as long as you purchase a refurbished product from a reputable seller that offers assurances the product has been thoroughly tested, repaired if necessary, and confirmed to be in like-new working condition, buying refurbished can be a great way to save loads of money on tech. It's worth the risk if you do the research to minimize the extent of that risk.
Sure, it can be hit and miss. But when you get a hit, it's a home run in savings.
-30-
More articles on refurbished tech