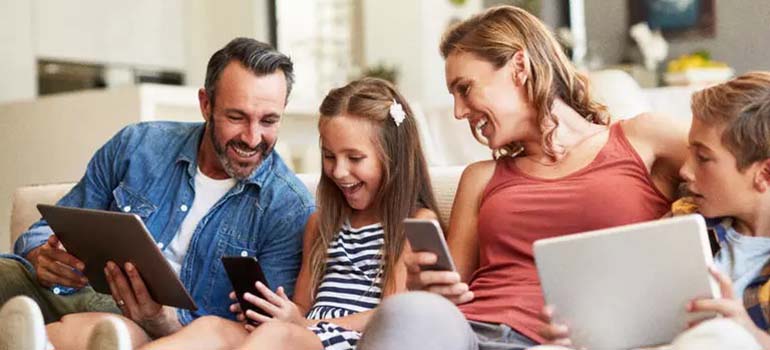 What age is the right age to get your child a cell phone? It really depends on the family, the child, and your budget. Once you do get one, typically around the age of 12 or 13 as a first device for safety purposes, you'll want to find an affordable, not to mention limited, plan to go with it. Oftentimes, the best option is to look for a family plan that includes phones from everyone in the family at a discounted rate.
All the top carriers in Canada offer family-friendly wireless plans that fit the bill and will save you some dough. With that said, Canada is notorious for offering some of the highest wireless prices around the globe. But there are ways to save.
Pricing changes often and deals and promotions are always coming and going, particularly during peak times like back-to-school. We have rounded up some worthwhile options to consider right now. (Note: offerings may differ by province).
Rogers Wireless
Rogers Wireless offers its best deals when you bundle with other services like home Internet. Its Upfront Edge financing program allows you to choose among top devices, including the latest iPhones, for $0 down. You end up paying for the phone in monthly installments along with your service bill, but it's a way to eliminate a hefty upfront fee. For older kids with their first jobs, it's also a nice way to have them contribute to the cost of the device they covet so much and learn some responsibility.
Rogers is currently offering Back to School Savings promotions with student plans that start at $55/mo. These include 20GB of high-speed data with reduced speeds once you reach that limit (which would be tough to do!) when financing a device. A valid student ID and proof of enrollment is required. These plans are ideal for high school and university or college-aged students. If you are already a Rogers customer, you can add a line for your child with 15GB shareable data for the same price.
With the regular Rogers Infinite plans, meanwhile, you can save $20/mo. off the regular price for each additional line added. This still represents high monthly prices, but for older students, it might be the way to go.
Bell Mobility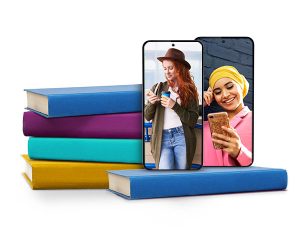 Bell's Back to School Promotion includes an iPhone 13 Pro Max for as low as $10/mo. when you choose the device return option and trade in an iPhone 11. For students, Bell offers a $55/mo. plan with 10GB of data with no overage fees, parental controls, and one bill for the whole family (double the data to 20GB for post-secondary students, with proof of enrollment). When you choose two lines, you save $20/mo. This can be ideal for a single parent and a child, or for two children to share one plan.
Telus Mobility
With Telus Mobility plans, the more people you add to a family plan, the deeper the savings. With two people, you save $7.50/person per month, and savings are $10/person per month with three people. Include a family of four (or more) on one shareable family plan and you save $15/person per month.
The cheapest plan is $70/line, however, that includes 25GB data at speeds up to 250Mbps and unlimited data at a reduced speed.
Virgin Mobile
Known as one of the more affordable wireless providers (the company is owned by Bell), Virgin Mobile offers its Virgin Plus plans specifically for students. For $50/mo., you get 10GB of data when you bring your own unlocked phone. If you want to start smaller, opt for the $27/mo. plan that includes unlimited calling minutes and pay-per-use data at 4G LTE speeds up to 150Mbps. Double the data to 20GB for $60/mo.
There are also starter plans that are great for students, including one for $15/mo. that includes 100 outgoing call minutes and unlimited incoming and 250MB data, or $35/mo. for unlimited calling minutes and 3GB data. These plans are ideal if you want your child to have a phone for emergencies only, accessing data only when absolutely necessary or mainly from Wi-Fi networks.
Freedom Mobile
Freedom Mobile, previously known as WIND Mobile and currently in talks to be sold to Quebec carrier Videotron, has a few great back-to-school offers right now. Highlighted at the present time is one that includes unlimited 20GB of fast LTE data for $45/mo.
But you can get a plan for as little as $15/mo. with 250MB of data. That's not enough to do anything significant, but enough for a quick message, looking up something online, or making a post to social media every now and then throughout the month.
Koodo Mobile
Koodo, owned by Telus, is now offering its Happy Deal Days, with big savings when you shop online. The highlighted plan includes 20GB of data, double the normal amount, for $60/mo. but it's only on for a limited time.
For those on a stricter budget, there's a pay-per-use option with unlimited Canada-wide minutes and unlimited international messaging for $27/mo. You can get other more affordable plans with more data, but at 3G speeds, which might not be suitable for the needs of the younger generation who will want to be able to stream bandwidth-intensive content like movies and games and multitask. With that said, a simple 3G plan that will deter the child from streaming large amounts of data and using the phone only when necessary might actually work to your benefit.
Koodo offers Tabs as well whereby you choose the phone you want and the eligible plan and split the Tab balance into 24 monthly charges that are tacked onto the bill. Once the Tab balance has been paid off, the phone is yours to keep or trade in for a new one.
Fido
Fido, owned by Rogers, has a variety of plans for students in its Back to School deals, including 6GB of data for $45/mo. when you bring your own phone.
The most basic plan is $15/mo. and includes 100 Canada-wide outgoing call minutes and unlimited incoming calls but you're strictly limited to 250MB data and it's at 3G speeds. The most affordable starter non-3G plan starts at $37.50/mo. and includes 2GB of data alongside talk and text. These plans are available when you bring your own phone.
Videotron
For those in Quebec, Videotron is offering some back-to-school promotions as well, including a 15GB plan for $55/mo. along with 10GB of bonus data per year, to be used within Canada. The plan is open to anyone, not just students.
If you combine the service with a home Internet plan, you can save $10/mo. on the charges for bundling the two services.
Making the Right Decision
Your best bet when it comes to finding the appropriate plan for a student is to carve out time to discuss options with a sales representative in store or a customer service rep by phone. There's always wiggle room for negotiations, and ways to tweak plans to lessen features you might not use and bump ones you value more.
Start with outlining the very basic needs you have for your child. Ask about the most limited and affordable plan available and if they offer student discounts. Once you have this information (it's a good idea to take notes), ask about the benefits of adding a line for a child to a family plan and compare the costs.
If you and your partner exclusively use devices with plans provided by your employers, a family plan might not make sense. But if everyone in the family has personal phones with separate personal plans, bundling them together into a family plan could save you money in the long run; and adding an extra line could come at a hefty discount.
With family plans, typically everyone shares a bucket of data and you can keep track of who is using what from month to month, day to day. You can assess and increase or decrease the data or calling needs as necessary. If you are looking to save money on home services as well, such as television and Internet, look into if your desired provider offers larger bundles when you sign on for multiple services: chances are, any wireless carrier that offers other services will.
Take notes, price everything out, and find the best deal. There's no harm in shopping around either. With some students, simply adding a line to an existing plan and sharing the data might be the most affordable solution. For others, as the students prove how responsible they can be, you can look into a more feature-rich plan that will better meet their needs while still remaining within your budget.
Interested in winning a cool tech prize ?  Check our latest contests