Half of us are looking for work. Despite the fact more of us are currently working, some 50 per cent of Canadian workers are still looking for something else, something better, according to recent surveys.
So, the job hunting continues. It's a competitive job market, and that means good résumés and cover letters can be more valuable than ever when seeking new employment opportunities.
But creating those documents is one of the job-hunters least favourite jobs – having to write yet another custom cover letter, polishing yet another job application to meet the stated requirements of a sought-after position.
Not surprising, then, that the latest computer-based tools are being brought to bear. AI (artificial intelligence), NLP (natural language processing) and ChatGPT (Chat Generative Pre-Trained Transformer) content creation technologies are being used by application developers to power digital resume writers, cover letter generators, job analyzers and other software programs that 'automatically' generate written content in a matter of seconds.
Nor is it surprising that one such tool was developed by university students who were sick and tired of having to write their letters themselves.
CoverQuick is the brainchild of two students at the University of Alberta frustrated with the generally accepted current way of applying for a job. Having spent countless hours attempting to write a résumé and cover letter unique enough for each job application (and receiving hundreds of rejection emails, some within just minutes of applying), they knew something had to change.
Divine Adekanmbi and Tosin Kuye also knew they were not alone: they realized there was a market for a job application cover letter generator extending well beyond just students. Canada has long been a nation of immigrants and with immigration reaching all-time highs, yet one of the biggest struggles many immigrants deal with is finding a job.
As the offspring of first-generation immigrants to Canada, they both had personal awareness of the common immigrant job search experience of having to apply to numerous positions in a new land. Also, like students, many immigrants must consider entry-level roles in order to gain "Canadian" work experience.
In correspondence with WhatsYourTech.ca, Divine Adekanmbi describes their solution, CoverQuick, as "an all-encompassing AI job buddy that helps individuals apply to job positions with confidence and satisfaction".
It creates a tailored résumé and cover letter by referencing the job description itself to find specific keywords and core experiences therein, searching and matching the relevant information from an uploaded résumé to write relevant and appropriate cover letters, résumés, job applications and so on.
"This allows job seekers to apply quickly, confidently, and with ease with each application," he says, adding that "job seekers can keep track of and monitor their job applications with a Kanban-style application management board" that tracks and visualizes related activities and benchmarks.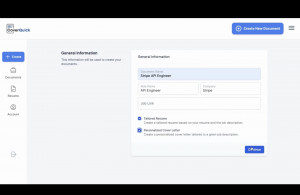 Initially released as a beta product to the Reddit community, the CoverQuick website has amassed good reaction and traction, with some five thousand users tallied in just the first two months following initial release.
The current version has some 25,000 users, and user accounts can be used to store personal job application data. Although still available as a free tool (and there is a online 'playground' where you can see and learn more), CoverQuick is developing premium service plan with offers of greater flexibility, capability and functionality for the on-going job hunt. Version 2 will be available for public use at the start of April, Adekanmbi anticipates.
The product's continued growth is fuelled by its users' success in landing a job. "We have had many, many, many users hired through CoverQuick, from software engineers to upper-level finance roles" he notes, sharing recent testimonials in response to a request:
"Thanks for providing such a powerful tool. The job-hunting process is really such a chore, and this helps relieve a lot of stress."

"Thank you so much for creating this product! Yesterday I got an offer from a software company I have been applying to for months. Before CoverQuick, I applied to this company four times prior and did not get a callback. After using CoverQuick to improve my resume, I got an interview five days after applying. I will definitely be telling everyone I know about your app."
Connecting with and listening to the user base (hopefully enthusiastic and supportive, but also those with new requirements or additional requests) is key to the success of any start-up, of course, and Adekanmbi thinks even more so to grow and expand an AI startup.
"One of the biggest mistakes many founders make is growing and trying to expand without regularly talking to the users who actively use their product. Talking to your users gives you a clearer picture of your ideal customer. It lets you know why your customer uses and pays for your product. It will additionally build a culture of transparency as people are happy to talk to and help companies whose mission they align with. It also gives them a sense of involvement in your company's decisions and direction."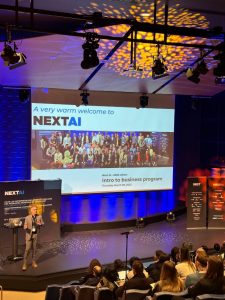 He's also busy talking with other tech entrepreneurs and AI start-ups, attending events like the recent NextAI immersion week in Canada.
It's where start-ups get to know each other, supportive mentors and existing networks of users and developers.
Attendees at such events showcase their tech ventures and, through workshops and social events, learn how to be each other's business allies. Fresh off one such experience, having been selected by the NextAI team from among other starts-up across Canada, Adekanmbi was buzzed about "the fun start to … an amazing program! I can't wait to see how all the amazing start-ups in our program will grow over the next six months."
At which point, he could easily update his résumé.
-30-