It's almost tax time! While this is never an exciting time for anyone in Canada, it's an essential requirement. Whether you're filing for personal needs or a small business, it's important to have everything in order.
According to a new survey by Intuit, nearly three in four (74%) Generation Z individuals say they know how to make a budget and track their income, but haven't done it. Doing so can not only help improve your financial health, it can also put you in a better position come tax time. And so can plenty of other technologies.
Here are some tech products and software that can help once you're ready to sit down and prepare your taxes for the 2022 year.
Epson RapidReceipt Scanners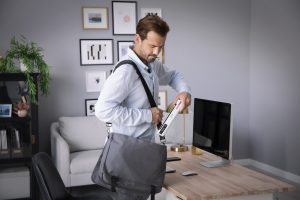 Ideal for small business owners, Epson RapidReceipt scanners like the RR-600W and RR-70W are designed to help speed up the process of scanning receipts, including logging expenses, invoices, and more. The Epson RapidReceipt RR-600W, which sells for $560 in Canada, can quickly scan stacks of up to 100 documents, including those of different sizes, capturing both sides at once. It can turn these documents into smart digital assets for more easily organizing them. Once scanned, you can integrate the data into applications like QuickBooks, TurboTax, and others. It also works with Epson's ScanSmart financial software for categorizing unorganized receipts and invoices, creating searchable and editable PDFs, and more, all without a subscription fee.
Also working with Epson's ScanSmart financial software (available for PC and Mac) is the step-down RR-70W model ($260), a small, lightweight, wireless receipt scanner that is better suited for on-the-go businesses and start-ups. It's a single-sheet-fed scanner powered by battery or USB that can wirelessly scan documents to smartphones, tablets, the cloud, PC, or Mac, and export them to QuickBooks, TurboTax, and other software. Epson says it's ideal for business owners like freelancers, food truck owners, personal trainers, handymen, and other businesses that don't have a designated workspace nor the room for a full-sized scanner.
Fujitsu ScanScap Scanners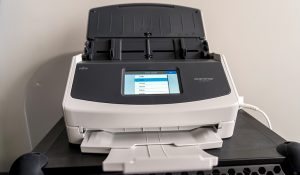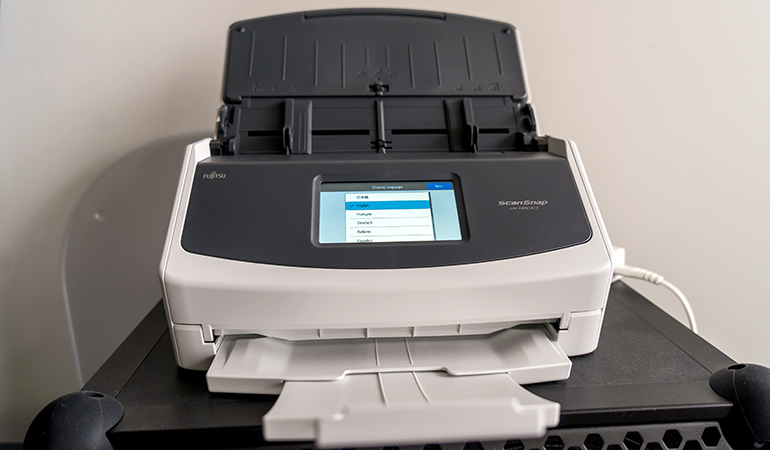 Similarly, Fujitsu has models in its ScanScap scanner line that are ideal for small and larger businesses during tax time, particularly those that tend to acquire tons of receipts and other paperwork. Insert a stack of documents of all sizes, and it will scan everything, including both sides if needed, into a PDF document. Everything will be beautifully cropped and straightened, and rogue pages are removed automatically. The Fujitsu ix1600 is designed for larger businesses, like accounting companies, while the ix1300 is a more compact option for the desktop that has a return or manual feeder. This allows you to quickly insert one document you might have forgotten into the front and it will be ejected from this same spot once scanned so you don't have to fully open the machine. Nor will you need tons of clearance in the back. The ix1600, meanwhile, has premium features like a touchscreen, wireless and USB connectivity options, larger feeder, and faster operation when you need to go through hundreds of documents at a time.
Intuit TurboTax 
For some, hiring a third-party accountant to handle their taxes is necessary. But for many, for either personal or small business tax filing (or both), it's something you can take care of yourself. Having the right software, however, can make it easier.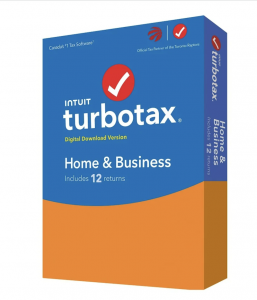 TurboTax has a variety of options, including one for self-employed individuals to file both their personal and business income and expenses. Starting at $50 and going up to $250 for the full-service option that include a person handling the filing process for you, this software offers the basics with step-by-step forms for filling in the necessary information for reporting income and expenses. It has search options for industry-specific deductions and spots for covering ride-sharing, online sales, consulting, real estate, and other common categories. You can also use this software to handle foreign income.
Those who aren't self-employed can choose from the many other TurboTax options, including a free tier for simple tax returns.
Dymo LetraTag 200B Bluetooth Label Maker
Organizing files is all part of filing taxes. To make things easier, try creating file folders at the beginning of the calendar or tax year so everything is neatly filed away by the time you're ready to go through everything. While some like to go fully digital, I like to use a physical filing cabinet with labeled folders for various client files, expenses, invoices, and more.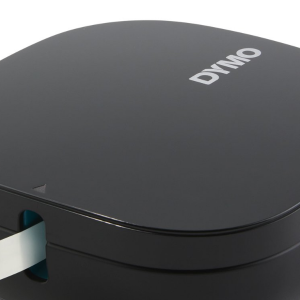 You can use a standard sticky paper and write the label, but a label maker keeps things neat and consistent. The Dymo LetraTag 200B Bluetooth label maker is a neat and modern-day solution. It's a portable label maker that connects wirelessly to your smartphone or tablet and runs on four AA batteries so you can print a label on the go, as needed. It works with LetraTag labels, including iron-on fabric ones should you also want to use it for things like kids' clothing. Indeed, you can use this handy device for more than just tax time and organizing your financials: use it for labeling items in the kitchen, toy bins, and more. It ships with two LetraTag label tapes for about $53.
Amazon Basics Paper Shredder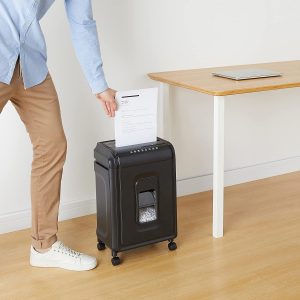 It's wise never to dispose of important documents and files in the garbage. You never know who might rifle through your things. If in the wrong hands, a single document with your name, address, account number, and/or other details can put you one step closer to becoming a victim of fraud and identity theft. This is why it's important to shred documents before getting rid of them in either garbage or recycling. Since business documents only need to be kept for six years for tax purposes and auditing, you can also shred and get rid of old business files you no longer need and are just taking up space.
The Amazon Basics 8-sheet high-security micro-cut shredder is a relatively affordable and feature-rich option. It can hold up to four gallons of paper, weighs 17 lbs., and comes on casters so you can easily wheel it around. Shred up to eight sheets of 20-lb paper at a time: there's even a separate slot for credit cards and CDs. Instead of strips, contents are shredded like confetti, making it near impossible for someone to try to put things together again. It can run for up to five minutes at a time, then cools down for half an hour before being ready to be used again. Arguably the best part, however, is the pull-out waste bin that makes it easy to empty.
Get Ready to File!
It's tough to believe that we're already only a few weeks away from tax filing deadlines for the year 2022. The deadline for filing in Canada is May 1, 2023 (since April 30 falls on a Sunday) and the deadline for self-employed spouses or common-law partners is June 15, 2023.  If you owe a balance, you must file on or before April 30 to avoid interest and penalties.