Whether you're celebrating Father's Day, a special someone who is graduating, or looking for something special for a man in your life "just because," there are tons of great tech items worth considering.
Sonos Era 300 Speaker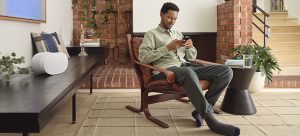 Surprise a special guy with a Sonos Era 300 speaker or grab him a pair to use for left and right audio in a home theatre, gaming, or listening room. With spatial audio and Dolby Atmos support, the speaker can connect via both Wi-Fi and Bluetooth; plus it has a USB-C line-in for connecting a wired audio source, like a turntable. He can control it from the Sonos app, using the convenient volume slider on the top of the speaker unit, or even by voice using Sonos Voice or Amazon Alexa. The sound is truly immersive, and set-up is ultra-easy, making this speaker a great option for a graduate moving on to live in a dorm or shared apartment, or a dad looking to complete his "man cave." A single Sonos Era 300 will set you back $559, but if you think he won't need all the added benefits of the bigger Sonos Era 300, including spatial audio, consider the smaller Sonos Era 100 instead, which is $319 ea.
Kobo Nia and Sleepcover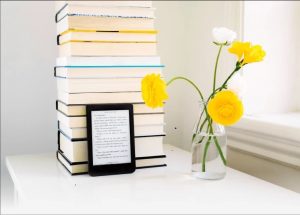 Ideal for quiet, private reading, delving into a new book on the train on route to work or school, on a plane while traveling, or even by the water at the beach, the Kobo Nia eReader will encourage him to sit back, relax, and reflect from time-to-time, away from the glare of his smartphone or tablet. At just $130, this eReader has a 6-inch glare-free E-ink touchscreen, ComfortLight adjustable brightness for reading everywhere from in bed with the lights out to outside in the sun, and 8GB storage to store thousands of book titles. Charge it up and the battery will last for weeks, making it the perfect accessory to bring along on his next backpacking trip.

Check out our summer contest for a chance to win a Kobo Nia eReader along with a lemon yellow SleepCover that will instantly brighten his day whenever he pops it out of his briefcase or backpack.
Kensington H3000 Wireless Headset & W1050 Webcam
Perfect for the guy who works from home or student who collaborates with others remotely on projects is the Kensington H3000 wireless headset. With a boom mic, comfortable fit, long battery life, busy light, and compatibility with all the most popular video calling services like Zoom, Google Meet, and Microsoft Teams, he'll be able to chat with ease. I reviewed one of these headsets last month and absolutely loved features like multi-device pairing to simultaneously connect to both my MacBook and iPhone, the crystal-clear sound, raise the mic to mute function, and audible indicators for things like battery life, connectivity, and
more. Go all out for dad and combine it with the Kensington W1050 1,080p fixed focus wide angle webcam so he can enjoy a better experience than when using the webcam built into his computer. It, too, works seamlessly with video calling apps like Zoom, Google Meet, and Microsoft Teams, offers improved low light performance and omnidirectional stereo sound with noise reduction. You can adjust it both vertically and horizontally for the perfect angle, and it even has a privacy cover you can flip down when you're not using it. Win a Pro Video Conference package in our contest that includes both these items. The H3000 is valued at about $150 and the H1050 at  $92.
Skullcandy X Street Fighter PLYR Multi-Platform Wireless Gaming Headset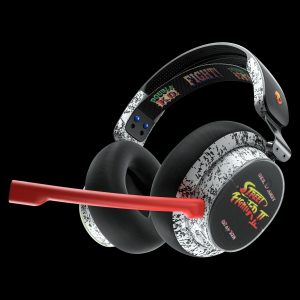 On sale right now for $160 (regular price $190), a gamer guy of any age will appreciate this super-cool wireless gaming headset. Whether he played the original Street Fighter way back in the day, 30+ years ago, or he's a new fan of the later versions of the game (or both), this headset is a nice departure from the boring blacks and whites you usually see. But it's not just all about the look. The headset boasts Bluetooth 5.2 wireless technology with enhanced sound perception and a clear voice smart mic. With an impressive 24 hours of battery life with rapid charging capability, it even has built-in Tile finding technology in case he loses or misplaces them. The nods to the classic game are not only through imagery and designs on the earcups but extend right through to the headband, both on top and the underside.
Apple Watch Pride Edition Band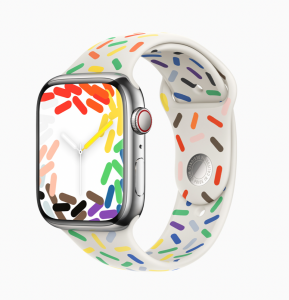 June is Pride Month and if the special guy on your list is either a member or supporter of the LGBTQ+ community, he might be looking for a special way to show off his involvement. The new Pride Edition sports band for the Apple Watch is unlike any other Apple has released to date. It features geometric shapes in a rainbow of colours on a white background, with everything compression-molded into the band. With tiny variations in layout, no two bands are alike, just like within the LGBTQ+ community. There's a companion watch face and iOS wallpaper he can download and use to complement the band, creating a completely seamless look on his wrist. But what he'll truly love is that the band brings awareness to important causes, including various LGBTQ+ advocacy organizations. This includes Black and Latin communities, symbolized through the addition of black and brown colours on the band alongside the traditional rainbow hues. The band is just $59 and will fit with any Apple Watch from Series 3 onwards.
Skullcandy Rail True Wireless Earbuds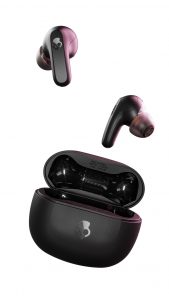 Another innovation from Skullcandy, the Rail true wireless earbuds are just $99, making them a perfect alternative to his full-sized headphones for listening on the go. Boasting 42-hour battery life with rapid charging capability, they are IP55 sweat, water, and dust resistant so he can wear them during his morning runs. They also include Skull-iQ smart feature technology, which runs various voice features when used with the app. You can say "Hey Skullcandy," for example, to control playback, summon your smart assistant, take a photo from your phone, and more. They also have built-in Tile technology to locating them if they are misplaced. Enter our contest for your chance to win a pair, complete with matching charging case.
Targus Cypress EcoSmart Hero Backpack
Available for $220 and just recently launched to market, the Target Cypress EcoSmart Hero backpack will be the perfect gift for any guy, from dads to remote workers, travelers to students. What sets this backpack apart from others is that it comes with Find My locator technology so you can easily locate it should it be lost, misplaced, left behind, or even stolen.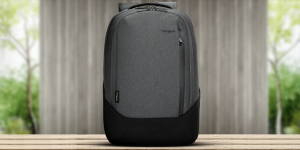 Made of eco-friendly materials, including 26 plastic bottles, it pairs with the Apple Find My network using Bluetooth Low Energy so you can track it using the Apple Find My app. It can fit a laptop up to 15.6 inches in size in a dedicated compartment, along with other goodies in the large main compartment. There's a secondary space with a workstation, front stash pocket, and pass-through trolley strap for securing it to luggage. It's comfortable to carry thanks to the ergonomic shoulder straps and padded back panel.
-30-
WIN Dad a cool tech prize!  Check our contest section to see all our current contests and enter for your chance to win.
More gift ideas