There's always fanfare around the latest and greatest smartphones with the most premium features. But not everyone wants the top-of-the-line new phone, nor do they need it. Being able to weigh your options and decide what's best for you is important. It's always a good idea to get something higher end than you think you might need or want. This will help avoid buyer's remorse if you realize that what you're missing is something you'd actually use. But if you choose correctly, you won't feel like you're missing out at all by opting for an older-model or step-down phone.
In January 2022, I touched on premium, mid-range, and budget phones worth considering, and all of these devices remain good options. However, since then, many new devices have come to market based on both the Android and iOS software. Here, we'll look at recent options in both top phone platform camps with a good, better, and best model ideas for each.
Samsung Galaxy A54 5G: A Good Option
If you're not looking to spend an arm and a leg but still want to get decent Android phone, the Samsung Galaxy A54 5G is the perfect option. It's just $589 outright – a ridiculously low price for a Galaxy phone –  yet offers impressive features like a 6.4-inch Super AMOLED screen with enhanced Vision Booster and 120Hz refresh rate. It has advanced photo capabilities with its 32MP front camera, 50MP main camera, 5MP Macro camera, and 12MP ultra-wide camera. It's even the first Galaxy A series model that has a feature for removing shadows and reflections. Use Samsung Knox to make this an affordable business phone; it comes with a six-month trial to Microsoft 365 Basic and 100GB of free cloud storage to get you started.
Alternate Option: Save even more with the OnePlus Nord N20 5G, which has a 6.43-inch FHD+ AMOLED screen, 4,500mAh all-day battery, 6GB RAM, 128GB storage, and cool Blue Quantum finish, all for $379.
iPhone 13: A Good Option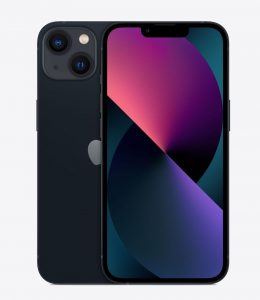 The great thing about when Apple launches a new iPhone is that the previous generation model often drops significantly in price. But you can still download the latest iOS to an older model phone (many features of iOS 16, for example, will work on devices dating all the way back to the XR). The iPhone 13 has the same sized 6.1-inch Super Retina XDR display as the iPhone 14 and is largely the same with regards to performance, but for a few minor upgrades with the newer phone. The iPhone 13 has a 4-core GPU versus the 5-core in the iPhone 14 and 4GB RAM versus 6GB. Depending on how you use the phone, like if you aren't a heavy multi-tasker or don't use intensive apps, like gaming, you might not notice this. The iPhone 14 also offers a slight improvement for low-light photography with its Photonic Engine and a much better front camera. There are also slight improvements in battery life.
If these upgrades aren't dealbreakers, and you can find an iPhone 13 for a great deal, go for it. Note that Apple sells the iPhone 13 for $999, in which case, you're better off stepping up to the iPhone 14 for the few extra bucks. But if you can get your hands on an iPhone 13 second-hand or for a deal from your carrier (ask first what deal you can get for the iPhone 14 instead to compare), it's a worthwhile investment. It will be a solid phone for at least the next two years before it's time for you to upgrade again.
Google Pixel 6a: A Better Option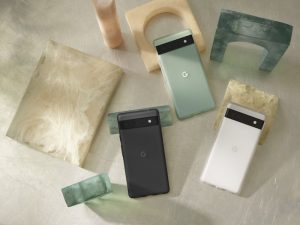 While we expect to see the Google Pixel 7a soon (though this hasn't been officially confirmed), if you're looking for a solid mid-level Android phone, the Google Pixel 6a is one to consider. Powered by Google Tensor to afford snappy performance, it has an adaptive battery that can last for more than 24 hours per charge. Intelligent camera features yield gorgeous photos with wonderful depth. It has a 6.1-inch FHD+ OLED screen, 6GB RAM, 128GB storage, and a dual rear camera system with a 12.2MP wide and 12MP ultra-wide combined with the 8MP front camera. At just $599, it's an affordable phone with tons of premium features that you'll gladly use as your primary phone.
With rumors abounding about the Pixel 7a, which might be comparable in price, you may want to hold off for now. Even if you decide the Pixel 7a, with whatever upgrades it might feature, isn't necessary for you, chances are the Pixel 6a will drop in price once it's officially launched. And the Google Pixel 6a will continue to be a decent mid-range phone for years to come.
Alternate Option: You might have to find a creative way to buy the Xiaomi 13 Lite, but if you can get your hands on one, it's a good mid-range phone to consider. The slim and lightweight phone has tons of photo features like Xiaomi Selfie Glow that adjusts lighting automatically, along with a 6.55-inch FHD+ AMOLED screen, 120HZ refresh rate, and more. Pricing varies depending on where you can find it.
iPhone 14: A Better Option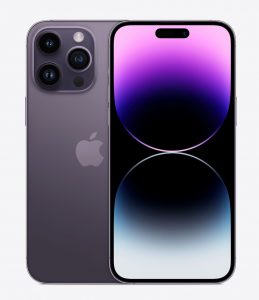 If you want something better in the iOS camp, go for the most recent Apple 14, which boasts similar specs to the iPhone 14 Plus but with a smaller screen, which some might prefer. Along with the 6.1-inch Super Retina XDR display with OLED technology (6.7 inches with the 14 Plus model), you get the A15 Bionic chip, 5-core GPU, and aerospace aluminum construction with a Ceramic Shield front cover, along with cool colour options like the newest addition, yellow. There's front TrueDepth cameras and an ultra-wide camera. You can also make use of all the cool features that come with iOS 16. It's $1,100 ($1,249 for the iPhone 14 Plus) and it comes with a three-month subscription to Apple Arcade.
Samsung Galaxy S23 Ultra: Among the Best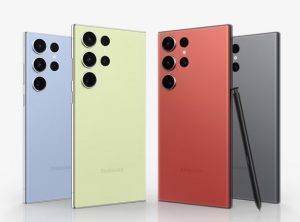 Offering the best that Samsung has to offer right now in its Galaxy series of smartphones is the Galaxy S23 Ultra, which has a re-engineered Nightography camera, new gaming processor, and ships with the S Pen so it's as much for entertainment and creativity as it is for productivity. Using recycled materials, it comes in a polished metal frame that exudes elegance. The cameras are 200MP wide-angle camera, 12MP ultra-wide camera, 12MP selfie camera, a pair of 10MP telephoto cameras, so there's no moment that will go uncaptured, even in low light. It's a phone that can do it all, from gaming to recording high-res videos, RAW photo files, word processing, and more. The Galaxy S23 Ultra comes in three iterations: 256GB with 8GB RAM, 512GB with 12GB RAM, and 1TB with 12GB RAM with pricing ranging from $1,650 up to $2,210. It isn't cheap, but with a carrier plan and even trade-in, you can save a bundle on the upgrade.
Alternate Option: The Google Pixel 7 Pro is the best Google has to offer right now in its own branded Android smartphone line-up. Starting at $1,179, it's still more affordable than many others yet includes impressive features. Among the most notable is the Google Tensor G2 processor, pro-level camera system, Titan M2 for protecting your personal information, a smooth 6.7-inch QHD+ display, and tons of cool photo effects.
iPhone 14 Pro Max: Among the Best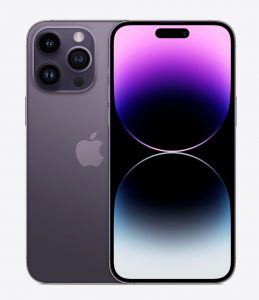 If you want the best of the best when it comes to iPhone, the iPhone 14 Pro Max is the option to consider right now. It comes at a premium in price at $1,549, but for those who need and/or want to use all the top-line features, it will be worth it. (You can also get discounts and finance the phone through a carrier). With a 6.7-inch screen and Super Retina XDR display with ProMotion, it offers twice the brightness of the iPhone 13 Pro. What's especially cool about this phone is the Dynamic Island that affords a new way to interact with the phone: it adapts in real-time to show alerts, notifications, activities, and more. The high-end cameras offer improved low-light performance as well. With these along with additional upgrades in photography and performance, the iPhone 14 Pro Max is the best iPhone you can buy right now.
-30-
More on smartphone
Top photo by Daniel Romero on Unsplash