At Apple's WWDC event earlier this year, the focus was on MacBooks and Mac desktop computers, as well as software, including the iOS 17 update. Several months later, iOS 17 is finally coming to the masses (outside of beta form, officially launching September 18). And, as Apple announced at its September 2023 event, so are new iPhones to leverage its many benefits.
Apple also introduced what was to come with watchOS 10 at WWDC earlier this year, and you'll soon be able to enjoy that updated OS on two new Apple Watches as well as existing ones in the line: the new Apple Watch Series 9 and Apple Watch Ultra 2.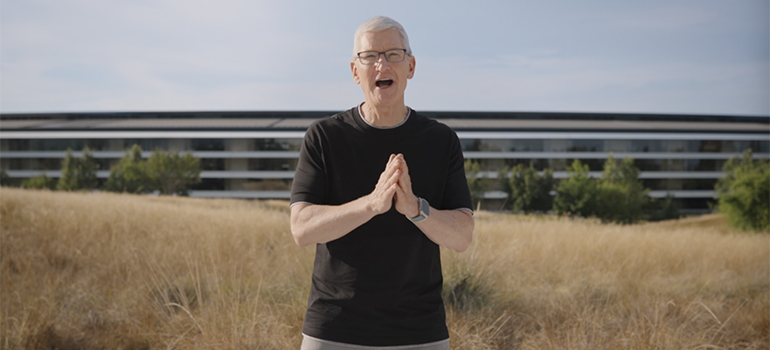 Here's a rundown of what you need to know about the four new iPhone models, two new Apple Watches, iCloud updates, and new wireless (and wired) earbuds announced by Apple on September 12, 2023.
Apple iPhone 15, 15 Plus, 15 Pro, 15 Pro Max
The four new iPhones include the Apple iPhone 15 and Apple iPhone 15 Plus, which are virtually identically but for a 6.1-inch versus 6.7-inch screen, and the iPhone 15 Pro and iPhone 15 Pro Max, which come in at the same two sizes and differ mainly in relation to their cameras. There are a couple of key upgrades worth highlighting for all 4 of them.
Roadside Assistance: There's a new safety feature called Roadside Assistance, which will connect you to someone who can help, even if you don't have a Wi-Fi or cellular signal. There's no word on when/if this feature will be available in Canada. For now, it's available through AAA in the U.S. and you get two years of free satellite service with a new iPhone purchase.
Dynamic Island: This tiny display at the top, centre of the screen shows useful information, like alerts, live activities, and more (think music controls, incoming call details, food delivery status, and so on). That means Apple has also gotten rid of the notch at the top of the screen that many users found annoying.

USB-C Charging: All four new phones mark a big switch for Apple: no more Lightning connector. Instead, they include USB-C charging.

Better Cameras Including Auto Portrait Mode: For photography, you can enjoy a 48MP main camera and 12MP 2x telephoto lens, along with features like the ability to intuitively take portraits intuitively, without having to manually switch to portrait mode: the phone will automatically recognize that there's a subject, like a person, cat, or dog, and adjust to portrait mode. You can even switch focus after the photo has been taken so it focuses on the person in the background versus the person in the foreground, for example, or the dog versus the owner. The iPhone 15 Pro has a 48MP wide, 12MP ultra-wide, and 12MP 3x telephoto lens while the iPhone 15 Pro Max has a 48MP wide, 12MP ultrawide, and 12MP 5x telephoto lens. Pro photographers can also switch from 24mm to 28mm and 35mm focal lengths as needed. Later this year, you will also be able to record spatial video that can be viewed on the upcoming Apple VisionPro.
Titanium Finish for the Pro Models: The Pro and Pro Max come in a sleek titanium finish that Apple says is more durable and lightweight.
Side Action Button: You are likely familiar with that side button on the iPhone that has been there for ages; the one that switches from mute to ring. Apple has redesigned is to become an Action button for the Pro and Pro Max models. Program it to do things like activate voice memo recording or an accessibility feature, then press and hold. You'll get haptic feedback to confirm and the action will trigger.
What else is new with these phones?
The iPhone 15 and iPhone 15 Plus both have Super Retina XDR displays that offer up to 1,600 nits peak brightness, 2,000 nits in sunny environments, which is twice as bright as the iPhone 14. They feature a textured matte finish with colours built right into the material. This is paired with the Ceramic Shield, and the phones are water- and dust-resistant.
These phones use the A16 Bionic chip (the same one that is in the iPhone 14 Pro), ultra-wideband chip, 5G, and offer all-day battery life with support for wireless charging as well as USB-C. With Voice Isolation, you can amplify your voice and decrease background noise in phone calls.
Get either phone in pink, yellow, green, blue, or black, with pre-orders starting Friday, September 15 and availability Friday, September 22. Pricing starts at $1,129 for the iPhone 15 and $1,279 for the iPhone 15 Plus. Both come in 128GB, 256GB, and 512GB capacities, and include three months of Apple Arcade and Apple Fitness+.
So, what else makes the iPhone 15 Pro and iPhone 15 Pro Max different? It turns out, quite a bit. Available with 6.1- and 6.7-inch displays, respectively, the most notable external difference is that, as mentioned, they come in a sleek titanium finish that Apple says is more durable and lightweight.
Both also feature the second-generation ultra-wideband chip along with Wi-Fi 6e, 5G, and support for MagSafe and future Qi wireless charging. They come in black titanium, white titanium, blue titanium, and natural titanium.
Pre-orders begin Friday, September 15, with availability Friday, September 22. Get the iPhone 15 Pro with 128GB, 256GB, or 512GB storage starting at $1,449 and the top-of-the-line iPhone Pro Max with 256GB, 512GB, or 1TB storage starting at $1,749.
Apple Watch Series 9, Ultra
Apple also announced its latest Apple Watch model, the Apple Watch Series 9, along with the second-gen version of the Apple Watch Ultra, the Apple Watch Ultra 2. Apple focused heavily on its efforts in the environmental space, and put its money where its mouth is: The Series 9 is Apple's first fully carbon neutral product (with the new sport loop band), and Apple is continuing its focus on reducing its carbon footprint by eliminating all leather accessories. Instead, you'll find new styles with other materials, like a suede-like FineWoven material.
The Apple Watch Series 9 features the new S9 SiP for a boost in performance and capabilities. One of the most talked about new capabilities is a new gesture that you can perform: tap your index finger and thumb together (the ones on the same hand on which you're wearing the watch) and it will trigger an action. This could be snoozing your alarm, pausing the music, answering a call, and more – whatever the primary action is in the app that's currently active. Think of times when this could come in handy, like when your opposite hand is busy holding a cup of coffee, holding a dog leash or baby, or stirring food in a pot on the stove.
With an 18-hour battery life (the same as the Series 8 model), there are also Siri improvements. Any requests that don't require an Internet connection are now processed on the device itself versus through the cloud. This makes them faster and more reliable, with improved dictation accuracy as well. You can also ask Siri more types of questions relating to health features, like how many hours you slept that night or how your move rings are looking, or even ask the voice assistant to log medication.
The edge-to-edge always-on retina display is brighter with up to 2,000 nits brightness (double the Series 8) but can also go down to 1 nit in dark settings.
There's a new second-gen ultra-wideband chip for precision finding, name drop for instantly sharing contact information by simply holding two Apple Watches close together, media suggestions in smart stack when held close to an Apple HomePod, and more.
Apple Watch Series 9 starts at $549 and will start shipping September 22, but it's available for pre-order today. It comes in 41mm and 45mm sizes and in Starlight, Midnight, silver, (PRODUCT)RED, and a new pink aluminum case, as well as stainless steel in gold, silver, and graphite cases.
For extreme athletes and adventurers, the Apple Watch Ultra 2 improved upon the original in many ways. Some of the new features include improved precision finding (thanks to the second-gen chip), up to 3,000 nits brightness so it's more readable in harsh sunlight, an ambient sensor that automatically activates in the dark to switch the watch screen to night mode, and the ability to set a waypoint with Siri.
Choose the new Modular Ultra watch faces that use the edges of the screen to show data like depth and altitude for more at-a-glance information. For divers, the depth app now logs every session and allows you to view it from the watch screen itself as well as from the Health app.
Battery life is the same at up to 36 hours with regular use, 72 in low power mode. Pricing is $1,099.
Both watches will run the upcoming watchOS 10, which was announced at WWDC 2023.
Apple Watch SE
While the Apple Watch Series 9 and Apple Watch Ultra 2 got the most attention, the Apple Watch SE is worth mentioning as well. At $249, it's the most affordable new watch in the line, and includes lots of premium features with cheaper materials. If you opt for one, available in 40mm and 44mm, with the Sport Loop band, it's also carbon neutral.
iCloud Storage
One thing you might notice is that despite not having expandable memory, the iPhones still tap out at 1TB built-in storage. What's more, the starting prices pertain to the version with the least storage at 128GB which, for most people nowadays, isn't nearly enough. With the Pro Max, shooting high-res RAW photos and videos will eat up a lot of space, yet its entry-level version has only 256GB storage. There's good reason for this.
Apple relies heavily on cloud storage through its iCloud model, which has a tiered pricing plan. Typically, this starts at just over $1/mo. for 50GB, then $4/mo. for 200GB. But if you need any more than that, the jump is $13/mo. for 2TB. Apple sadly isn't introducing a plan option between these two, nor lowering the 2TB price. But the company is offering two new iCloud+ options for those who need even more. Get 6TB for $40/mo. or 12TB for $80/mo.
That's quite a bit of money for off-loaded storage, especially when there are so many more affordable cloud storage alternatives for excess photos, videos, and other content you need to keep for posterity (Google Drive, Microsoft OneDrive, DropBox, Amazon to name a few). But there's no denying the seamless experience between iPhone and Apple iCloud, which is what makes it so attractive. With that said, these two new plans may be popular among heavy content creators.
Apple AirPods Pro (2nd Gen)
As noted, all four new iPhones now include USB-C charging instead of proprietary Lightning. This means you can use cables you already own, including ones for other Apple products, to recharge the phones. You can also use the iPhone's USB-C port to charge AirPods or Apple Watch directly from the device as well.
This relates to the new 2nd-gen Apple AirPods Pro, which include both USB-C and MagSafe charging. These are available for pre-order now and officially available Friday, September 22 for $329. If you want a pair of wired EarPods, there's also a new version with USB-C for $25. When you buy a new pair of AirPods, AirPods Pro, or AirPods Max, you'll get six months of free access to Apple Music.
-30-