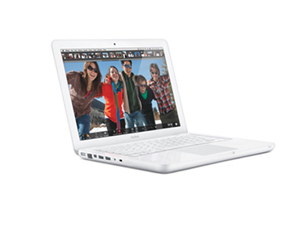 By Gadjo Cardenas Sevilla
Apple's MacBook is a consumer portable with outstanding performance and features borrowed from the costlier Pro line. For many switchers and novice Mac users, it is the first Apple computer they will consider buying and it plays it role as a gateway to the Mac ecosystem of hardware and software.
Replacing the squarish and ageing design that went back to the chiclet  Apple iBook with a sleeker and more  rounded  1.08 inch unibody enclosure updates the MacBook's look and feel. There is a substantial amount of aluminum in the MacBook's chassis to prevent flexing and bending which was a common occurrence with the older MacBooks. The MacBook weighs in at an acceptable 4.7 pounds which is great considering you get an optical drive and roughly 7-hours of battery life in the enclosure.
The MacBook also shares the glass trackpad found on the MacBook Pro and together with this larger, more resilient, more sensitive touchpad is a host of two, three and four finger controls that make navigation on the MacBook  easier than before.
The MacBook's 13'3 inch LED screen is bright, crisp and uses less power overall, you also get the requisite iSight camera for conferencing and fooling around on the popular Photo Booth app. Its hard ro believe that this same screen was a premium feature on the MacBook Air and the 15-inch MacBook Pro a year and a half ago, now its standard on all the Apple portables.
We used the MacBook as our default computer for the greater part of a week and found it to be a stellar perfomer all around. The 2.26GHz Intel Core 2 Duo processor offers more power than most people would need and with 2GB of RAM (expandable to 4GB) we could have dozens of windows and applications open without any perceptible slowdown. The Macbook also sports 1066 MHz front-side bus which speeds things along very nicely.
The case of the MacBook is glossy and prone to smudges but its not a big deal since the white colour seems to work this out. While not as "solid" in look and feel as the Aluminum MacBook Pros, the white MacBook does feel rugged and travels exceptionally well.  Since all the ports and openings are flush, there is little chance that anything will get snagged or damaged as it is moved about. The Magsafe power adaptor is also a great plus that many Mac users take for granted. Any sudden jerking pulling movement on the power cord will disengage it from the notebook limiting the chance of disaster.
This MacBook has become popular not just for what it introduces but also what it has removed. There is no longer a user replaceable battery, no FireWire slot and for reasons known only to Apple, no battery charge indicator on the chassis.
The disappearance of the replaceable battery we had to see coming. All the Macbook Pros now use a long life battery which is larger but isn't replaceable. battery life went from  4.5  to 7 hours of use and can apparently be recharged 1000 times before you have to go get it replaced by an Apple Genius for $100+tax.  We found that the Macbook actually ran for around 5:40 hours while surfing the web and working on some Word documents and GraphicConverter edits. Not bad at all, definitely something to consider for those 5-hour flights.
FireWire is gone forever on the Apple consumer portable, which is really unfortunate. For users who have video cameras, hard drives and peripherals that use FireWire, the MacBook suddenly becomes less desirable.  As a Mac technician, I've used FireWire Target Disk Mode  to diagnose, repair and rebuild ailing Macs and it was a great way to move gigabytes of data back and forth between machines.  Apple notes that space, power drain and popularity of USB 2.0 were the reasons for ditching FireWire but we still think it would have been  a great feature to keep.
One of the coolest thing about Apple portables was the battery indicator that you could check on the batteries themselves and later on in the chassis of the notebooks. Well the new MacBook ditched that as well, the only way to figure out how much of the 7-hours you have left on the battery is to boot the device and check the information on-screen.
These are niggling omissions to an otherwise amazing product and after our review period we had really grown attached to the white Macbook.
$1099 is still prohibitive for many consumers, especially if you consider that competing notebooks from Acer, HP and Dell can be had for almost half that amount.
You do see where your money is going with Apple, tons of innovation, sterling build quality and quick service and support through Apple's network of Apple Stores but we still fell they would sell way more units and get even more Mac switchers if the price point was closer to $700 range.
3.75 out of 5.00