What level of protection is needed? How many other accessories can fit in? Is a sleeve better than a bag? Finding the right carry-case for a notebook is has become an extremely involved process as there are many things people need to consider in finding the elusive bag to carry their prized  notebooks.
Mac users have it a bit easier. A number of bag manufacturers  offer a wide range of bags, sleeves and carry cases specifically designed for Macbooks and Macbook Pros.
Aside from protection and functionality, style has also become a huge consideration. Most notebook cases are either sleeves meant to protect the notebook while it is carried in a backpack or satchel or heavy bags that can carry the contents of a small office. There has rarely been an option for something lightweight yet functional.
Be.ez has released a series of fashion forward yet completely functional cases for Apple's Macbook line. The LA Garde Robe 13 line of slim and lightweight cases are ideal for 13-inch Macbook, Macbook Air or Macbook Pro models plus the charger and a few other essentials and documents. They can of course accomodate any notebook that has a  13'3 inch or smaller screen. This is ideal for students and city commuters who need a lightweight carrying solution to grab and go.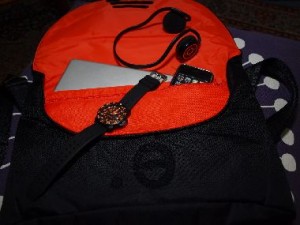 La Garde Robe Black Addict is made of high-quality 200D nylon, offers enough pockets for A4 documents, pocketbooks, a celfone, charger and  notebook.  This case may be lightweight but it is sturdy and is a very good option for frequent travelers who don't need a very big or bulky computer bag.
Available in bright colors and accents such as Black/Wasabi, Black/Light Pink and Black/Pumpkin, the La Garde Robe Black Addict quickly sets itself apart from run of the mill computer carry cases. There are also some nice touches like stylized velcro connectors and subtle use of logos and branding.   The beauty of the be.ez design is that the case is thin enough to be used as a sleeve in a larger bag if needed. We slipped our demo unit into a larger backpack and it fit in nicely.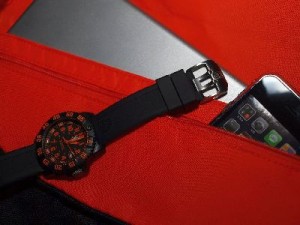 We tested the La Garde Robe with a 11-inch Sony Vaio notebook during a recent trip and it was a great case for carrying both our notebook and our Amazon Kindle. It was easy enough to deploy during the security check and once in the plane, we simply removed it from our larger bag and kept it nearby for quick access to our technology.
For meetings around town, day trips and seminars, the be.ez  La Garde Robe is an ideal way to carry a notebook and a few accessories. The adjustable shoulder strap is well secured and distributes weight nicely. Build quality and design is excellent all around, this is an attractive case and more than one client commented positively on it. Its great to have a middle option between a large and ostentatious computer bag and minimalist sleeve. The be.ez La Garde Robe Black Addict is one of those best-of-both-worlds products that also looks great.
Be.ez's La Garde Robe is available worldwide check here for more information
Rating 4.5 out of 5