If you've been following all the Consumer Electronics Show (CES) coverage from the monstrous tech convention in Las Vegas, chances are you've read about 3DTV, wireless tablets, e-book readers and new gizmos for the car.
But there's one cool little product that has garnered quite a buzz following the show — rather than during it.
It's called the O.R.B. Wireless Earpiece Finger Ring, and it's an example of clever convergence that fuses fashion with function — and works with a product you already own.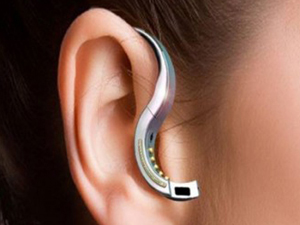 Here's the skinny on this sleeper hit:
When you're not using your smartphone, the O.R.B. slips onto your finger and resembles a modern-looking ring. But this piece of jewellery has a unique twist: an e-ink display with caller ID. Therefore, using Bluetooth wireless technology, will show you the name and/or number of the person calling you. Therefore, you can decide to answer or not.
The O.R.B. ("Orbital Ring Bluetooth") will also show you text messages and calendar reminders on its diminutive screen that wraps around your finger — and will vibrate to let you know about an incoming call or message.
But as informercial guru Ron Popeil says, "But wait, there's more!"
When a call comes in you want to answer, the ring twists into a funky-looking Bluetooth headset that fits on your ear for hands-free communication. As a wireless headset, the O.R.B. works up to 30 feet away from your phone.
Despite its small size, the O.R.B. utilizes bone-conducting technology, licensed from NXT Sound, to deliver high-quality audio, even though the device isn't inserted deeply into the ear (see photo).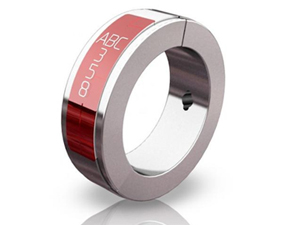 Finished talking? Twist it into a ring again and slip it back onto your finger.
 
The O.R.B. will be available this spring for US $129, while later in 2010, a deluxe edition — with a full-colour FOLED (Flexible Organic Light Emitting Diode) screen — will sell for about US $175.
Readers, what are your thoughts on this hybrid device? Would you wear something like this?
Check out more of our CES coverage.