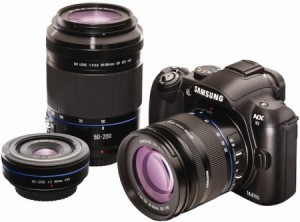 Review by Gadjo Cardenas Sevilla
Can Samsung be a contender in the 'serious' prosumer camera space? The answer is a resounding yes! Samsung's NX10 hybrid camera is one of the most exciting interchangeable lens EVF  (Electronic View Finder) cameras in the market today. Together with Olympus and its Digital PEN line, Panasonic and its G1, G2, GF1 and GH1 cameras and Sony with its upcoming NEX line of compact cameras, Samsung is betting big on the next gen hybrid camera party. These smaller cameras and lenses are challenging the older, bulkier DSLR cameras.
What quickly sets the Samsung NX10 apart form the other non-DSLR hybrid cameras is that it uses a full sized APS-C sensor which is the same as those found in regular DSLR which are twice the size and weight. The APS-C is significantly bigger than the Four-Thirds Sensors found in the Olympus and Panasonic lines. Larger sensors mean more photographic information for clearer, more accurate and larger photos. The high quality, crispness and accuracy of photos taken on the NX10 is simply amazing and can compete head to head with more established brands.
The Samsung NX10 is exceptionally well designed and fabricated.  Despite a smaller footprint and a reduced grip, the camera feels balanced even for one-handed operation.
Let's just say this early on, this Samsung NX10 feels and operates like well-designed and meticulously built camera. It certainly feels more solid and rugged than Panasonic's similarly styled GH1 which cost $1000 more.
The included lens, while completely made out of plastic except for the glass lens elements, feels a little cheap but this isn't uncommon. The kit lens that ships with the Olympus E-PL1 is similarly scaled down in quality. Maybe this was done to keep weight down but we still feel metal mounts should be standard specially since your are paying upwards of $800.
Anyone questioning the pedigree of Samsung in the camera space needs to know that they collaborated heavily with Pentax in the design and development. Sadly, the mount of the Samsung NX10 is the  all new proprietary NX mount instead of the more widely available Pentax K-mount. This may prove problematic for users who want to go beyond the18-55 kit lens the camera ships with. Sure, adaptors probably be bought but you lose autofocus which can be troublesome. The NX10 has the ability to shoot 720p HD video as MPEG-4 files at 30 frames per second which we tested to be accurate. Stabilization takes place in the lens and not the body and tripods are a must for clear, vibration free video.
Currently the Samsung NX10 can be used with a 30mm pancake prime, a 50-200mm zoom and the kit 18-55 lens that is stabilized. This covers quite a gamut for average user but we can see the need for fast primes, wide-angle lenses and even macro lenses cropping up pretty soon.
Shooting with the Samsung NX10 on a clear day is a real treat. We're not big fans looking through the rear LCDs of cameras and prefer to use the viewfinder. Well the AMOLED LCD of the NX10 is bright, clear and superior to what we've seen in any digital camera out today. AMOLED is new and expensive technology but Samsung developed a lot of it and has smartly integrated it into this product.
The EVF (Electronic View Finder) is also superb, far better than what we're used to in this form factor. It offers a far better experience than Panasonic's G1 and GH1. The result is a small and capable camera that works a lot like a DLSR. One thing to get used to with these new hybrid cameras is that the autofocus speed is slower than DSLR which means you really need to have steady hands or use a tripod to shoot moving subjects or in low light. Even if Samsung is touting speed as the NX10's major attribute, we still found it to be a tad sluggish.
For street photography on a bright spring day, the Samsung NX10 produced accurately coloured and well-exposed photos that looked simply amazing. We even shot in a ravine by a small stream and the camera managed accuracy even with the varied light conditions and moving leaves and shadows. Fringing and desaturation on the corners, a typical issue with other hybrid cameras, doesn't at all seem to affect the NX10 which really performed admirably.
For action photography, the multi-shot drive mode was reasonably quick and Samsung promises 4.5fps performance should you need this feature. While our initial reaction to the NX10 was a bit lukewarm due to the austere styling,we were quickly won over by its strong design, useful navigation and most importantly by its stellar photo quality as well as that gorgeous but pricey AMOLED screen.
The lack of lens options and the high price are really the only two things that we find troublesome with the NX10. Thankfully, Samsung has also announced the NX5, a cheaper model with all the great specs and performance bu minus the AMOLED screen and a lower EVF resolution. If Samsung can sell that around the $500 range with a kit lens, it will be a winner.
The NX10 will launch in Canada on June 25, and will retail for $800, including an image-stabilized 18-55mm standard-zoom lens.
Rating 4 out of 5