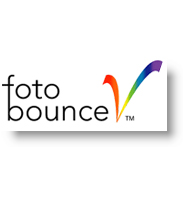 This contest ended August 20, but don't hesitate to download Fotobounce 3.0!
Fotobounce, the free Canadian solution for digital photo management, has announced a contest that will help you increase the quality and reach of your photo collection.
Organize your photos using Fotobounce 3.0, build your network of contacts, and you could win a cool new camera that will give you even better results!
The Fotobounce user with the most peer-connected friends and family members (called "Bouncers") will win a Canon EOS Rebel T1i digital camera.  The user with the second largest number of Bouncers will win a Nikon Coolpix P100 digital camera, and there will be an additional prize for every user with more than 20 Bouncers.
Entering is easy – just install Fotobounce, register your email address after it's installed, and then click on the Contest Button on the home page of the Fotobounce software. The contest ends on August 20.  Full rules are lower down on this page.
Fotobounce is developed by Applied Recognition of Oakville ON, a WhatsYourTech.ca partner. The latest version, Fotobounce 3.0, was announced last month. Fotobounce 3.0 achieves a new standard of online safety while retaining the face recognition, smartphone browsing, and social networking features that place it on the leading edge.
Watch the Fotobounce 3.0 demo video by WhatsYourTech.ca's Marc Saltzman and Ted Kritsonis. It will give you the full run-down of features, as well as tips on how to install and use this great new free solution..
Terms and Conditions for the Big Bounce Contest
TO ENTER
Install Fotobounce on your Apple or Windows computer. Register a primary email address via the Fotobounce Sharing feature. Then Register for the Big Bounce contest via the Button on the home page of the Fotobounce software. Display names may not contain any profanity. We reserve the right to remove registrants from the contest who have entered display names that we do not feel are appropriate.
Invite friends and family to join you as a Bouncer. Those friends download Fotobounce and accept your invitation to join them. Each accepted and confirmed Bouncer will count as one towards your contest Bouncer total. Any existing connections will also count towards the contest.
ELIGIBILITY
No purchase is necessary to participate in this contest.
This contest is open to any person around the world that is at least 14 years of age, with the exception of the Province of Quebec and any juridiction where prohibited by law.
Employees of Applied Recognition are not eligible, nor are members of their immediate families (defined as parents, children, siblings, spouse and life partners).
Other Fotobounce users that you connect to when creating your private network must be legitimate and unique Fotobounce users with distinct IP addresses.
Your entry in this contest constitutes full and unconditional acceptance of these Terms and Conditions.
Applied Recognition reserves the right to disqualify anyone in breach of these Terms and Conditions.
Void in the province of Quebec and where prohibited by law.
TIMING
This contest closes at 11:59:59pm GMT on August 20, 2010. Results will be tallied as of the closing date and time.
SELECTION OF WINNERS
The winners will be determined by reviewing the statistics for Bouncer connections as of the closing date and time for the contest.
The user with the most Bouncers will be eligible for the first prize, and the user with the second-most Bouncers will be eligible for the second prize. The winners will be announced within twenty-four (24) hours of the closing date and time.
In the event of a tie for first or second place, the tie will be broken based on the contest registration date. The user that registered for the Contest before the others with the same number of Bouncers will be deemed to have won. If there is a tie for first place then based on registration date a first place winner will be chosen, and the second place winner based on registration date will be eligible for the second prize.
PRIZES
First Prize: Canon EOS Rebel T1i 15.1 MP CMOS Digital SLR Camera with 3-Inch LCD and EF-S 18-55mm f/3.5-5.6 IS Lens (Value: $699 USD)
Second Prize: Nikon Coolpix P100 10 MP Digital Camera with 26x Optical Vibration Reduction (VR) Zoom and 3.0-Inch LCD (Black) (Value: $340 USD)
Prizes as stated and non transferable. Applied Recognition reserves the right to substitute a prize of equal or greater value. Cash equivalent may be provided via Paypal, at the discretion of Applied Recognition, if the products or equivalent value products are not available in your country. The prizes will be sent within sixty (60) days of the closing date and time.
RESPONSIBILITY OF WINNERS
Winners will be required to provide a mailing address for shipment of the prize. This Personal data will not be used for future Fotobounce marketing activity nor sold to third parties.
Winners are also responsible for any other expenses, including federal or local duties or taxes, involved in getting the prize to the mailing address provided.
Any Canadian winner will also be required to correctly answer, unaided, a time-limited mathematical skill-testing question in order to receive the prize.
NO RESPONSIBILITY FOR PROPER OPERATION OF SOFTWARE
Applied Recognition is not responsible for proper operation of the Fotobounce software, your Operating System software, your Computer, or your Internet connection for purposes of this Contest.
WINNERS LIST
Each winner consents to their display name and Bouncer count being made publicly available on the Fotobounce website. No other information about the winner will be made public.