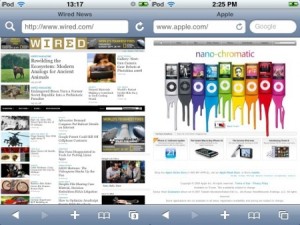 By Gadjo Cardenas Sevilla
The desktop browser war is still brewing but more intense competition is taking place in the mobile space. As connected  smartphones and tablets continue to grab market share, mobile browsers are scrambling to capture users by offering faster and more intuitive mobile surfing options.
Today's mobile browsers are just as capable as their desktop counterparts and which manage to innovate with multi-touch features, pinch-to-zoom as well as gestures to control how we navigate websites on smartphones. As a result, the number of people accessing the Internet from mobile devices is growing at a staggering rate. Let's look at today's emerging mobile browsers.
Opera Mini
http://www.opera.com/mobile/
Opera is one of the older mobile browsers and is available in most Mobile OS's.  It first appeared in the year 2000 on Symbian as well as Linux builds. What sets Opera Mobile apart is that it is built for speed an it manages to do this using the Presto layout engine and Opera Turbo that compresses web pages via Opera Software's "Turbo" servers, thus reducing download size. Because web pages are compressed from the server end before they are sent to your mobile device, page-loading times are improved, and bandwidth consumption is reduced by up to 80%.
The browser can dynamically reformat Web pages for small screen, using Opera's Small Screen Rendering (SSR) technology and text-wrapping. It works, we've tried it.
We've used Opera Mobile on Symbian, Android and Apple's iOS and it is equally fast on all three platforms but we prefer the Android implementation specially on newer hardware  as it really makes use of these device's processing power and really speeds up the surfing experience. Opera Mobile is definitely firing on all cylinders and is the quickest performer all around.

Skyfire
http://www.skyfire.com/
Skyfire is available on all major smartphones and is powered by the popular WebKit browser engine used by Safari and Google's Chrome desktop browsers. Skyfire is focusing on three features to set it apart from the competition, namely.
Vibrant Video: plays Flash video, optimized for performance:  faster, smoother, better battery life.
Smart Recommendations: offers up related content for easy mobile browsing.
Social Sharing: makes browsing social, with one-click share features for Facebook, Twitter and more.
Skyfire's second generation browser uses the same three-tiered technology, but only for content that cannot be effectively processed at the handheld. Web page text and images, for example, are rendered on the phone. Flash video, on the other hand, is rendered at Skyfire's servers, re-encoded as an efficient HTML 5-compatible format, and then relayed to the phone. This may sound like a lot of steps but it works well and is fast. What's more, Skyfire may be the first browser to finally bring Flash to iOS devices as it is currently under review by Apple. Once approved, this will allow users access to the unimaginably vast array of Flash content on the Internet.
Skyfire looks poised to take the lead in multimedia delivery on smartphones as it continues to develop its feature set and multimedia smarts.
Safari
Released for the desktop back in 2003, Apple's Safari has evolved dramatically to be one of the fastest, most stable and efficient browsers on the desktop. It is no slouch as a mobile browser either.
Apple's Safari browser which comes with all iPod Touches, iPhones and iPads is probably the most used mobile browser in the planet today.  Safari is the first browser to fully integrate the multi-touch control that makes iPhones and iPad so cool and easy to navigate and implementation is so well done that it just feels natural. Pinch-to-zoom, rotate and swipe were all introduced through Safari and each succeeding version has offered subtle updates and refinements.
iOS-specific features for Safari enable:
Bookmarking links to particular pages as "Web Clip" icons on the Home screen.
MDI-style browsing (with up to 8 pages open concurrently, limited by cache storage).
Opening specially-designed pages in full-screen mode.
Pressing on an image for 3 seconds to save it to the photo album.
Support for HTML5 new input types.
Safari for iOS is the only browser that's designed by the same company that makes the hardware it runs on, which means we can expect it to be faster and better overall than third party browsers using the same hardware.
Firefox
Mozilla's Firefox has the longest history of any browser having come from the old Netscape project from the early 90s to become the world beating browser of choice for the majority.
While it has simply dominated the desktop space, it has taken Firefox an inordinate amount of time to come to the mobile space; as a result it is the new kid on the block trying to gain some attention away from the big boys.
Firefox for mobile (codenamed Fennec) is the name of the build of the Mozilla Firefox web browser for ARM devices such as mobile phones and PDAs,
Firefox for mobile 1.0 uses the same version of the Gecko layout engine as Firefox 3.6. Its features include tabbed browsing, password manager, location-aware browsing and the ability to synchronize with the user's computer Firefox browser using Firefox Sync Plugin to preserve and share bookmarks.
Firefox Mobile will only be available for Android, Maemo (Nokia) and Windows Mobile 6 but we think they should develop it for all smartphones because they already have the brand name and reputation.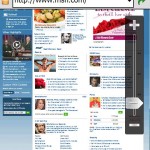 Internet Explorer
Internet Explorer has been around the block a few times it is the de facto standard in Windows Mobile smartphones and a very capable mobile browser that is perhaps grossly underestimated.
Microsoft has had 9 revisions of its desktop IE browser and many of the feature and speed enhancements have made it to the smartphone version. The upcoming Windows Mobile Phone OS will also have a new multi-touch enabled version of Internet Explorer.
The only problem with mobile IE is that, like Safari, it is locked into one OS and is unlikely to be made available for other smartphones in the future. This puts it at a disadvantage in terms of competing with other mobile browsers. Stil,l you can argue that having the no. 1 software company behind it, ensures IE's development for a long time to come.
Conclusion
Safari on iOS and the default Android browser will continue to do well since they are both reasonably fast and run on the streamlined WebKit platform and get updated with each new release of the OS. Firefox has a long way to go in the mobile space and Internet Explorer is limited to only Windows Phone so that puts them out of the running.
Only Opera and Skyfire are really in any competition because they are widely available in nearly every smartphone dvelopment platform. The challenge for these two aggressive browser brands is that people tend to stay with the default browser in their devices unless these perform really poorly.
Of these two, Opera seems to have the upper hand in brand recognition and overall speed, although Skyfire does have some compelling features. We predict that the first one of these to port successfully to the BlackBerry platform will be the hands down winner as BlackBerry is notorious for a sub par browsing experience and it really needs a great browser to complement its awesome messaging and email capability.
This post is a companion to Gadjo's Mobile OS Shootout.