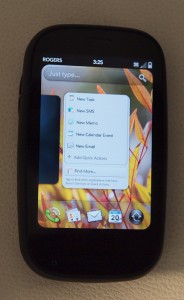 In a slightly surprising launch, HP puts out its first phone under the Palm brand since acquiring the company earlier this year. The Palm Pre 2 is an intriguing device on paper, but it's the software inside that makes more of a compelling case than the hardware itself.
Contest: Win one of two Palm Pre 2 Smartphones from WhatsYourTech.ca!
At first glance, the Palm Pre 2 almost looks like an exact replica of the first Pre and the Pre Plus. The screen size and overall dimensions haven't changed, but the subtle differences make the unit feel different. The screen is now glass purely flush with the body, and the back is a rubberized material that is a definite upgrade from the hardened plastic the previous models used. The slide-down QWERTY keyboard also looks just about the same, so not much to report there.
Since the 3.1-inch screen is the centrepiece of the unit, we would've liked if Palm or HP could have just increased the resolution. As is, the 480×320 display is only offset by the visual goodness of webOS 2.0, which we'll get to in a bit. We point out the screen size because it's not particularly ideal for reading, nor for productivity apps, but again, the combination of webOS and the screen's clarity make it easier to handle those things.
Interestingly, when you slide out the keyboard, the exposed top of the front is a mirror in the back, ostensibly so that you can make some touchups to your makeup, etc. One other thing to note is that the micro-USB port is unobstructed in that there is no flap covering it, which was a pain in the previous models.
We won't mention the camera because we found it to be outdated and less than useful, especially when compared to the specs you find in other smartphones. The Pre 2 has a 5-megapixel sensor with an LED flash, but little else. There are no real features to augment what's there, and video capture isn't even in high-definition. We weren't impressed with this part of the phone, to say the least.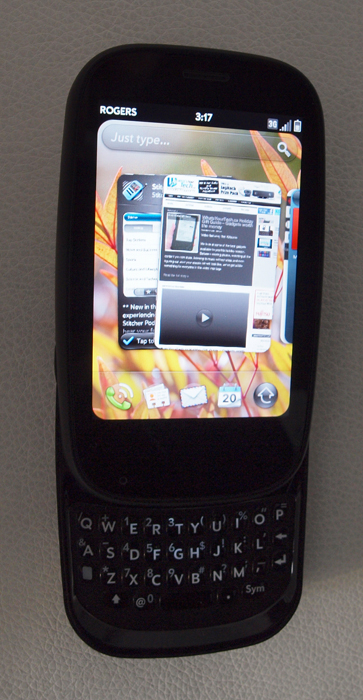 Things do get better under the hood though. The 1GHz processor is double what the previous models had, and we would suggest the 16GB of internal memory is better than relying on memory cards. Indeed, the Pre 2 has no such slot for a microSD card. With the usual Wi-Fi, 3G and Bluetooth connectivity thrown in, there isn't anything eye-catching in the hardware, but they are respectable specs nonetheless.
One concern we had going into reviewing the Pre 2 was battery life, given how terrible it was with the previous two models. While definitely improved, the results are still not where we would've liked them to be. After two days, the battery drained completely, and that's not necessarily based on very heavy usage. The battery tends to dissipate too much even when on stand-by, but we can't be sure if it's because apps run in the background no matter what has been turned on or off.
The usability of touch around the phone has changed as well. Instead of doing all the navigation on the main screen itself, Palm has now moved some of it to the small area right below it. Swipe left to go back, right to go forward and up to turn an open app into a card running in the background.
The card system is actually one of the coolest elements of the updated OS. By simply swiping up on an open app, you relegate it as a card to the home screen. Keep doing that with other apps, and you have one of the best multitasking features any smartphone can offer. This was a staple of webOS, but in 2.0, you can now organize those open cards by stacking them where necessary. For example, if you're doing research on something, you could stack a web page, PDF and notes together in one stack. To do it, you simply hold down on a card until it becomes translucent and then drag it overtop another card.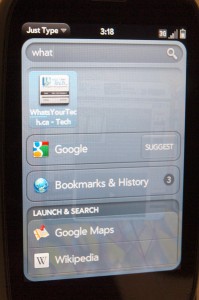 Search has also changed to get with the times in a feature called Just Type. Start typing something and immediate search results pop up below, ranging from the Web to contacts on your list. While that is fairly common in other OS's, Launch & Search is cool in that you can add your own sites to the list. Google Maps, Twitter and Wikipedia are there by default, but you can just easily add anything from Facebook to YouTube in that list. The open architecture also means that you can add other sites as well, though we're not sure how limiting this is. We weren't able to add other sites like webOS 2.0 allows you to, so it's likely something we missed.
Quick Actions allow you to start an email, text, task, memo or calendar event with only a couple of taps. This should continue to improve to allow for quicker access to Facebook and Twitter updates, as well as to other features, but it will be up to third-party developers to interface with the feature and include it. As is, we weren't able to add any Quick Actions ourselves.
We also wished there was an onscreen keyboard that we could use, most especially for typing short entries, instead of constantly having to slide out the keyboard. If the BlackBerry Torch can make good use of the combination, there's no reason the Pre 2 can't. Also, we would've liked to be able to arrange apps on multiple home screens, or at the very least, on a page or two away from the card stacks.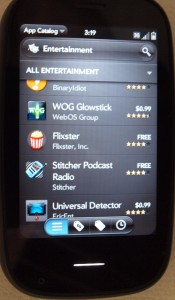 To be frank, we were more impressed with webOS 2.0 than we were with the actual Pre 2 handset. There's a bit of a dichotomy between these two, but thankfully, the OS is what grabs your attention most of the time anyway. It's slick, elegant and functional, and arguably more refined than some of the others out there. Users might also appreciate that you can put all your music, movies and photos by simply dragging and dropping files into folders on a PC or Mac.
That said, the hurdles it needs to jump are around social networking, usability and hardware. Social networking accounts need to be better integrated in contacts and other staple apps on the device, much like how Windows Phone 7 has already done. Usability will depend a lot on how third-party developers take to the OS, but that also means HP Palm has to update it regularly with fixes too. And lastly, they have to come out with a phone that has similar specs under the hood, but is more dynamic, both in appearance and extra functions. Dual-cameras, a bigger screen with better resolution and more gesture-based controls would help turn a corner.
But for now, this is a pretty decent start for the new HP Palm entity, and may be the precursor to a tablet device sometime next spring.