By Gadjo Cardenas Sevilla
Holiday season is the time when great pictures and videos are essential. For the photography lovers in your life, we've put together a gift guide that runs the gamut of applications, cameras and accessories – everything needed to vividly preserve your memories. Here is WhatsYourTech.ca's Photography Lover's Gift Guide.
WhatsYourTech.ca also has a Music Lover's Gift Guide and a video review of  Gadgets that are Worth the Money!
Fujifilm's Instax Mini 7s Camera System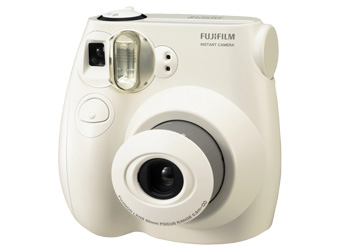 Harkening back to the heady days of Polaroid and instant photo prints, Fujifilm's Instax Camera system is decidedly old-school. It uses an analog camera and it uses film, yes…real film. The beauty of the Fujifilm Instax Mini 7s is that it is simple and fast. Take a photo and within a minute you have a credit card sized picture to look at and share.
Much better than gigabytes of digital photos stuck on a hard drive, the Fujifilm Instax experience is great for events and perfect for holiday photography. Available from most Canadian photo retailers such as Blacks, Henry's and even Amazon.ca, the Instax Mini 7s camera sells for $90.00 and the film comes in packs of 10 and sells for around $10.00.
Eye-Fi Wireless SD Cards
Eye-Fi SD Cards have built in Wi-Fi radios that allow you to transfer photos wirelessly to your PC over your home network. These convenient cards also have the ability to geotag pictures (by resolving nearby Wi-Fi information) as well as automatically upload photos to online services like Facebook, Flickr, SmugMug and Picasa as soon as they can find an open wireless connection.
Photographers no longer have to fiddle with arcane cables or risk losing their SD cards by taking them out of the camera just to transfer photos. Most recent digital cameras are designed to work with Eye-Fi cards and maintain a low power state while the photos transfer.  Eye-Fi cards start at $50 and increase depending on features and capacity, they also have an iPhone app that works the same way.
Joby Gorrillapod
A tripod can spell the difference between a so-so photo and a tack sharp picture. No amount of tweaking on Photoshop is going to save a picture if the source is flawed, most specially if it is blurred. Joby's line of Gorillapod tripods are fully articulated tripods that can be shaped as needed or can even be used to wrap around and secure cameras to surfaces they would otherwise be unable to be used.
There are Gorrillapods for everything from the iPhone 4 to larger DSLRs and prices start at $20.00. As with most tripod solution, users need to be aware of the weight of their cameras and the lenses that they are using in order to ensure that your equipment is secure.
Kodak Pulse  10′ inch Digital Picture frame
Digital picture frames are, in theory, excellent presents. They are relatively inexpensive and can contain hundreds of photos and generate slideshows. The problem with most of these picture frames is that they aren't the easiest devices to manager.
Kodak's Pulse Digital Picture frame has Wi-Fi connectivity. This allows you to remotely "beam" photos to your parent's Wi-Fi connected picture frame remotely and ensure that they have the latest photos magically appear. Photos can be emailed to the frame or it can be synched to a Facebook page or Kodak Gallery Sites.  At $179.99, the Pulse Digital frame is one of the most multifunctional and innovative products we've seen in this segment.
Fisheye, Macro and Wide angle camera phone lenses
A lot uf us enjoy taking photos on our smartphones which are improving in hardware and software specifications. Nokia's N8 Symbian phone has 12 Megapixels, which is right there in  standalone point-and-shoot camera territory. Phone cameras are limited by what their lenses can do so while it sounds crazy, you can add external lenses to achieve certain photographic effects.
Photojojo offers Fisheye, Macro and Wide Angle lenses for smartphones and feature phones that attach to most devices. Starting at $20 and available as a bundle  for $40 is ideal for celfone photographers who want to add dimension and flavour to their celfone photography and make it look more dynamic.