By Ted Kritsonis
Only two years after acquiring Pure Digital, the company that created the Flip brand of pocket camcorders, Cisco has announced that it is discontinuing the entire Flip business as part of a major reorganization at the company.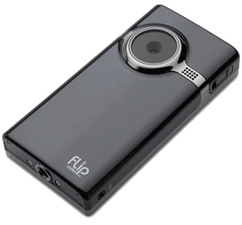 Effective immediately, the Flip brand won't have any future operations, but Cisco will keep supporting existing products and the customers who are still using them. This also scraps the "Made for Flip" accessories program that was announced with fanfare last fall as well.
As a result of this move, 550 jobs have been shed at Cisco, though some of these may be reshuffled into new positions within the company. No information has been released on whether or not Cisco shopped around the Flip business to potential buyers. It's likely that no one was willing to try since smartphones have taken a bite out of the portable camcorder business over the last couple of years.
In a statement released yesterday, Cisco's new CEO John Chambers said that the company needs to focus on the areas that make it profitable. Though he didn't outright say it, his comments could be interpreted as a suggestion that Cisco's attempt to be a strong consumer brand has largely failed.
The shakeup comes off the heels of Cisco also killing its hosted email service called PostPath in February, which they had acquired back in August 2008. They also had a network attached storage device called the Linksys Media Hub that ultimately failed to resonate with consumers as well, never even releasing in Canada after flopping in the U.S.
The Flip may have been a victim of its own success in that it came out at the right time, but only proved to be a bridge to something more convenient and versatile like smartphones.
For up-to-date coverage of cameras and camcorders, check our Gadget category