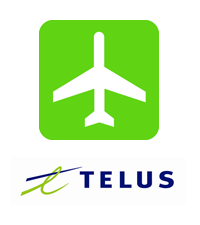 In a somewhat surprising move, Telus is moving forward with plans to halve the rates the carrier charges for data roaming. This means a 50 percent reduction from the average of $25 subscribers had been paying up to this point.
Canada has been something of a doormat when it comes to mobile costs. Ranking last amongst industrialized countries in costs, Canadians pay an average service fee of $10 to $25 per megabyte when roaming. The full cost of $25 amounts to just 10 photos being downloaded to, or uploaded from, a mobile phone.
This is in stark contrast to the OECD (Organization for Economic Cooperation and Development) average, which stands at a range of $9.48 to $13.52. As the third-largest telecom firm in Canada, Telus's move puts the company within that range.
In a statement about the rate cut, Telus VP of mobility marketing, Brent Johnson, indicated that the rate cut still keeps the company profitable — a fact unlikely to surprise anyone who follows the industry.
He went on to note that Rogers had a monopoly on roaming fees in the days when it was the only GSM carrier, the same technology used in most of the world. Telus and Bell were using CDMA, which was mainly limited to the United States. But rather than cut prices after launching their own 3G networks, Telus and Bell ultimately matched what Rogers was already charging, thereby leading to the inflated fees Canadian travellers have paid since.
Though new entrants like WIND Mobile, Mobilicity and Public Mobile have offered very competitive long distance and roaming plans, the moves haven't yet translated into a wider price war between them and the incumbents.
In addition to the roaming rate cut, Telus also announced a deal it made with Skype to allow subscribers to buy SkypeOut credits through their Telus accounts. Skype credit is like a prepaid service where the deposited funds can be used to make calls to mobile and landlines using the software on a PC, Mac or smartphone.