Text and pictures by Ted Kritsonis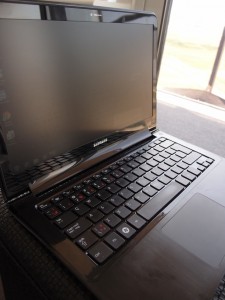 The Samsung Series 9 is an ultra-thin laptop that looks and feels luxurious, particularly because it blends style, elegance and durability into one fashionable frame. Considering that PC laptops generally lack a certain flair for design, the Series 9 comes off as distinct and versatile in one fell swoop.
It's hard not to notice the difference the Series 9 offers once you take it out of its box. The top is a bit deceiving because it resembles something like a mixture of brushed metal and aluminum, but is in fact duralumin, the same material airplane manufacturers use. There is absolutely no bend in the top frame, and yet it's so smooth and refined that you can't help but pet it just for the sake of touching it.
But what truly stands out when you first hold it is the size and weight. The Series 9 rivals the MacBook Air in both respects. On paper, it weighs 2.88 pounds with a thickness of just 0.64-inches, while the Air is 2.9 pounds and just 0.11-inches at its thinnest point (0.68 at its thickest).
The numbers are so close that the disparity isn't all that noticeable. The Air slopes down to its thinnest point in the front, while the Series 9 maintains almost the same thickness to accommodate the ports on either side of the unit. The left port cover has a USB 3.0 port, a mini-HDMI port and an Ethernet adapter port. The right port cover reveals a USB 2.0 port, microSD card slot and a 3.5mm headphone jack. The microSD slot is nice, but perhaps a regular SD slot might have been better. Still, the curvy design of the bottom means the port covers open easily even when the Series 9 is resting on a table.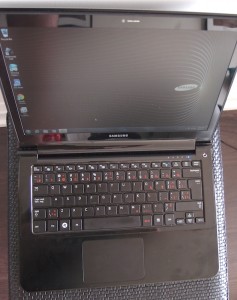 The 13.3-inch screen has a resolution of 1366×768, which is great, but we would've loved if the resolution matched the MacBook Air's (1440×900), especially since this is supposed to be a premium ultra-thin laptop with a price to match. But we found graphics, photos and video to be nice and crisp onscreen, and viewing angles pretty wide to boot.
The backlit keyboard and wide button-less trackpad are among the best any PC has to offer to date. One beef we had was that the Shift key on the left side is too small, especially when compared to how long the one on the right is. As for the trackpad — or the SuperButton ClickPad, as Samsung dubs it — you will get some Apple-like functionality on it, but it's not entirely where it should be. Swiping four fingers down reveals the desktop, while four fingers up brings up Aero. Two-finger scrolling isn't where it should be, mainly because it's neither fast nor slick enough. You can adjust the gestures, but that requires sifting through the Control Panel to do it.
Overall performance, which is what really matters most, is pretty dependable all around. Our review unit had 8GB of RAM and a 256GB solid state drive running on a 1.4GHz Core i5-2537M processor with Windows 7 Professional. Boot up time was a snappy 20 seconds, and the Series 9 was able to wake up from sleep mode in just three seconds.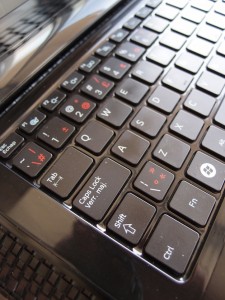 Admittedly, we were less than optimistic about battery life, as we err on the side of caution and skepticism when it comes to the figures manufacturers give on paper. Samsung claimed the Series 9 could go seven hours, but the real figure is closer to five, which isn't bad. What's impressive is that it doesn't drain extremely fast when watching video or using apps that require more processing power, like Photoshop or video calls on Skype.
Kudos to Samsung for also refraining from packing the Series 9 with all kinds of bloatware. Aside from Norton and a few other Samsung apps, the machine is pretty bare. We found this a welcome change from so many other PC laptops that already have a portion of their desktops populated by software that only gets in the way.
After going through all of that, we couldn't help but feel good to see that PC manufacturers are indeed capable of making a laptop look elegant, with functionality to complement the design.
All of this comes with a price tag, of course. At $2,399 for the specs we reviewed, and $1,699 for a unit with 4GB of RAM and 128GB SSD, the Series 9 is especially pricey. It's rare to say that a MacBook is cheaper than a PC notebook, but such is the case here, since the MacBook Air is cheaper.
The Series 9 isn't without its flaws, but we would recommend it for anyone who has the funds, prefers Windows and wants something that is highly portable and versatile.