By Lee Rickwood
Timing is everything, as any musician knows.
So, when word hit of the new trials of Jobs, and the spotlight focussed on Apple, seemingly lost in the shuffle was the awkwardly timed news that competitor Research In Motion is unveiling a new music service for the BlackBerry.
BBM Music is the new cloud-based service from RIM; it's rolling out as a closed beta trial (another awkward timing issue) here in Canada, as well as the U.S. and U.K.
Building on the social networking capabilities of the BBM, the new music service is designed to let users build their own library of tunes that can be shared with friends. Sharing and discovery – as so many other music services are discovering – is a powerful marketing tool for getting new music to the ears and in the collections of more fans.
BBM Music users can select tunes from a catalog of songs from leading music companies – Universal Music Group, Sony Music Entertainment, Warner Music Group and EMI (that's partly because RIM is in partnership with U.K. based streaming music provider Omnifone, and its existing backend service and copyright relationships.
Users build a personal music profile and library with 50 of their favourite songs, which can be shared with other users and their 50 songs – and so on. Users can swap out a certain number of tunes each month, and they can comment on all songs as part of that sense of new music sharing and discovery.
The objective – theoretically good for users and of course for the company – is to get as many mates as possible to sign up to the service.
Subscribers can listen to full tracks from their friends' profiles, not just previews, and there is some offline listening.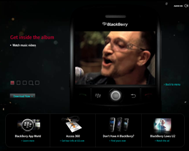 RIM has tried music before, with various degrees of success.
You'd be forgiven for identifying U2 with one particular music service and digital device – but I bet it's not BlackBerry's.
Those Apple iPod U2 commercials (Vertigo, with its opening and somewhat numerically countdown, was the Best Rock Song of its year) still ring in our collective memories, but it was Research In Motion that introduced the U2 Mobile Album, developed in collaboration with the Irish rockers.
The U2 Mobile Album resurrects material that used to be the norm for CD or especially vinyl releases, including photos, lyrics, and other artist information.
The BlackBerry platform supports advanced multimedia features, push-based wireless connectivity and social interactivity, all foundations for a platform to support a new type of music experience for mobile users.
The application is still available for free on BlackBerry App World and from www.blackberry.com/u2.
Some may also remember Music With Me, the tune sharing app developed for the BlackBerry by ParkVu, a mobile media company (not surprisingly) founded in Waterloo, ON.
It was developed to providing wireless sync capabilities between the BlackBerry platform and the online music retail outlet of that already cited competitor, Apple's iTunes.
Well, the Music With Me app is now targeted directly at the Android platform, and the company has decided to "leave the BlackBerry ecosystem."  Timing issue?
(It's also kind of left Waterloo, and it's now operating from its facilities in Louisville, KY.)
And, there's the Amazon MP3 for BlackBerry service.
Downloading the app gives smartphone users search, recommend and discover capabilities in Amazon's online music catalog of more than 14 million songs. Music can be previewed (thirty seconds) before purchase, and once downloaded can be swapped across user devices. The social and sharing aspect was there, letting users can send comments and links for specific tracks through BBM (BlackBerry Messenger), email, SMS, Twitter and Facebook.
When launched, a U.S. BlackBerry service plan was required, and an Amazon account, for purchases or downloads.
So the latest plans are for the new BBM Music service are to make it commercially available later this year, with a monthly subscription of $4.99.
Some may feel other music streaming sites are a better deal, either by lower fees or a larger library from which to choose. But for a lot of us, 50 tunes is plenty to listen to, and sharing 50 titles with friends with diverse musical tastes should do well (swapping tunes is not something you can do with all online music services).
It may be a little strange that the service is not available across all RIM devices; there's no BBM Music for the PlayBook – at least not yet (there's that timing issue again!).
Perhaps a bridge will be offered from the smartphone to the tablet.
And perhaps more titles and music publishers will be part of the service going forward, expanding the choices and opening up the discovery and sharing possibilities.
There are some 45 million BBM users, which is usually a good place to start when offering a social and sharing based digital music service.
To have a chart-topper, though, the band has to be in sync – so, too, a complete musical product offering.
After all, music is all about the timing.
-30-
submitted by Lee Rickwood