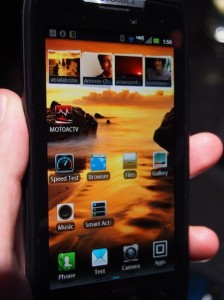 Motorola's most popular line of phones, the RAZR, is back, only this time it has to compete in the smartphone realm. Being on hand at Tuesday's announcement in New York, we tackle the basics on what the new-look RAZR offers and what won't be crossing the border into Canada.
Motorola CEO, Sanjay Jha, dubbed the new RAZR (or the Droid RAZR in the U.S.) as "the most powerful smartphone in the world". That's exactly what he said when he launched the Atrix months ago, and is also what Samsung claimed when it unveiled the Galaxy S II in the summer.
It's not good to judge a book by its cover, and specs don't really tell the full story of a device's actual prowess compared to the perceptions spun around it, but the RAZR is an interesting mix of good and 'why isn't that in there?'
The RAZR has a 4.3" Super AMOLED qHD touchscreen that's supposed to be brighter and sharper than a Super AMOLED Plus screen. It runs on a 1.2GHz processor from an unrevealed chipmaker, has 1GB of RAM and an 8-megapixel image sensor in the back capable of capturing 1080p HD video.
Staying true to RAZR lore, the body is seriously thin, at just 7.1mm at its thinnest point, with an overall weight of just 127 grams. The core around the phone is made of stainless steel. The Gorilla Glass screen is able to take a licking and the back is lined with a nice Kevlar, the same stuff used for bulletproof vests. It's undoubtedly a nice looking phone that's light and vibrant.
MotoCast is a built-in service that essentially acts like what Apple's iCloud does for that company's mobile devices. The difference is that content isn't pushed back and forth between an unseen cloud-based service, but rather works as a way to access files from a Windows PC remotely and securely. For example, so long as the PC is on at home, you could stream video, music, photos or documents to the phone at anytime. The number of file formats it supports is said to be more extensive than anything Motorola has done before.
Smart Actions is another exclusive feature that allows users to create profiles that would automatically trigger functions on the phone based on an action. For example, once the phone is connected to a home Wi-Fi network, it can turn off Bluetooth, reduce the screen's brightness and send a text message to a loved one letting them know they're home. Some are already preset but new ones can also be created as well.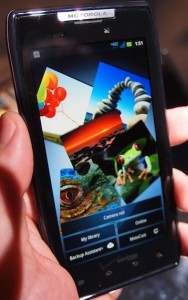 The new RAZR will also be tailored towards business users with a suite of corporate-friendly services like email access, calendar and contacts sync and the ability to view and edit Microsoft Office documents. This clearly marks a move to compete with Research in Motion (RIM) on some of their core competencies, and Jha alluded to that in an interview saying, "enterprise mobile is becoming consumerized, and it's working against RIM because despite having a very good enterprise device, it's not scaling well enough to what consumers are looking for."
That's a fair point, but there's something missing here too. For starters, the RAZR won't be LTE-ready in Canada, even though Verizon will have an LTE version in the U.S. Canada's model, which will be exclusive to Rogers, will only work on HSPA+. It will be available "in time for the holidays", except no definitive date or pricing has been revealed for Canada yet.
Rumours that this could be the first phone to show off Android 4.0 Ice Cream Sandwich appeared to be unfounded, since the RAZR will instead run on 2.3 Gingerbread. In fact, Jha went on record to say that he hasn't even seen what the new OS even looks like. But there is a distinct possibility that the phone will be upgradeable once Google unwraps it for the public, possibly before the end of this year.
The specs are also not all that different from what the Atrix and Galaxy S II already offer, but performance is hard to measure without taking the phone on a test drive.
This announcement clearly shows Motorola wants to compete, but it may not have pushed the envelope to send a clear signal that it wants not just a piece of Apple and RIM, but all the other Android manufacturers too.
Related stories: