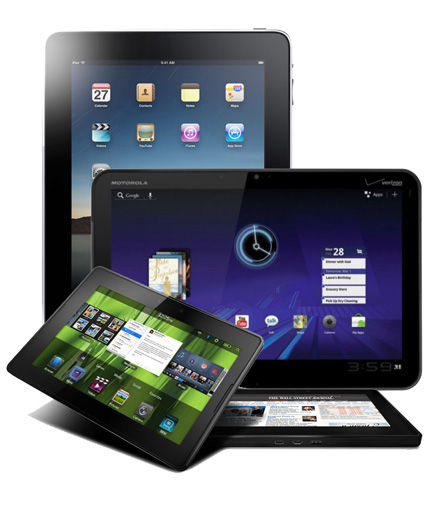 By Ted Kritsonis
For a variety of reasons, the tablet market in 2011 wasn't a horse race, but rather one of a clear winner ahead of a confusing pack left to fester in the distance. Apple's iPad only affirmed its dominance over a surge of 'me too' devices that didn't resonate enough with consumers. Will 2012 change that in a big way?
Tablets, despite their relative size and function, are somewhat similar to how smartphones are embraced by the general public. The key difference is that a smartphone is a just that — a phone — otherwise known as a device that people use to talk, text, message, socialize, listen to music, surf the Web and play games. Tablets can essentially do all those things and more, but the iPad has been king of the nascent tablet market since Apple first brought it to market in the spring of 2010.
With the exception of the Samsung Galaxy Tab, the first iPad ran almost unopposed for a year. The spring of 2011 was just the first wave in a flood of tablet devices that were designed to compete with the iPad and appeal to a market that wanted something cheaper and different.
Between the disappointing debut of the BlackBerry PlayBook and the shelving of the HP TouchPad, Android tablets failed to really make a dent, no matter what shape, size or colour they came in.
To explain why this happened ultimately leads to what the focus will probably be this year. Steve Jobs was largely vindicated when Adobe abandoned the mobile version of Flash in November — a feature that every non-Apple vendor touted as a trump card over the iPad. In reality, Flash turned out to be buggy and unreliable on any non-iPad tablet.
Apple also had a head start on the app side, which is arguably the most crucial element, and one of the key reasons why the PlayBook and TouchPad were so maligned. Developer support for the iPad has been unwavering, whereas the pace of Android tablet apps has been sluggish at best. And for some bizarre reason, Google still hasn't separated the two neatly in the Android Market. It's no wonder that as much as Google praises the number of overall Android apps, they're mum on how many of them are actually tablet-only.
The release of Android 4.0 Ice Cream Sandwich could be the uniting factor that helps the Android tablets of 2012 reach new heights. The fragmentation of Android smartphones is well known, but there was some of that going on with tablets too. If the crop coming this year is running on 4.0, then that could only help the cause.
For all the wonderful things the iPhone and iPad can do, they only really started integrating when Apple launched iCloud. Before that, any app you downloaded on one device would require a wired iTunes sync to move to the other. Ditto for music, video and photos. This was one area that competitors missed, particularly RIM, who failed terribly to integrate key pillars like email and BBM to the PlayBook.
This will be another key cog in the wheel for tablet makers — how to make it easier to grab content from the cloud, while also integrating the smartphone with the tablet in a meaningful way. Turning an iPhone or Android device into a mobile hotspot is just one way this works so well (and finally BlackBerrys running on OS 7.1 can do so), but there are surely other ways. The challenge for everyone, including Apple, is how to make the integration cooler and more interesting to consumers of all stripes.
Different sizes, TV integration, smartphone tie-ins and new richer experiences are definitely coming down the pipe this year, but the question is if any of those things will be particularly innovative coming from companies not named Apple. Microsoft, all but left for dead in the tablet game, made a small splash by rolling out a vision where smartphone, tablet and PC all run on the same version of Windows, leading to a sort of 'continuation' from one platform to another. Not even Apple does this, though there are certain apps that do (Netflix comes to mind).
And that brings everything full circle. There was so much of a focus on the hardware side of things in 2011 that it seemed like the software — the apps — weren't given priority instead. The PlayBook and TouchPad flew off shelves once their prices were slashed, meaning that consumers were willing to buy a tablet, but couldn't trust anything at full price that wasn't an iPad.
Apple could create a watered-down iPad with no cameras, a slower processor, less RAM and a lower-resolution screen — and still sell millions so long as the App Store wasn't adversely affected. But that's not likely to happen in 2012, as Apple doesn't view the iPad as a product for only one type of consumer. The iPhone has already proved that, and the iPod touch serves just fine as a small little tablet device (which could conceivably get a screen size increase this year).
But other manufacturers will cannibalize each other to battle for the top end and the low end. And what could very well happen is a mirror image of what the PC business ultimately became. Some premium models for certain consumers and a whole heap of options for everyone else.
This will also be the year of have-nots for tablets. Unless RIM manages to really wow consumers with a solid PlayBook and QNX-based phones, they're unlikely to be serious contenders. And if HP under Meg Whitman decide to try again with a tablet or do something with webOS, there are definitely no guarantees there. Traditional PC stalwarts like Lenovo, Dell, Toshiba and Acer will also have their tablet prowess tested in a big way.
But in the end, nothing will change irrevocably in the tablet market because the full cost of a device is interpreted as a bigger investment. Smartphones, despite how expensive they are, are shielded by contracts that subsidize the upfront cost of a handset. If tablets were to get the same treatment, they could be more palatable because of the price point, but tablets locked to carriers aren't exactly the best way to get over with the public.
And consumers also demand some level of certainty in what they're getting. Apple already has that pull, but it will be interesting to see if anyone else makes a breakthrough to get there this year too.
– 30 –
More stories: