By Hessie Jones,
Social Media means business and is becoming Big Business. All now agree that is influencing how organizations need to change.
As the Cluetrain Manifesto states, "Markets are now conversations."  The voice of the individual can multiply into the voice of the majority, easily drowning out the corporate voice. This demands that companies need to adapt: become more accessible and attempt to connect and build relationship with these newly formed markets or else be left in the dust.
Marketers know that the cost of acquisition by far is more expensive than retaining a customer. Social media provides opportunities to learn more about customers through dialogue but has also provided a consistent channel to optimize business product offerings. Real-time insight coupled with an open channel for discussion not only makes it easier to service the customer but now provides business a strong product and pricing offer that adapts to customer needs.
Here are five trends I see that will further solidify Social Media's stronghold in business:
CMO's are seeing the light: Social Media will see increased budgets
The economy has constrained advertising budgets and it's incumbent upon the marketing organization to maximize results on reduced spend.  This means the channel needs to be measurable. Therefore it's not suprising that CMO's plan to allocate more budget towards more retention initiatives in 2012. CMOSurvey.org in their recent study indicated that average allocation for social media is 7.1% in 2011, doubled from 3.5% in 2009. This is expected to increase to 10% in the next year; and then to 17% in the next 5 years.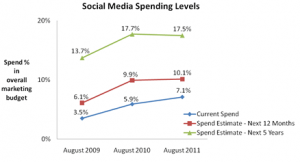 2.  Reputation will be paramount for business in the next year. Listening of 2011 will quickly move into Engagement for 2012. Lowe's can attest to the importance of reputation management in this week's fiasco on their Facebook Page when the company decided to pull its ads from TLC's All American Muslim. Companies are starting to realize that dipping their toe in social doesn't only mean starting a Twitter and Facebook Page. It also means embracing all the responsibilities that go along with it. That includes 1) being transparent 2) modifying internal policies that allow employees to respond appropriately to consumer comments and complaints 3)  and the hardest one of all:  eating crow at the outsite to mitigate the onset of disaster.
3. Mobile payments will quickly gain traction. Last year, 35 Million Phones were sold in 2011 with NFC (Near Field Communications)-enabled technology. That number will quickly grow to 80 Million by the end of 2012, as reported by IMS Technology. Starbucks has already enabled its rewards program through a mobile app. Whose poised to deliver this in Canada? Rogers is expected to launch its offering in Q1 2012 with VISA Canada as the "expected" payment provider.
4. Local offerings should expect a surge next year. The growth of the mobile will begin to see the likes of Foursquare, Yelp and Facebook monetize their mobile offering. While Facebook shut down Places offering, there is no coincidence that it recently acquired Gowalla, a competitive location-based platform. While Groupon and Living Social continue to struggle to find the right business model, the market itself is primed for growth. What does this means for business? As businesses move toward increased usage of brand monitoring platforms, they will have the ability to effectively test promotions in real time without necessarily relying on deal platforms.
5. Privacy will gain more attention as businesses begin to build more social media programs. Data collection, the use of listening platforms, increased personalization will force companies to revisit their privacy policies and practices and ensure these are compliant with Canada's Privacy Act.
What do you think? Do you agree?