By Gadjo Cardenas Sevilla
Samsung's WB750 is aiming to be the perfect compact point-and-shoot. With 18x optical zoom, a wide 24mm Schneider-Kreuznach lens and HD video in a pocket sized camera.
Samsung doesn't get as much credit as it deserves for its digital cameras, which is a shame because they are pushing the boundaries on features and connectivity and are releasing some of the more compelling models in the market today.
The WB750, is a good example of this, it could be everything a consumer looking for a compact yet capable camera would hope for.
It is slim yet has good grip, the design is austere but very solid and the functionality is ample and will satisfy most users.
One forgets that the WB750 is a superzoom camera in a slim body. A year ago, a superzoom camera would have been a bulky and garish looking device with an enormous lens hanging off an awkward looking body. The WB750 shows just how far we've gone.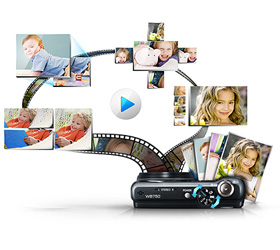 It is capable of 18x optical zoom for stills and video, it can even do both simultaneously which is fantastic. This means you can shoot a video of a parade yet capture snapshots of specific people when the time is right.
Featuring a 12.5MP BSI (Back Side Illuminated) CMOS sensor, the WB750 offers impressive low-light performance. BSI CMOS sensors are twice as sensitive as coventional CMOS sensors, which means less light is needed for properly exposed photos for up to 3200 ISO. Samsung has been gung-ho on its creative modes and these are all present here.
Aside from sweep panorama feature and the whimsical Magic Frame function (where one can overlay photos on things like billboards, t-shirts and the moon), there is a rich selection of settings to spice up one's photography.
Smart Filter 3.0 –  includes such effects as Cartoon filter  that makes any photo look like an animated film scene while Cross Filter makes light sources appear to have several points of light, like stars.
Zooming Shot adds motion lines to make it look like you're speeding towards your subject. There's also Water Paint, Oil Painting, Half Tone Dot and many more ways for users to express their creative side.
The WB750 also offers full manual control which is rare for most superzooms and point-and-shoot cameras, the only thing it doesn't do  is capture RAW format files.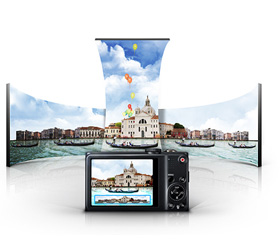 With the WB750 we felt we could leave the house without a larger camera and a handheld video camera and simply rely on this one device.
Sure, many of today's smartphones can take photos and HD video as well but they do not have the 12 megapixel CMOS sensor, the Schneider-Kreuznach glass or the 18x zoom  which makes the WB750 ($249.00)  a complete performer.