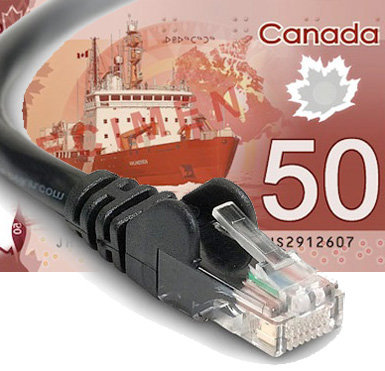 By Ted Kritsonis
The Internet and its residential usage is one of those topics that almost always induces a roll of one's eyes, and the main reasons are inextricably linked — performance and price. Canada's biggest Internet Service Providers (ISPs) have the lion's share of the market, but could consumers benefit more from going with a smaller company?
Bell, Rogers, Telus, Shaw, Videotron; the names are widely known and for good reason. They're the providers that took us from dialup access to DSL and cable in the Internet's burgeoning years. They also offered better prices for better performance once upon a time. This article isn't going to delve into why so much changed, but we can at least evaluate the cost benefits of sticking with one of the big guys or opting to try one of the newer ones.
The whole issue of the cost for using the Internet reached a higher awareness because of the drama over usage-based billing. That storm appears to be over for now with a more compromising pricing model forced by government regulators. But the side-effect of the debate cast a spotlight onto smaller providers like TekSavvy, Primus and Distributel.
There are actually a pretty fair number of providers in Canada,  some of whom specialize in satellite Internet that is ideal for rural areas with no cable or DSL coverage and those who tend to travel with RVs across North America. The focus here will be on residential Internet access for anyone that can actually get a broadband DSL or cable setup in their home.
To make this comparison, I took one package from each of the major providers that was in a price range that started under $50 before taxes. These are a basic frame of reference and they are the most widely available throughout the country, though there may be slight differences depending on the region or province you live in.
Rogers Express           $48.99
18Mbps download speed
512Kbps upload speed
70GB bandwidth per month
Bell Fibe 16                 $48.95
16Mbps download speed
1Mbps upload speed  (you can pay extra for 7Mbps upload)
65GB bandwidth per month
Telus High Speed Turbo         $49.00
15Mbps download speed
1Mbps upload speed
250GB bandwidth per month
Shaw High Speed 10               $45.00
10Mbps download speed
512Kbps upload speed
125GB bandwidth per month
Videotron Ultimate Speed 15          $55.95
15Mbps download speed
1.5Mbps upload speed
90GB bandwidth per month
Cogeco Turbo 20                 $44.95
20Mbps download speed
1.5Mbps upload speed
80GB bandwidth per month
In the list above, you can see that the plans and pricing aren't all that different. The only reason we included Videotron's package at over $50 is because it was the closest they had to what the others were offering. Pretty expensive for what you get, and as it turns out, there is a much cheaper option we get to below.
The following are just a few of the cable or DSL packages available from smaller providers:
TekSavvy Extreme Cable 24       $46.99 
24Mbps download speed
1Mbps upload speed
300GB bandwidth per month
TekSavvy High Speed DSL 16      $45.99 
16Mbps download speed
1Mbps upload speed
300GB bandwidth per month
Primus Unlimited High Speed DSL    $36.95 
7Mbps download speed
800Kbps upload speed
Unlimited bandwidth
Disbributel Cable        $37.95 
8Mbps download speed
1Mbps upload speed
Unlimited bandwidth
TekSavvy offers different pricing for different regions it services. For example, the Pro cable package offered in B.C. is virtually identical to the Extreme Cable package (listed above) that's offered in Ontario. The difference is that you get 25Mbps download speed and 2.5Mbps upload speed. The price is also cheaper at $36.95/month before taxes.
In Quebec, TekSavvy's Extreme Cable 15 Lite package is almost exactly the same as Videotron's Ultimate Speed 15 listed above, and is significantly cheaper at $34.95/month. The only difference is you get 75GB of bandwidth instead of 90GB. Even if you pay $50.95 per month to raise the bandwidth to 300GB, it would still be cheaper than what Videotron is offering.
DSL packages in B.C. and Alberta, however, are nowhere near the same level of speed. The best they have is the High Speed package that gives you 6Mbps download, 1Mbps upload and 300GB bandwidth for $35.95/month. TekSavvy doesn't currently offer cable service in Alberta. The company also has no service at all in the Territories, Saskatchewan and Manitoba. In the Maritimes and Newfoundland, only DSL is offered and it's very much in line with what Primus has.
Primus only offers one DSL package for everyone in some provinces, which we listed above. The gist of the package doesn't really change from province to province, except that in the Maritimes, it seems Primus only offers dialup and not DSL.
Distributel may garner a lot of attention as a small provider but it's also stoked some real resentment from customers. Long wait times, indifferent customer service and spotty performance are mentioned often in reviews on the Canadian ISP website. Having not used it ourselves, we can't vouch for them either way, as we're just presenting them as a well-known alternative to the incumbents.
But of the smaller providers, TekSavvy is easily the most popular, and offers higher speeds and bandwidth than both the incumbents and other smaller competitors. But as with other small ISPs, there is some fine print you need to know beforehand.
First, TekSavvy forces you to pay the full cost for a modem, which amounts to $109 with shipping for the cable one. Then you also pay a $65 activation fee (which is sometimes cut in half), plus your first month of service in advance. Basically, you would be paying $200 before you even used a single kilobyte of the service. But the upfront costs are mitigated by the savings and usage you're able to get from your connection. Incumbent providers don't force you to buy a modem, but most throw in a monthly leasing or rental charge for one. TekSavvy and some of the others will charge you if they have to send a technician to make a house call to fix a problem, whereas the major incumbents don't do that.
In addition, download speeds are relative. Just because the number says 24Mbps, it doesn't mean that you will hit that speed. In fact, you almost never will because the number is purely theoretical. That's why you see fine print that says "up to" next to the number in any official documentation.
But the bandwidth levels are important, and the upload rate is going to grow in importance as we look to push more and more content to the cloud. With 300GB of space, like TekSavvy offers, or the unlimited packages their competitors offer, you can stream tons of movies from Netflix, iTunes, Zune Marketplace or wherever else you get your content from.
If that matters to you, then you might be ready to make the switch to one of the smaller providers. And if you've already made that decision, make sure to read the fine print and ask a lot of questions before you sign up so you know what you're buying.