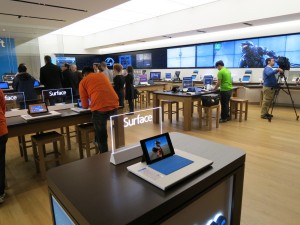 Text and photos by Gadjo Cardenas Sevilla
The new flagship Microsoft Store opens today at the Yorkdale Shopping Centre in Toronto. This is the 31st such store from Microsoft and the first location outside the US.
Microsoft recently opened various pop-up kiosks in order to introduce Windows 8 and offer customers a first-hand look at the new Surface tablet which features a tablet form factor and a similar Live Tile operating system as what is found on Windows Phone.
These pop-up stores are temporary and mobile, the Microsoft Store at the Toronto Yorkdale Shopping Centre is a permanent fixture that aims to cater to various Windows products and services.
Focusing on users and solutions, the store will be staffed by 70 sales associates and product experts catering to various lines. Expect to see solutions for the small business, education as well as prominent areas for Windows 8 software and devices, Windows Phone and XBox gaming.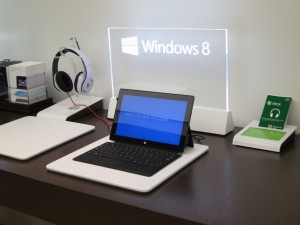 The Microsoft Store is large and the various areas are clearly defined into spaces. Light coloured wooden flooring and tables contrast with the brightly coloured displays as well as the vivid video screens.
Products are neatly organized by category on the walls and the centre aisle is where the Gurus, the store specialists, tend to customers.
The main areas are for Windows products including PCs, tablets and software. Then Windows Phone with offerings from manufacturers like Nokia and HTC.
XBox and Kinect is another big part of the store allowing anyone to play with the games on exhibit.
Touching the merchandise isn't frowned upon, it is encouraged as the sales personnel want to be able to teach customers and familiarize them with what's in store.
The Microsoft Store is also family oriented. Children can mill about the gaming areas while parents get their PCs serviced or check out the new smartphones.
One unique feature is the huge wraparound video wall that covers the entire area of the Store. Used mostly to show promoted products and solutions, the video monitors serve a dual purpose since they can be hooked up to PCs' smartphones and even XBox consoles for demos or diagnostics.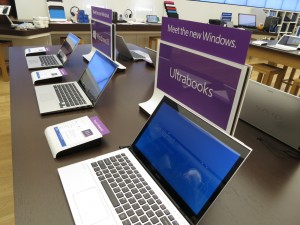 A number of events are scheduled this opening weekend including a concert with the rock band Train on Saturday and an appearance by hockey icon Wayne Gretzky.
Microsoft also plans to handout commemorative t-shirts to visitors this weekend.
Microsoft retail stores – both brick-and-mortar locations and seasonal holiday stores – have become a vital way for the company to develop closer relationships with consumers, and conversely, to put consumers directly in touch with Microsoft technology, said Jonathan Adashek, general manager of Communications Strategy.
"This is the one place where you can see all of Microsoft's offerings in one place, and that's something that's really important for us," Adashek said. "Customers tell us they appreciate having direct access to Microsoft technology and face-to-face tech support. It's a huge value for them."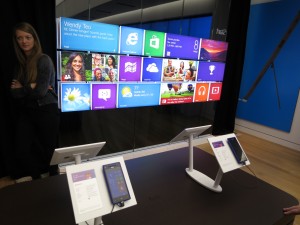 Bigger than this is the customer-facing benefit Microsoft gains from having its retail stores. Until now, Microsoft's products were just one of many in busy big box stores with no specialists or knowledgeable persons available to inform and educate customers on their options.
The company opened its first store in Scottsdale, Ariz., in 2009. Microsoft now has 30 stores in the U.S. including one that opened earlier this month in Puerto Rico, and another opening today in Cincinnati, Ohio.
The Toronto store is the 31st and a model of what an international flagship store can be.