Home videos are moving from the computer desktop to the smartphone, and Hollywood films from the post-production studio to the cloud.
Moving from iMovie to WeVideo and beyond, there are now video creation tools for absolute beginners and experienced professionals in the cloud, and a range of browser-based editing tools that run on computers and mobile devices.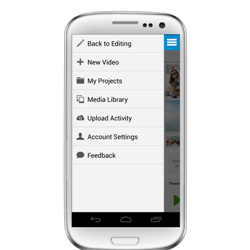 One of the most recent products to hit the market is the new WeVideo Android video editing app (the latest version is officially 'out of beta' now and available for North American users), compatible with a number of Jelly Bean phones, like those from Samsung, Sony and HTC among others.
WeVideo is a cloud-based video editing tool; the mobile 'light' version interacts and syncs up with a more fully-featured online version.
WeVideo lets you record video and take photos right through the app, or you can use a video camera and import the footage. Then it delivers drag-and-drop, finger touch control over common video editing techniques and creative stylings. Choose and select video clips for your project, trim them by cutting off unwanted bits, adjust their volume individually, and then arrange them sequentially on a timeline or storyboard.
The final creations can be saved, stored and shared using various playback devices, or on YouTube and Vimeo, or across your own WeVideo account. You can send out notifications on Twitter and Facebook that you have posted a new video.
The We Video account, by the way, also serves as an online storage area for backing up content and further editing. There are different price levels and packages available for individuals, businesses and not-for-profits.
"Mobile video creation is happening anywhere and everywhere nowadays," WeVideo CEO and Co-Founder Jostein Svendsen said of his personal vision and business model. "The move toward consumer-created content has grown significantly; the technologies now reside in people's pockets. Unlike iOS, we think the Android platform has, until now, lacked a decent video editing app, and we are thrilled to offer our powerful editing tools to the Android community."
WeVideo's cloud-based platform mirrors some more elaborate systems being used by top broadcast TV producers and feature filmmakers.
As just one example, you may have seen a recent reality TV series called Classic Car Rescue about a bunch of mechanics turning beat up old vehicles into magnificent works of automotive art – well, the show itself was 'rescued' by new editing and post-production workflows 'in the cloud'.
The crew had tons of great footage, but a limited time to craft each highly condensed episode.
A company called Aframe was called in to set up a private cloud-based IP platform, used to move hundreds of hours of broadcast quality video files between production facilities in Toronto and London during editing activities on the series, which made its debut on Discovery World Canada.
Not only did cloud computing and high speed connectivity replace video TV and film production activities that previously depended on old fashioned 'FedEx-ing' of tapes and storage disks, it let editors and producers quickly create, revise and approve high-end content in a more collaborative and real-time fashion, using both cloud-connected PCs and smartphones.
(A slight sidebar, if I may: while it's called the cloud, make no mistake: there is nothing soft or fuzzy or nebulous or air-y about cloud computing: it is all about hardware, huge capacity servers and giant broadband routers, connecting in real bricks-and-mortar buildings with real street addresses. The cloud is, in fact, private property owned by someone else: you are granted – charged for – access.)
Anyway, WeVideo's cloud-based environment is also for collaboratively creating and editing video, more with individuals, small businesses and independent filmmakers in mind: its easy-to-use feature-set has three different levels of complexity and capability.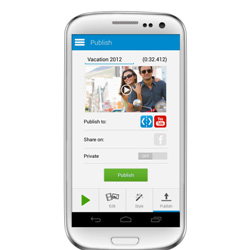 There's a real simple, almost automatic entry-level editor for those just getting started; a complete 'style' or 'look' can be applied to a group of selected video clips, with a number of pre-built themes from which to choose, each with its own background music, video transitions, titles graphics and effects.
But if you are already familiar with Avid, Final Cut Pro or Adobe Premiere, well, the highest WeVideo level can be a familiar, fluid and highly-capable editing environment for you: multi-track timelines, clip trimmers, title generators, video transitions and audio mixing screens are all here, offering a much more extensive editing palette.
Whatever editing level you use to finish your video, once you are done, WeVideo offers various video output qualities, up to 1080p HD, and project sharing/video viewing options across multiple browsers and mobile devices.
Now, maybe engineers thought there'd be a lot of two- or five-minute videos being made on their system, which has to have a powerful backend with lots of storage, processing and transcoding capacity to handle even that.
But early adopters have encountered some long delays in getting their edited video fully processed and downloaded from the cloud; maybe they have multiple two hour long shows in the queue, but any company offering cloud-based services must be ready, willing and able to ramp up its facilities in order to meet a growing demand for a potentially very popular service.
"We have been testing the beta version of the WeVideo Android editing app for weeks now, and to a very positive response," said Mark Floisand, Vice President of Marketing and Sales for WeVideo. "We have spent those weeks adding and improving features and overall app functionality. Today, we are confident that this is an app worthy of carrying the WeVideo brand name."
Launched in 2011, WeVideo US is based in Palo AltoCA; the company and its technologies originated in Scandinavia, and are used across Europe.
The WeVideo mobile app is available as a free download on the Google Play store.
# # #
submitted by Lee Rickwood