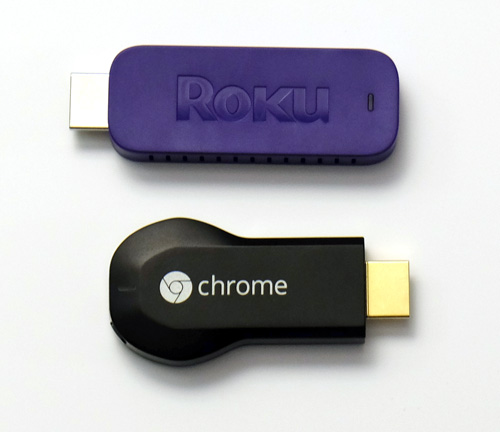 Streaming content to your TV has been getting increasingly easier as different types of solutions have come to market, and given the timing of the launch of both Google's Chromecast and Roku's Streaming Stick, it's apt to compare them. While they seem to be an apples-to-apples comparison, they diverge in some key areas that should impact your buying decision.
Google's Chromecast has been out in the U.S. since last year, so the product itself is not new, and there is nothing inherently unique or different in the version that launched in Canada. It's an HDMI dongle that plugs into your TV, connects to your Wi-Fi network and is able to "cast" content from compatible devices over to the big screen wirelessly. It can be powered by a microUSB cable that is either plugged into the included AC adapter or into a USB port on the TV itself. It costs just $39.
Installation, setup and action
The Roku Streaming Stick (HDMI version) is new to both countries and follows a similar installation. Plug it into your TV's HDMI port, use either the AC adapter or the TV's USB port and you're good to go. The primary function here is to bring the Roku experience to you in a form factor separate from the company's traditional streaming boxes, like the Roku 3, for example. That's nothing to scoff at, given there are over 750 channels available in Canada, with many other "private" channels offered by developers, packed into something pocket-sized. Unlike the Chromecast, Roku includes a remote control, albeit without the great headphone jack the Roku 3's remote had. At $60, the Streaming Stick is more expensive than the Chromecast, though you are getting more depth for the price.
Android and Chrome browser users will like the integration with the Chromecast, which requires a minimal setup. It's easy to do on a Chrome browser, and the process also installs the Cast extension so that you see the casting icon on the top right or bottom right of the browser. Once set up, load up a streaming video from a site, click the cast icon and the video moves over to the TV. You can also mirror the browser entirely, making it possible to do basic surfing that way, too.
This works with the mobile Chrome browser found on mobile devices as well, along with certain apps. Netflix, Songza, Rdio and Crackle all have native support on the device, with YouTube essentially a de facto member of that list. Using the app on Android or iOS, you could cast a video, while browsing and searching for others, or even using other apps entirely, without affecting playback. Apps that are officially supported can be controlled directly from a smartphone or tablet, providing you a similar experience wherein you can watch and browse simultaneously.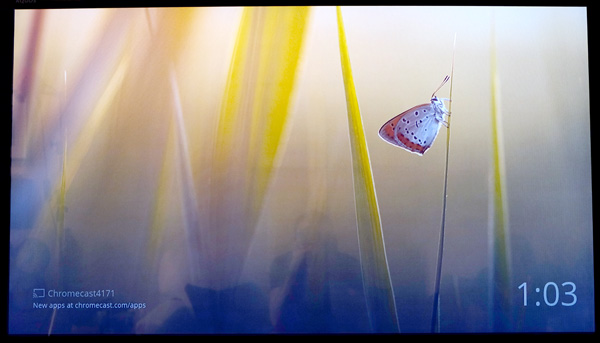 The advantage of these two scenarios is that basically anything playing through Chrome is ready to cast. That's a lot of content when you really think about it. Even more if you use a VPN service to get around geo-restrictions. Google has also opened the API to allow developers to interface with the dongle more readily, so it should only be a matter of time before the current short list of official partners grows.
Still, compatibility isn't fleeting otherwise. We found success in finding Chromecast-enabled apps through the Cast Store app on Google Play. AllCast was also a favourite because it allowed us to cast media content we had stored on our device. The big omission that we struggled with was streaming from a network attached storage drive or network share. There is no dedicated app that bridges with the Chromecast, so we either had to transfer content over to the mobile device's internal storage or try to drag-and-drop it into the Chrome browser, which didn't work well enough. The only saviour we could find was Plex, which now works with the Chromecast without the need for a Plex Pass subscription.
Content and functionality
The Roku Streaming Stick has a Plex channel that can pull content arranged by the Plex Media Server software installed on a PC or Mac. We also used Roku's own Media Player channel to stream from network drives. Everything was fine with MP4 files, but MKVs usually played with no sound, while AVIs didn't play at all — unlike Plex, which can handle everything because it does the transcoding on its end. This was a drag and we found no way to get around it, unless we had an audio receiver or soundbar that processed the audio before getting to the TV. Basically, the Streaming Stick hands off the heavy lifting of transcoding to the TV, so if your flat-panel doesn't have the hardware or software to do it, you're out of luck.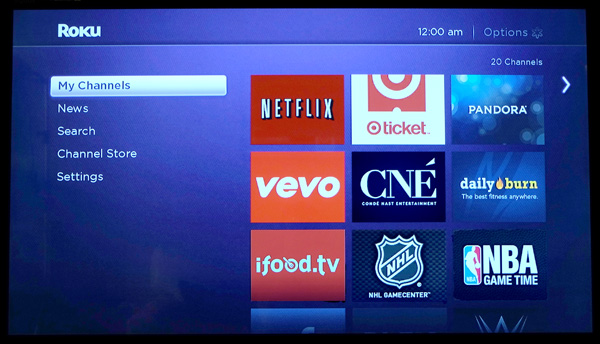 Of course, we're talking about content over and above what you'll already find on Roku's growing platform. Channels are in abundance, and you'd be hard-pressed not to find cool stuff to watch that you might not have found elsewhere. We enjoyed watching documentaries from PBS, as well as tuning in to a couple of cooking channels. Indie movies were there to see on Viewster and PopcornFlix. Then there were established ones like Netflix, Crackle, Vevo, NHL GameCenter and Crunchyroll. Music from Rdio and TuneIn, among others, are also easy to find.
In addition, Roku made a great move in including its YouTube channel in the Streaming Stick, a perk that has only been available up till now in the Roku 3. YouTube is also one of the few examples of casting on the Streaming Stick, as you can pair it with your smartphone or tablet to control search, navigation and playback entirely on that device. This also works with Netflix much the same way. The Roku app on iOS and Android also comes in handy as a remote if you don't want to use the included one.
Who's better for you?
Looking at the breadth of options on Roku's Stick and the focus of the Chromecast, it's easy to see where these two go down different paths. The Roku Stick can't mirror a Web browser, whereas that is a key feature of the Chromecast. The Chromecast has barely a handful of official apps, heavily leaning on third-party support from developers to widen the gamut. Both don't handle streaming from local storage or network drives especially well, though one could argue that isn't a setup the average consumer has.
The irony is that both sticks are a combined $99, which is in the ballpark of what a Roku 3 or Apple TV go for. If that's your budget, you could actually get both sticks and take advantage of their respective strengths. If not, then the Roku wins out for the fact it has an interface to aggregate the content that works on it — a real boon for consumers who don't want to do too much to get what they want.
The Chromecast is great for casting everything the Web has to offer, except it's at the mercy of what the casting devices can do. If a certain video site won't work on your tablet or phone, then that's it. That's why a laptop is vital to getting the most out of the unit — it has the flexibility of the Chrome browser and all the extensions and plug-ins that work on a PC or Mac to ensure smooth video playback.
So, your decision will really come to down to what kind of scenario you can envision for either product. Roku's Stick is more of a lean-back experience, whereas the Chromecast will require a little more tinkering to open up the content floodgates.