Celebrations of women's achievement in Canada's technology sector should not be delayed, even though the process for nominating and selecting the woman who has made the most significant advancements in Canadian tech industry should be.
Or extended at the very least.
The annual nomination process and evaluation process for presented the Sara Kirke Award for Entrepreneurship was scheduled to close this past Friday, April 18, 2014.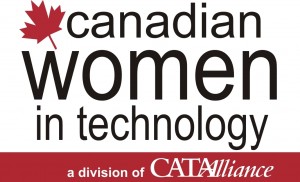 The Sara Kirke Award for Entrepreneurship and Innovation is presented by Canadian Women in Technology (CanWIT) to the woman who has shown the most outstanding entrepreneurship, as well as technological innovation or leadership that has significantly expanded the frontiers of Canada's advanced technology industry.
But the list of received and submitted nominees this year seems a bit short to some observers (no names are available of course, but Award process managers noted that seven nominations had been received prior to the deadline day) and the word on Friday was that the nomination deadline may be extended. No official confirmation of such a decision had been received as of the time of this posting (but this story will be updated as soon as an official decision has been communicated).
Canadian Women in Technology (CanWIT) is a national non-profit network, and a division of CATAAlliance designed to boost women's participation and advancement in the high-growth technology sector.
The organization and its partners work to support and advice for women-led businesses. CanWIT provides knowledge and support through various programs that include its: eMentorship initiatives, Regional Chapter and National networking events, professional development, and advocacy efforts. CanWIT offers both national and local Chapter events to promote networking and education among women in Canada's technology sector.
A nominee for the Sara Kirke Award must be a member of CanWIT, but the process itself can be a simple as sending in a written resume of the nominee's accomplishments. (There is an Official Nomination Form that's still available online.)
The selection process includes evaluation of criteria such as innovation, leadership, recognized achievements in an area of expertise; community involvement and mentorship; and the contributions made to achieving a more competitive investment climate in Canada.
So, the purpose of the Award is as much to celebrate the accomplishments of the winner, as it is to create positive role models for younger women, who can be the winners of future such awards.
The Sara Kirke Award for Entrepreneurship is presented annually to the woman who has demonstrated consistent innovation and leadership skills, resulting in the creation and international acceptance of significant world-class products and/or services.
Along those lines, CanWIT's eMentorship Group has launched an online community where ambitious students and professionals are paired with compatible leaders and executives in the tech industry to initiate committed mentoring relationships. Mentors and mentees can be matched using online tools, or they can match themselves based on interests, expertise and available resources.
Either the eMentors or the Award evaluators might want to check out another Ms. Kirke, and some of her classmates.
Sarah with an 'h' Kirke is a Grade 11 math and science student at Toronto's Runnymede Collegiate Institute, where she is enrolled and passionately engaged in the robotics team.
Even as a young girl in Grade 4 or 5, she became involved in early FIRST (For Inspiration and Recognition of Science and Technology) programs; later, she joined the FIRST Robotics team, and since Grade 9 she's been active in an extracurricular program where students design and build a robot and move on to compete at two regional competitions.
"We're all a huge family," Kirke has said of her robotics team and the enjoyment she gets from working with them – with an unintended nod to her historical namesake, often called North America's first female entrepreneur.
-30-