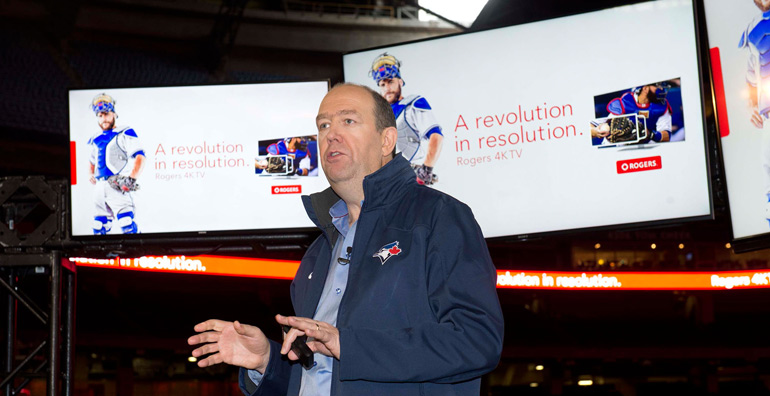 Trying to find more sports in 4K? You will have to wait a while longer, though by the end of the year, there should be a wider range of content available to watch at the higher resolution.
When Rogers first announced in October 2015 that it would begin broadcasting in 4K in January 2016, it pointed to all 81 Toronto Blue Jays home games and a smattering of NHL regular season games, played in Toronto and Montreal. With no Canadian teams in the NHL Stanley Cup Playoffs, 4K hockey broadcasts seem to have stopped cold.
The company hasn't publicized whether it would broadcast any games at the higher resolution, including the Stanley Cup Finals, despite Sportsnet airing the lion's share of matchups. One of the sticking points is that the equipment and cameras to manage the broadcast don't travel very far yet, and that's why most of the content has come out of Toronto and Montreal thus far.
The Toronto Raptors are currently in the first round of the NBA Playoffs, and with broadcast rights owned by TSN, the team's run (however far they go) is available in 4K. This follows up the Raptors' two-game stint in London, U.K. in January — both of which were offered in 4K from a local British video feed. The Raptors playoff run appears to be an in-house TSN operation.
Somewhat surprisingly, the 2016 Summer Olympics in Rio de Janeiro will not be getting 4K broadcasts. The Euro Cup 2016 soccer tournament, on the other hand, should have some 4K matches, with feeds coming from European networks that TSN (who owns the rights) can then air to audiences in Canada. It's probable that not all 51 matches will be available in the higher resolution, but you can count on the opening tilt (France vs. Romania), quarter-finals, semi-finals and final all going 4K.
Looking to next season, it seems likely that all Toronto Maple Leafs and (maybe) Montreal Canadiens broadcasts — at least on Saturday nights — will be in 4K. Will Sportsnet have enough trucks to cover all seven Canadian teams' home games? The company hasn't confirmed. Will TSN do the same with the regional NHL games it has rights to? What about the Raptors? The Canadian Football League (CFL) or Major League Soccer's (MLS) teams in the Great White North?
American broadcasters have been slower to get to 4K, and it seems almost a foregone conclusion that the National Football League (NFL) would be the guinea pig for regular coverage. Then there are all the major golf, tennis, racing and ultimate fighting tourneys that take place.

While the bump up to a higher resolution will be appreciated by sports fans, the real visual difference is really only going to happen when HDR (high dynamic range) becomes a staple of these broadcasts. In a nutshell, HDR enhances the highlights and shadows onscreen to appear more likelife. As is, TVs produce about 8-bits in brightness difference when our eyes see it in 14-bits. The result, coupled with higher resolution, should make colours, shadows and highlights appear far more vibrant and real than ever before.
Unfortunately, aside from Netflix, HDR hasn't hit its stride in Canada. Sportsnet had to back off from rolling it out (after initially proclaiming they would) because of competing standards. It's a little like 'Blu-ray vs. HD DVD' all over again. There's Dolby Vision and then there's Ultra HD Premium (or HDR 10, as it's better known in the industry). The former is supported by some big manufacturers, like LG, while the latter is a requirement by organizations like the Blu-ray Disc Association. For its part, Netflix offers both.
Until this is fully resolved into one standard, HDR will probably remain stunted, which is a shame because the 4K evolution really won't be impactful until that happens.