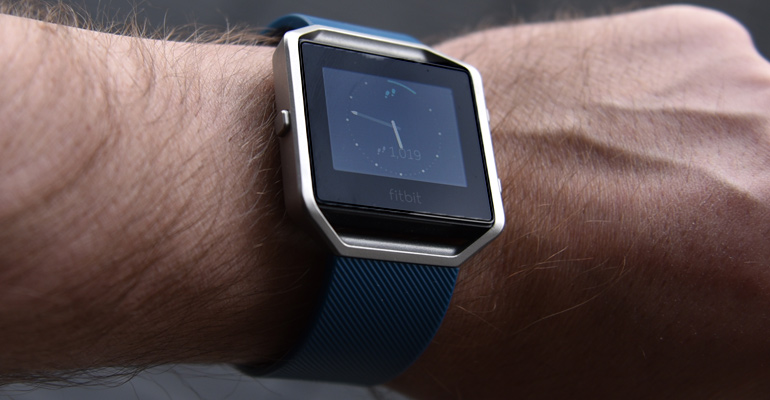 It's not a smartwatch, but rather a fitness watch? Such a term hasn't really existed in the crammed wearable category, but Fitbit is staking its claim to it with the Blaze, a fitness tracker that not only resembles a smartwatch, but also sort of acts like one, too.
Fitbit has grown to be one of the most recognizable wearables manufacturers operating today, and that has a lot to do with how well the company has built its fitness bands. I was a big fan of the Fitbit Force until the rash-causing issue (that led to a massive recall) forced me (no pun intended) to ditch it completely in 2014. Then came the Fitbit Charge HR in 2015, and now the Blaze so far this year.
In the Blaze, Fitbit has tackled a new design philosophy, one with a more informative and contextual screen, along with a modular approach that makes it easy to switch bands. Neither of these is particularly innovative because smartwatches have already been doing both, but the fact it's a fitness band manufacturer doing it makes the device intriguing.
To achieve such an open design, Fitbit made the tracker itself a square that's easily removable from the stainless steel frame that's attached to the band, which is also swappable. The premise is that the Blaze can be perfect with a rubberized plastic band when breaking a sweat, or out for a night with a leather band.
The combination is lightweight and nice to look at. Wearing this anytime of the day never felt cumbersome or heavy on my wrist. The fact I got several compliments and questions about the unit from friends and strangers, alike, was an indication that the design — albeit not overly flashy — had some aesthetic appeal.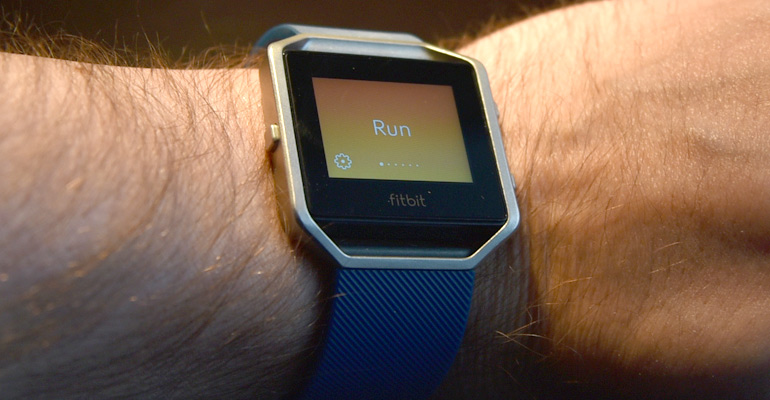 The 1.25-inch 16-colour display does look a little swamped because the square tracker has big bezels on all four sides. This was likely done to make it thinner and a better fit into the steel frame. Either way, the unit resembles a proper watch, though the squared design may not tickle everyone's fancy.
Functionality is relatively straightforward. The touchscreen is like you would expect, swiping through the menu left, right and up and down. On the left side is a back button, while the two on the right are for making selections within the interface. These aren't required to operate the device, but can come in handy with sweaty hands or while wearing gloves. A sensor inside turns the screen on when you raise or flick your wrist, but I found this to be wildly inconsistent. It sometimes took four attempts to get it to light up, whereas in other instances, it did so unintentionally.
Naturally, the screen mostly stays off to maintain battery life, which is excellent from a cumulative perspective. I easily wore the Blaze for almost a week, using it every day before needing a recharge after about five days.
That's pretty good considering everything in here. Though lacking its own GPS (it uses a paired smartphone for that), the Blaze tracks steps, activity, heart rate, sleep and includes specific exercise tracking metrics. Navigating this is made easy with a standard set of options in the layout, starting with Today, which lines up the basic results, like steps, heart rate, distance, calories burned and stairs climbed.
The Exercise section has a sub-menu for the bike, running, weights, treadmill, elliptical and general workout. One more can be added through the app, like yoga, spinning, bootcamp, kickboxing, golf, pilates and others, but it's a shame that there's only room for seven in total. FitStar, which Fitbit acquired last year, has been included with Warm It Up, 7 Minute Workout and 10 Minute Abs being the trio of options under it. There's also a timer for stopwatch or countdown.
Setting an alarm requires using the app or website first, and even then, it's not a sleep alarm like those in other fitness bands, where you're to be awoken at the lighter end of your sleep cycle. Instead, the Blaze acts as a standard alarm, except it only vibrates lightly rather than beeping loudly.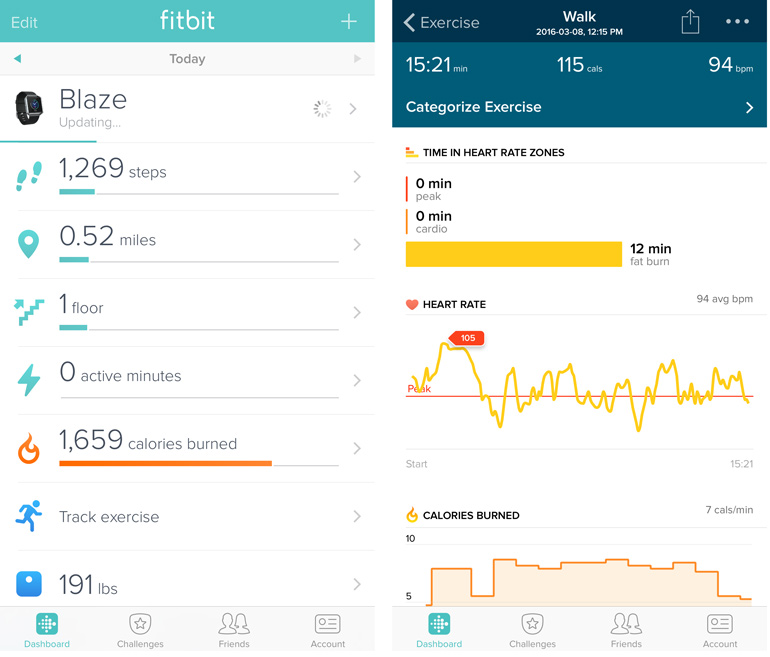 Lacking GPS on the device itself isn't always a drawback, but it can hit a snag or two. For example, going out on a run wearing the Blaze — but not having the phone and app with you — won't track the distance. It will estimate it based on steps. This matters because everything from calorie burn to pace is impacted by the rough estimate, thereby tainting the overall data that comes from it. I also sometimes forgot to manually start the exercise on the watch to correspond with what I was doing. The Blaze still knew that I was being active, but obviously didn't know exactly what the exercise was.
When connected to the phone's GPS, however, the Blaze was pretty spot-on. Wearing it constantly for days on end, save for when showering, the results didn't appear inflated or conservative. I felt like it was pretty accurate. Granted, steps may have been a little off because only a foot pedometer could be more precise, but I came away satisfied with the data.
The heart rate monitor has the same discrepancy. Chest straps are generally better at measuring the exact beats per minute, but doing it optically from the wrist is certainly getting better. Here, too, the Blaze didn't come off like it was holding back or going too far in reading me. When I was active, it showed. When I wasn't, it also showed. However, it has an issue in reacting to bursts of intensity. For instance, if I was on the bike for a 20-minute cycle, and really pushed it hard for 60 seconds, the Blaze wouldn't show the corresponding heart rate until after I slowed down to a medium pace.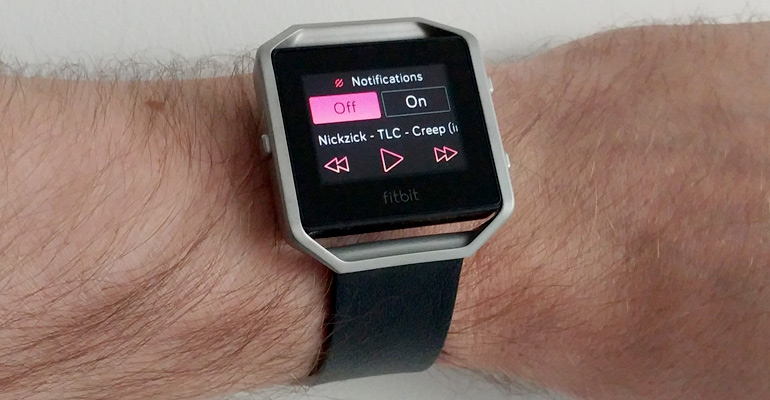 Where the "smart" part comes in, the Blaze isn't a full-on substitute for a smartwatch because it doesn't have any third-party app support. It only supports notifications for a select few. With iOS, the Blaze is limited to call, text and calendar notifications. On Android, however, it's those plus WhatsApp, Hangouts and Skype — albeit with a catch. Only one of those third-party apps can be "on" at a time. Fitbit could conceivably update this to include them all at once, but it's not clear when or if it can. Music control is fine, and Fitbit wisely included a drop-down playback menu to play, pause and skip tracks. It didn't matter which music app I had open on my phone, either.
All that being said, the Blaze rests in a middle ground that will either attract people or turn them off. This is, after all, a fitness tracker that looks like a smartwatch, has removable bands, lasts longer than just about every smartwatch available, offers basic notifications and features solid app support. It also costs $250, plus another $140 if you want to buy a leather band. Another $180 if you want the metal one.
The starting price puts the Blaze under a lot of smartwatches, but only just. An Android Wear or Apple Watch can do more out of the gate, but for the consumer who wants what the Blaze delivers and nothing more, it's a good choice to go with.