Innovation and technology are not only pushing the boundaries of how we watch sports, they're driving the next generation of what kind of sports we watch.
Sure, immersive virtual reality and 360-degree video can be cool ways to watch basketball or auto racing these days, and we're hearing plenty about the impact of 4K ultra high resolution TV in baseball and hockey broadcasting.
But the future of sports includes professional teams and individual athletes who use modern technologies like robotics, bionics, sensory suits, wireless devices, computer-controlled mechanisms and artificial intelligence while they compete.
Games in the future will include new events like driverless car racing, manned and unmanned drone racing, robotic soccer, and cyber-athlete competitions.
That's what organizers of the first-ever World Future Sports Games are planning for when, in December 2017, futuristic technology-based sports competitions get underway.
The first edition of the World Future Sports Games will be hosted in Dubai, with plans for the Games to be held over three days. They will be open for participation from individuals, companies, academic institutions and research centres from around the world, organizers describe. Athletes will compete in nine announced events: driverless car racing, robotic soccer, robotic running, manned drones racing, robotic swimming, robotic table tennis, robotic wrestling, drones races and cybathlon competitions.
OK, so no space-baseball*.
But the newly formed Federation that's guiding the Games wants to organize scientific and technological competitions in different parts of the world every two years. And it says it will attract researchers, technologists and sports professionals to create a new economic sector worth billions of dollars.
No reason to wait until 2017, though.
A 15-year-old British kid has already piloted his team to victory — and a quarter of a million dollars in prize money — in a first-of-its-kind World Drone Prix flying contest held in the U.K.
Competitors in the Track Race category sat in racing car-style seats, wearing goggles to let them to watch a live camera feed from their drones racing in 3-D space. Each team of four flew their drones around a dedicated aerial obstacle course, hoping for the fewest penalties and fastest time over a twelve lap race.
Spectators could watch the drones physically race around the track, or get a first-person perspective by donning a pair of video goggles themselves (either in the stadium or via a connected device almost anywhere) and 'ride in the pilot's seat'. Some drone pilots say they have encountered a somewhat nauseous feeling, even to the extent of having an out-of-body experience, as a result of 'flying over themselves' in a drone race.
(Hoping for more such excitement, U.S.-based sports media giant ESPN has partnered with the International Drone Racing Association on a multi-year international media deal, and it will cover the World Drone Racing Championships in October on TV, and it will video stream coverage of the U.S. Drone Racing Championships this August.)
Canadians can cheer for their favourite competitor in the future of sports later this year, when the first Cybathlon is hosted in Switzerland. The international competition, organized by ETH Zurich, invites disabled athletes using bionic assisstive technology, such as robotic prostheses, to compete.
Athletes with different abilities wear prosthetics or exoskeletons as they participate in six events, including races over obstacle courses. Others competitors wear wired skull caps covered in electrodes so they can play computer games with their brains.
Eighty teams from two dozen countries are invited; the Canadian team, known as M.A.S.S. Impact, includes students and alumni in Engineering, Biomedical Physiology and Kinesiology from Simon Fraser University.
Danny Letain will compete in the Powered Arm Prosthesis Race, and although he has used robotic extension arms before, this time he's wearing more of an Iron Man suit, controlled electro-mechanically through pressure sensors and interface connections to his own musculature.
Canadian athletes may soon compete in other sports while wearing full high-tech multi-sensory gaming suits being developed by Inventing Future Technology Inc. (IFTech), co-founded by son and father wearable technology developers Brodie Stanfield and Michael Stanfield. Their first product is ARAIG (As Real As It Gets), a high-tech, multi-sensory gaming suit they say can also be used for training, virtual reality, augmented awareness or other markets entirely.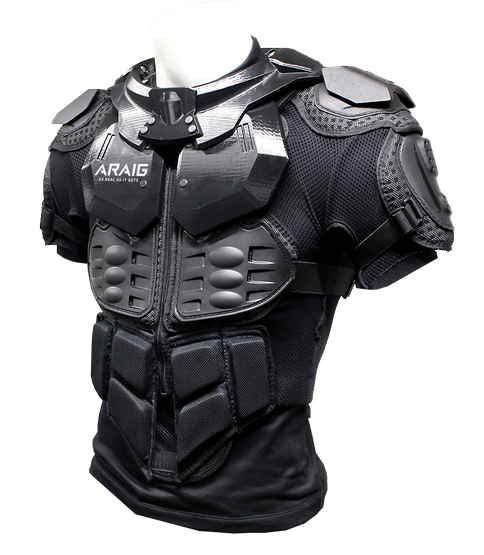 # # #
*Space-baseball, a compelling innovation realized by British prog rock group Babe Ruth back in the '70s. Remember The Mexican?!?
Or, more to the point: remember the cover art? A spacesuit-wearing astronaut, bat in hand, waits for the pitch. Another astronaut, wearing a different coloured suit, is seen in his wind-up. The fielders float on flying disks nearby, and they're all moving freely in the void. It looks like so much fun, but can you call an infield fly rule in outer space?