Coding toys for kids of all ages are all the rage these days. They incorporate play with learning critical skills in the STEM (Science, Technology, Engineering, and Math) fields. So it's no surprise that a new slate of options will be coming to market this year.
In an earlier post, we discussed some great STEM-friendly tech toys for kids of all ages, including the WowWee Coder MiP programmable robot, Fisher Price Think & Learn Code-A-Pillar, And Sphero SPRK+. Here are 3 more really cool coding toys that kids will be able to get their hands on this year to further their learning of coding.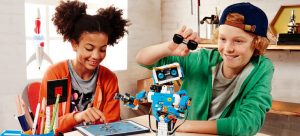 Lego Boost
We're all familiar with traditional Lego building toys. Boost adds a tech-savvy twist to the decades old toy by adding coding capabilities through the integration of new connected pieces and a mobile app. The set includes pieces that can be used to build one of five different items at a time, from a robot to a car, guitar, or cute cat. The child can use the app to guide him along the building process. Then, once complete, program commands through coding, like making the robot dance or the car zoom forward. Older kids can use the guide to build the basic structure of something like a race car, then get creative by constructing the body however they want. Set to be available in stores in August, Lego Boost will sell for about US$160.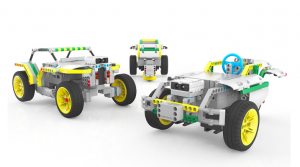 Ubtech Robotics KarBot Robot on Wheels
The latest in a diverse line of coding robots from this company, the KarBot Kit includes a buildable, programmable car that can track and move along lines, and detect obstacles in its way. Kids over the age of eight can use the Jimu App and Blockly coding to make KarBot perform a number of actions. The iOS app includes easy-to-follow 3D illustrated building instructions, pre-programmed actions, Pose-Record-Play, and direct-serve programming, while Blockly coding can be used to sequence actions, or as a joystick remote to control the robot. The Kit, which includes the snap-together parts and connectors, infrared sensor, and servo motors required to build three pre-designed KarBots, or the child's own inventions, sells for about US$130.  The parts are interchangeable with other Jimu sets, so kids can acquire a collection, and get more inventive as they get better and better at coding.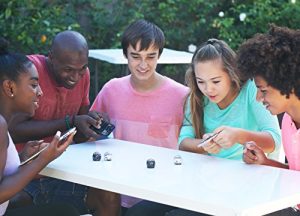 Evollve Inc. Ozobot Limited Edition Evo in Rose Gold
In the aforementioned article, we wrote about the Ozobot 2.0. The company has now released a limited version of its Evo robot in a rose gold finish, particularly to appeal to girls, who account for 40% of its customers. Geared toward kids aged eight and up, the Ozobot Evo works with the newest level of OzoBlockly and bot-to-object recognition, which gives players the ability to reprogram the colour commands to have different meanings. The miniscule device measures just slightly more than an inch in size, but they can interact with one another, whether it's at home with friends or as part of a classroom education. Users can control Evo's lights, sounds, and movements from a smart device, use colour-coded commands, or let the device act autonomously. iOS and Android compatible, it is available for US$100.
Check out other STEM articles:
STEM-friendly Tech Toys for Kids
Microsoft hosts youth coding events across Canada to celebrate Computer Science Education Week and Hour of Code